Dr. Kevin Whitlock, arrived in the operating room just before 8 a.m.
A rural general surgeon at the Rocky Mountain House Health Centre, Dr. Whitlock is scheduled to perform seven minor day surgeries, a typical day for him and his team.
Three nurses have already been hard at work for almost an hour preparing the operating room for the first surgery: the removal of a large fatty tumour called a lipoma from a man's arm.
Seeing a reddish tumour the size of a chicken nugget being removed would leave some nauseated, but not Dr. Whitlock. He remained calm, confident, and down to business.
Shortly before 9 a.m., the surgery was completed. Nurses took the patient to a recovery area, while Dr. Whitlock used a phone to voice record notes about the surgery.
At 9 a.m., a young woman was wheeled on a bed into the operating room for hernia surgery.
Hernias can very painful and waiting your turn to get this surgery done in a larger hospital usually takes years.
"The trouble with those procedures in bigger centres is that they have to balance the smaller procedures with cancer operations and other major procedures that they are doing. So, those elective procedures that are not urgent, not cancer, are often pushed to the back because the cancer procedures take priority," Dr. Whitlock explained.
"Usually [in larger hospitals, hernia patients] are waiting quite a long time to even see the surgeon and then waiting even longer to get the procedure done."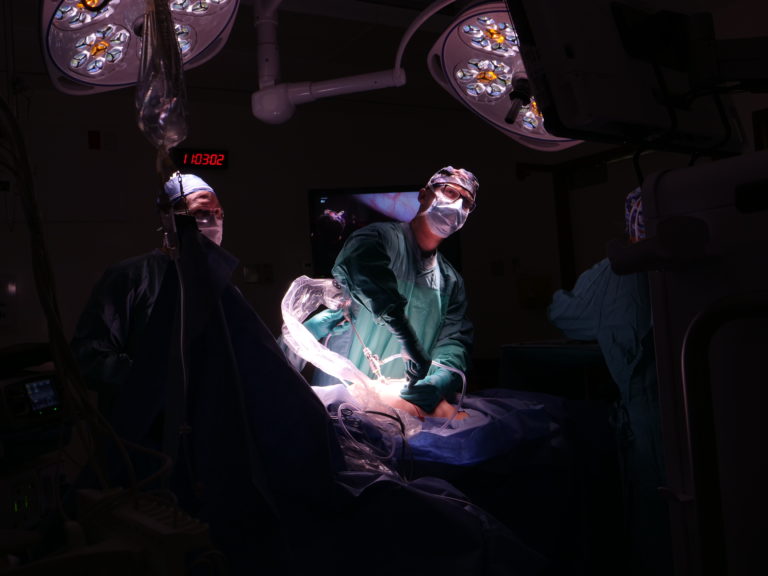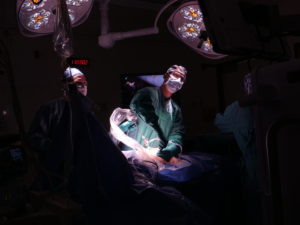 Quite often, rural patients will go to Edmonton, Red Deer, and Calgary on a particular day to have their minor surgery done and be bumped, and rescheduled for many months later.
"It's easier in a site like this where we're not doing big cancer surgeries. We can get these smaller cases done faster."
Prior to surgery, the patient was sedated by the anaesthetist, Dr. Glen Burton.
Our team here is excellent. It's been shown in a  studies that the more you work with the same team, the better your outcomes and the better your efficiencies – Dr. Kevin Whitlock, rural general surgeon
During the procedure itself, Dr. Whitlock was assisted by Dr. Robert Bailey, a general practitioner with enhanced surgical skills. Enhance surgical skills is a certification in family medicine which recognizes a skillset that is beyond what would be typical for a graduate of a family medicine program. Those skills could include caesarian section, hernia repair, appendectomy, carpal tunnel and endoscopy, among others.
"Dr. Bailey is excellent," says Dr. Whitlock. "He's essentially another surgeon. He has way more background than just [enhanced surgical skills]."
Surgery three was also for a hernia. For both hernia operations, Dr. Whitlock and Dr. Bailey used a procedure called laparoscopy.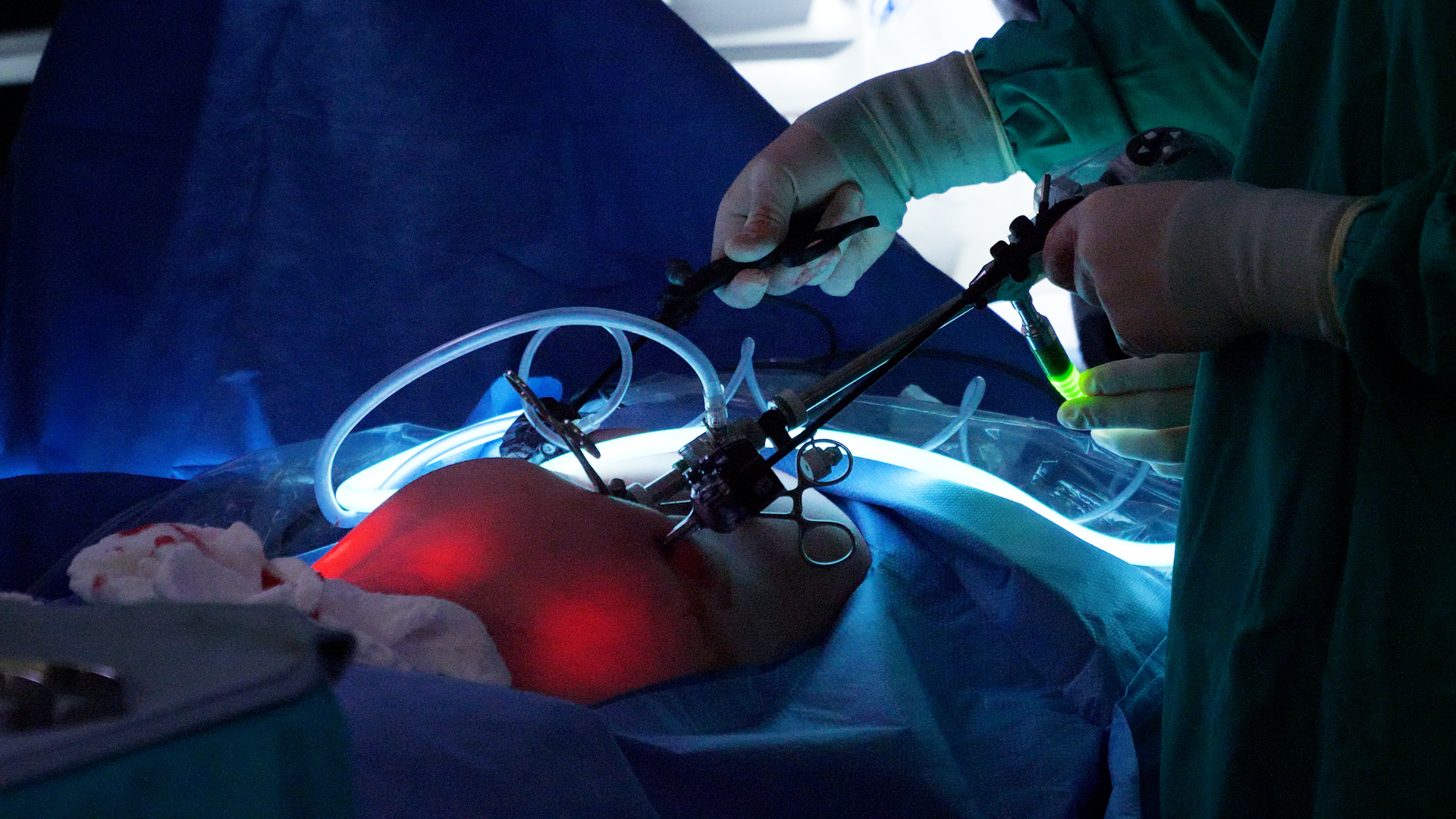 Laparoscopy is a type of surgery that uses smaller cuts. The process takes its name from the laparoscope, a slender tool that has a tiny video camera with a light on the end.
When Dr. Whitlock inserted the laparoscope through a small cut in the patient's body, he could look at a video monitor and see what's happening inside. The image on the monitor was incredibly sharp as Dr. Bailey controlled the camera.
Since the incisions are smaller, laparoscopy results in less scaring.
As they operate like a well-oiled machine, it was obvious the surgery team has performed laparoscopies many times in the past.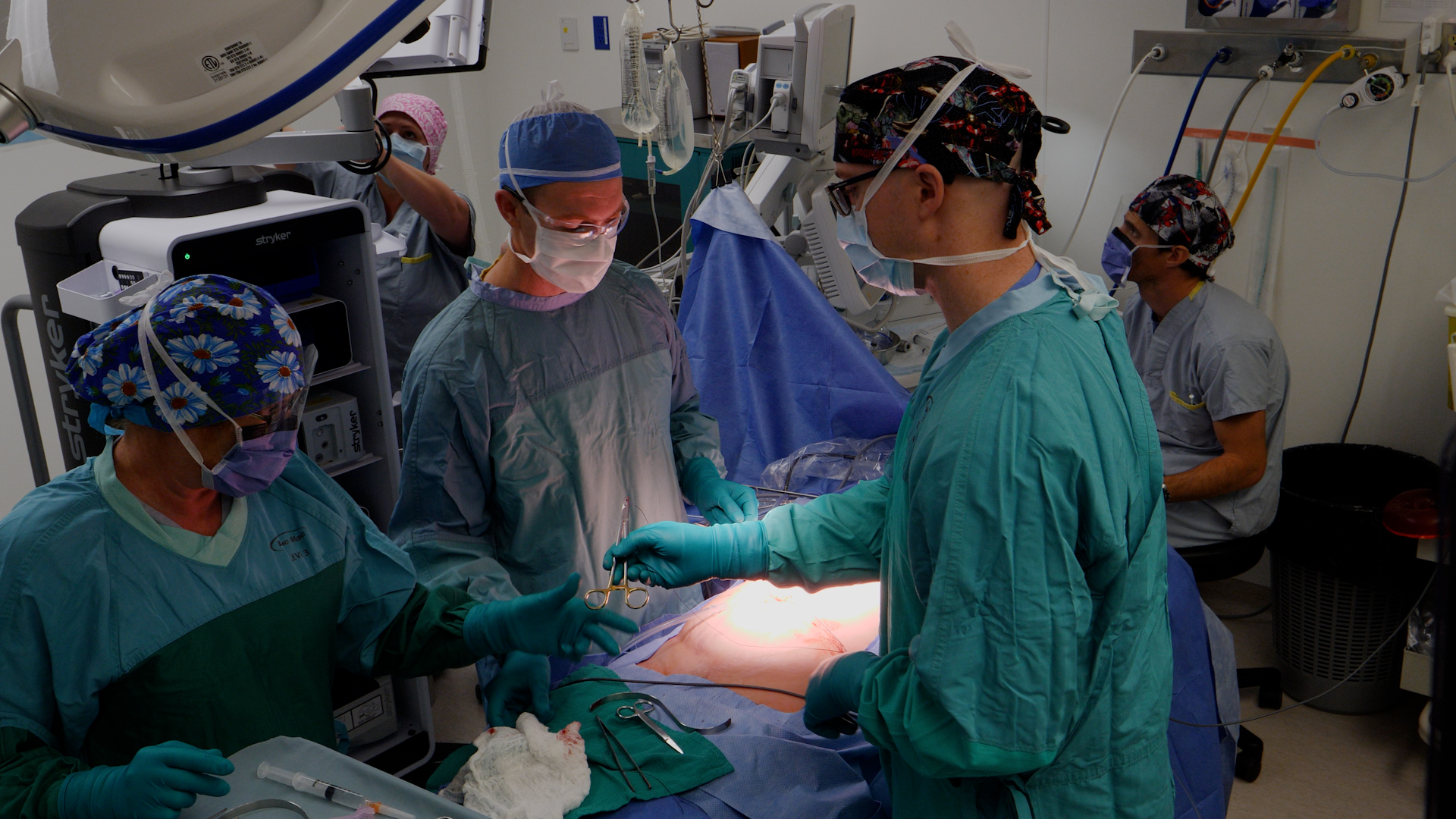 "Our team here is excellent," said Dr. Whitlock. "We have a small group, so we generally work with the same team. It's been shown in a lot of different studies that the more you work with the same team, the better your outcomes and the better your efficiencies."
At 11:45 a.m., Dr. Whitlock took a quick break for a bowl of soup.
At noon, he returned to the operating room for back-to-back carpal tunnel operations. This type of surgery can be done in an outpatient setting, but many patients prefer it to be performed in an operating room.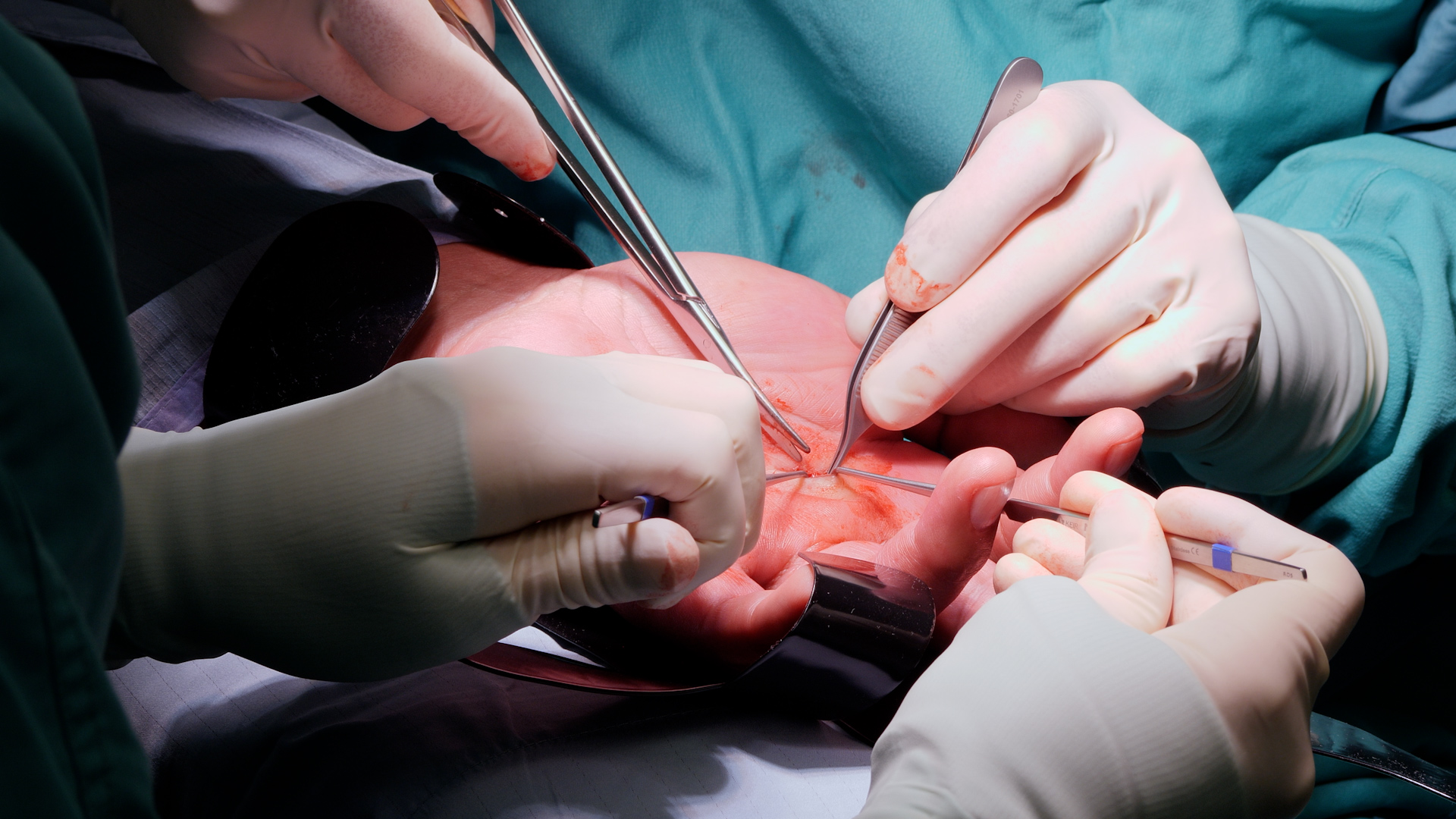 A lot of people that I talk to, they're not super comfortable, even with the freezing, to have somebody working on their wrist and being aware of that. So. the nice thing here is we can bring them in and do that as a quick procedure," Dr. Whitlock added.
After each of the carpal tunnel surgeries, he visited the patient in the recovery room and guided them on post-operative care and made arrangements for a follow up visit.
The sixth surgery of the day was to treat hemorrhoids. Like hernias, those with severe hemorrhoids can go through years of suffering. The condition can even prevent them from being able to work.
The opportunity to have the surgery done sooner by a rural surgeon is a welcome relief.
 "Most [hemorrhoid patients] that come to see me have suffered from them for years, if not more. Seeing these people get seen, get treated and having them say 'hey, I've been waiting forever to have this done, this is great,' I find that very satisfying,," said Dr. Whitlock.
The seventh and final surgery started just before 3 p.m. An older man, suffering from a diabetic foot ulcer, entered the operating room. Dr. Whitlock called the procedure for its removal a debridement.  A debridement is the removal of damaged tissue from a wound.
Dr. Bailey removed the bandage covering the ulcer and raised his eyebrows when he saw its size.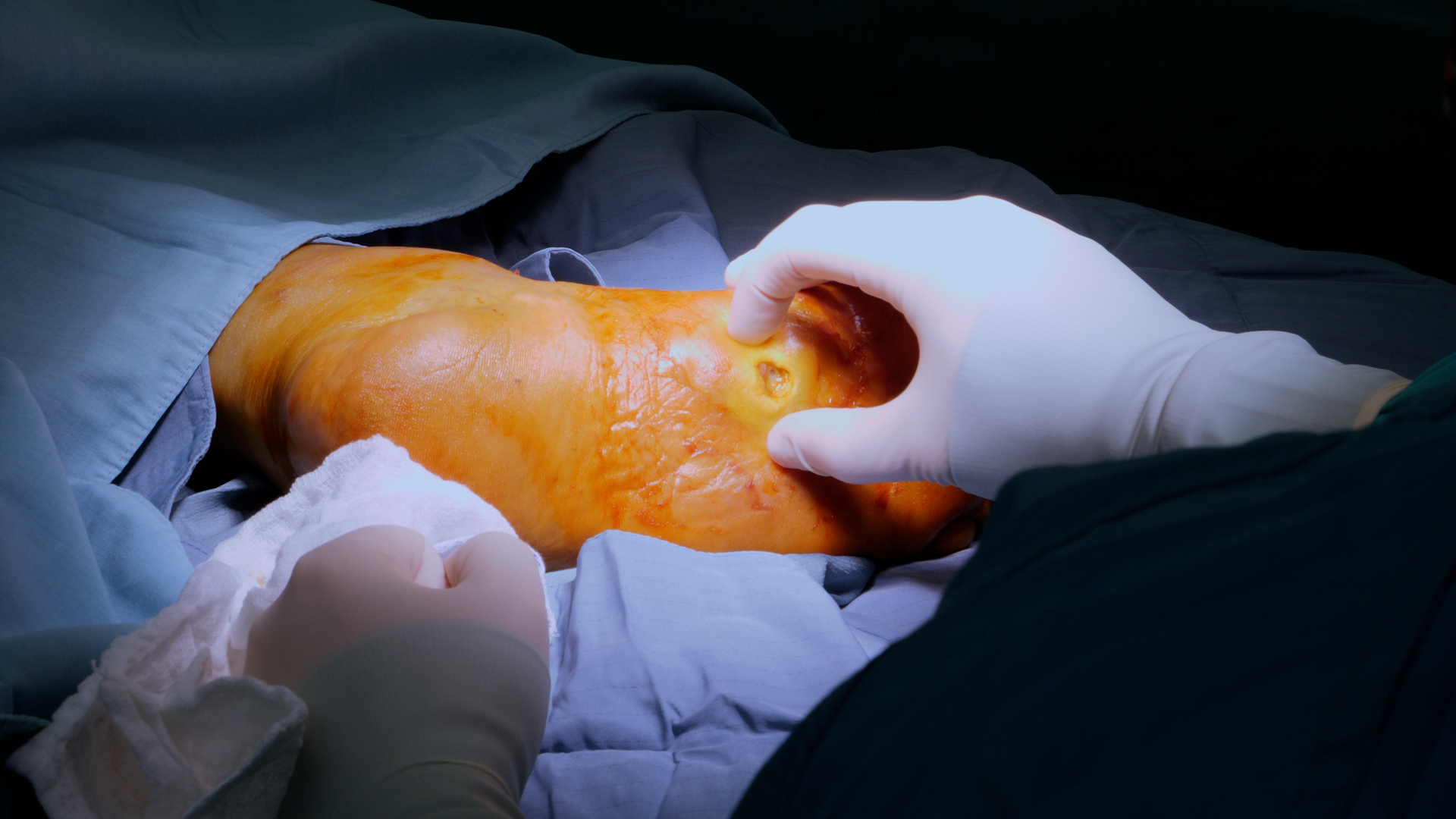 "In Rocky Mountain House they have a wound care clinic that runs each week, so they have [doctors] who follow these guys and give them wound care week after week. Sometimes they will be limited in what they can do in those clinics in terms of debridement to clean up the ulcers," Dr. Whitlock expanded, "They often times need more of a surgical debridement to properly clean it and go deeper."
Since this patient's foot ulcer was considered semi-urgent, he was able to get into surgery less than a week after being referred by his physician. While that timeline is next to impossible in a large hospital, it can usually be accommodated in this efficient rural operating room.
Having [the patient] say 'hey, I've been waiting forever to have this done. This is great,' – I find that very satisfying, – Dr. Kevin Whitlock, rural general surgeon
Dr. Whitlock finds it very rewarding to provide surgical care in a small community where you often know your patients personally.
"Doing the carpal tunnel [surgery] on the local dog groomer and then seeing her back to work, and she's the one who grooms your dogs, and having them say 'hey, I've been waiting forever to have this done. This is great,' I find that very satisfying," Dr. Whitlock explained.
Shortly after 3 p.m., the seventh patient was wheeled back to the recovery room and the operating room nursing team commenced cleaning up after another busy and successful day of minor surgeries.
All patients who visited the operating room on this day came to the hospital on the day of their surgery, and left the same day.
Rocky Mountain House area residents are fortunate to have top calibre surgery care so close to home.