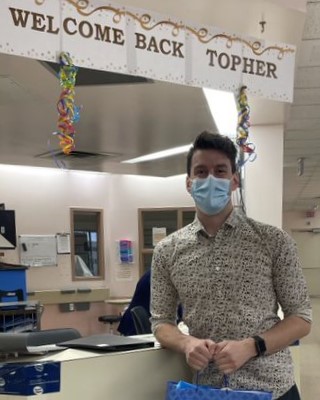 Dr. Topher Mostert fondly remembers the warm welcome he received from the community of Cold Lake during an RhPAP-sponsored event five years ago.
He had just started medicine at the University of Alberta and saw an opportunity to participate in a two-day Let's Go Rural! skills event where post-secondary students have a chance to spend time experiencing rural Alberta.
"The biggest thing that struck me was how the whole community put this event together for us to show off their community," recalled Dr. Mostert, who is currently practising as a first-year rural family medicine resident through the University of Alberta's Rural Family Medicine program based in Red Deer.
"What really stood out was the community dinner, the tour of the town. They just gave us so much and were really good at showcasing their community."
Dr. Mostert grew up in Fort Nelson, B.C. and watched his physician father—who continues to practise—make a difference in people's lives in the small community of just under 3,000 residents.
"It's almost as far north as you can get in B.C.," he quipped.
"Rural medicine was always something I was interested in. After going to that Cold Lake event, it really cemented that I want to work somewhere rural."
Dr. Mostert knew early on that rural medicine would offer an array of medicine situations. He appreciated the skills sessions that were arranged during the Let's Go Rural! event, but it was the community focus that confirmed rural was the ideal place for him to practise.
"It wasn't really like it was the scope of medicine [influence], it was just the whole community coming together to try and draw us to them, you know, like just making us feel so welcome and feel like part of the community.
"I really appreciated that. That's something I'm looking for."
Since that first rural medical training experience, Dr. Mostert has also discovered that welcoming spirit in another rural community, Lac La Biche. He's worked there three times and will make a return trip next year.
During a 10-month stint in Lac La Biche he was also able to benefit from free accommodation through RhPAP. He said this helped as a medical learner from both a financial and logistical perspective. It meant Dr. Mostert could retain his current lodging while on his placement—without incurring extra costs.
On another training opportunity outside of Alberta, Dr. Mostert did have to make his own arrangements.
"That really made me appreciate the RhPAP support," he explained. "RhPAP's support really took a lot of stress out of travel and made going rural so easy. I feel like that would be a big deterrent for people in not having a place to stay rurally.
"The fact that the house is free and it's all organized we don't have to do anything, we just move in and everything is furnished. It just makes life so easy."
Dr. Mostert has a year left in his residency and can't wait to begin a rural practice. He speaks highly of his various experiences in Lac La Biche and is keeping his fingers crossed he may be able to launch his career there.
"In Lac La Biche, I feel like they just adopted me immediately into the team and help me feel like a part of the community. And honestly, the patients there were incredible. It's a great mix of cultures there. And a really great mix of different ages."
It's the challenge of seeing something different every day from a medical perspective that draws Dr. Mostert to rural practice.
"What I want is that diversity, it's what's going to make us better. If we see the same thing every day then we will, essentially, stagnate.
"Having that diversity helps us grow and helps us improve."
— Lorena Franchuk