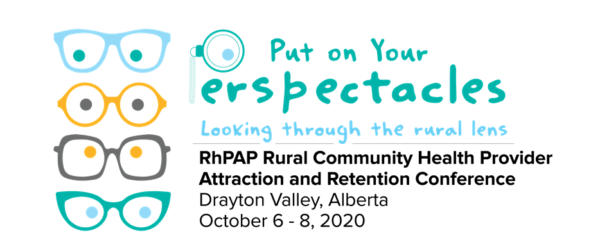 Rural perspectives on health provider attraction and retention will be the focus of the three-day event.
Drayton Valley is the place to be this October if you want to explore rural perspectives on health provider attraction and retention. This scenic central Alberta community, known for innovation and sustainability, has been selected to host the 2020 RhPAP Rural Community Health Provider Attraction and Retention Conference from October 6-8, 2020. The theme for this year's conference will be "Put on your Perspectacles: Looking through the rural lens," as we focus on issues related to rural health professional attraction and retention.
The RhPAP Conference provides an exceptional opportunity for those interested or involved in health provider attraction and retention in rural Alberta to learn from each other and share best practices. The conference will feature three days of learnings, including presentations and interactive sessions by informative, engaging, and experienced speakers and panelists to inspire and clarify community building efforts. Networking opportunities and a special community-based dinner with local entertainment will provide opportunities to engage with other community members, organizations, and resources from across the province. The event will close with a talented keynote speaker who is sure to leave conference participants empowered and eager to put their memorable experiences into action in their own communities.
According to RhPAP's Rural Community Development and Engagement Director, Rebekah Seidel, world-class facilities and central location were among the many reasons Drayton Valley was chosen to host the 2020 conference.
"The health provider attraction and retention committee in Drayton Valley has an energetic and creative membership and received the 2019 Rhapsody Community Award for their work," explained Seidel. "They are great partners to host this event, and the Clean Energy Technology Centre (CETC) is a great venue to host the conference. The CETC offers a bright and welcoming atmosphere, and is filled with a range of space options for the exciting sessions planned for this year."
"I'm excited to connect with other A&R committees to share tactics and ideas, so we can continue to improve our efforts," says Drayton Valley committee president, Suné White. "We've had some successes, which we are proud of, but there is always room to learn and grow. And, of course, I'm excited to show off our wonderful community."
Early-bird registration is now open!
Anyone who registers for the RhPAP Rural Community Conference by July 15 will be entered into an Early-bird Registration Draw for a one-of-a-kind, hand crafted wooden wagon from Northwestern Alberta, filled to the brim with locally made items from across the province. Included with the wagon will be an assortment of artwork, home treasures, garden ware, and goodies to tantalize your taste buds. Want a chance to win? Register for the RhPAP Rural Community Conference today!
For more information, visit https://rhpap.ca/Conference2020.
For more information, please contact:
Colleen Lindholm 


Rural Community Consultant


Rural Health Professions Action Plan
Tel: 780-679-5975  


colleen.lindholm@rhpap.ca

Jonathan Koch
Director, Communications and Marketing
Rural Health Professions Action Plan
Tel: 587-987-4325


jonathan.koch@rhpap.ca