As Valentine's Day approaches and thoughts turn to romance, RhPAP thought it would be interesting to speak with some health-care couples—including doctors, nurses, health-care aides, medivac pilots, a paramedic, and a fire chief—to learn about how they keep the fires of passion burning in the face of an unpredictable schedule and the stress that comes with working in the health field.
The good news on our findings? None of couples can imagine it any other way!
---
If your New Year's Eve fondue nearly becomes a stir-fry, you might be a rural couple who work in health care.
Dr. Angela and Alexander Luckham were looking forward to a night together on Dec. 31, 2020.
The husband and wife from Wembley had ingredients prepped and ready-to-go when their fondue plans were unexpectedly put on hold.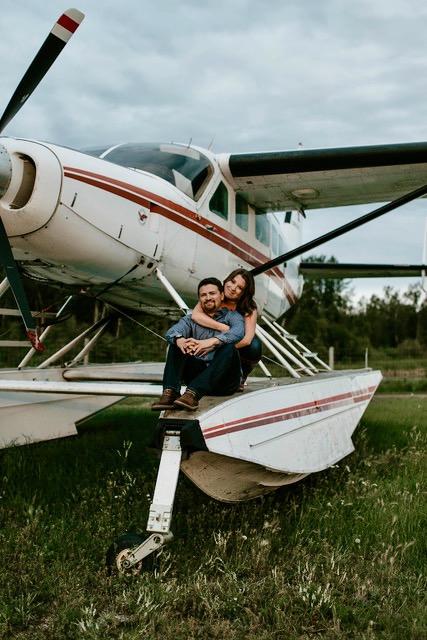 Alexander called home to let Angela know he was delayed several hours while he was transporting emergency patients. As a CanWest Air pilot, he often flies airplanes carrying these patients to regional centres.
The Luckhams tried again the next evening. This time, it was a fire call that pulled Alexander, a volunteer community firefighter, away. When he returned 10 hours later, his wife was sound asleep.
"That's just par for the course. … Those kind of things, you know, you can't let those bother you," said Angela, noting she nearly abandoned the fondue plans after the second cancellation. "You know he's going out to … help people, and I'm always supportive of that."
Finally, on January 2, the slightly belated fondue dinner finally took place.
The need for last-minute rearranging of their personal schedules isn't new for the Luckhams.
The couple met five years ago while working in Hay River, N.W.T. Angela was a locum physician at the hospital, and Alexander was a charter bush pilot who also volunteered with the fire department's ground ambulance crew.
While working up north, Alexander wasn't the only one called away by emergencies; Angela also had to bail out of plans to tend to emergencies herself, especially while on call during 24-hour emergency shifts in Hay River.
However, the couple was so smitten with each other that Angela, a Halifax native, cancelled her plans to return to Nova Scotia and signed up for more northern work.
"I was just living the life and hanging out," said Alexander, recalling his life before their frequent encounters at the hospital and after-hours gatherings with common friends.
"It kind of all worked out."
They were married in the summer of 2019 and, just over a year ago, the couple relocated to Wembley, about 20 minutes west of Grande Prairie. It was an ideal location for the newlyweds who planned to jointly open a medical clinic where Angela could practise in the community of about 1,500 residents.
The location also put Alexander within a reasonable distance of the Grande Prairie Airport. On his days off, he planned to tap into his journeyman carpentry skills to renovate the clinic space and, once up and running, he would handle the accounting, payroll, and building maintenance.
It's been a whirlwind year and a half for the couple who admit they thrive on being busy. Few would get married, move communities, start a new clinic from scratch, begin new jobs, adopt a puppy, volunteer as a firefighter, and welcome a child during this short period of time, even without the added complications of a pandemic.
"People thought we were a little bit crazy opening a new clinic during a pandemic, while I was newly pregnant," said Angela. "You know, we're up for the challenge." She noted that this work has been helped by the fantastic team at the clinic, which includes two full-time doctors.
With Dr. Luckham on maternity leave for about five months, the couple is finding their schedules—even two-week-old baby Elouise's—manageable, at least for now.
"We currently have the most predictable schedule that we have had yet," said the new mom. When Angela is in the clinic she generally works days, while Alexander works two weeks of 12-hour days or nights followed by a week off.
"[The clinic is] a block down the road from our house. So, from my perspective, it can't get much better than that."
— Lorena Franchuk
Did you enjoy this article?
Subscribe to the Rural Health Beat to get an article about positive developments in rural health delivered to your inbox each week.
Tagged In