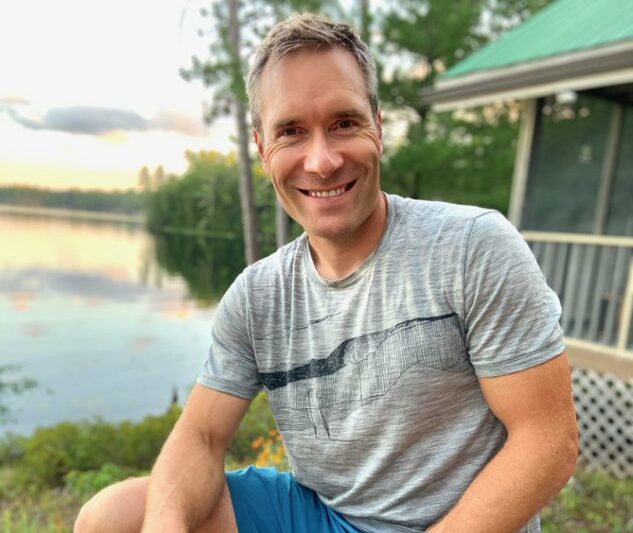 Dr. Mark Prins knows growing up on a Lacombe-area farm had a major impact on where he is today.
Growing up rural not only influenced Dr. Prins's decision to work in remote communities in the Northwest Territories and Nunavut, it also led him back to his home province, and a role serving rural Albertans.
"I simply would not have applied to this job if it were not from my rural upbringing and then rural medical experience," Dr. Prins explained.
As the Director of Rural and Regional Health with the University of Alberta's Department of Medicine and Dentistry since 2021, Dr. Prins oversees the movement of medical students and residents to rural communities for training.
His office works closely with RhPAP Accommodations to ensure learners in UAlberta medical programs have a place to stay as they train in rural Alberta for periods lasting anywhere from four weeks to upwards of a year.
Without accommodation support, medical learners can face the financial and logistical challenges of having to retain a home base near their post-secondary institutes while training elsewhere, said Eric Nashman, RhPAP's Project Manager, Student/Resident Housing.
"The most common barrier for medical learners seeking rural training experiences is finding suitable and affordable housing," Nashman explained.
"If we can reduce or remove this barrier, medical learners would be much more committed to completing a rural community learning experience, which may entice learners to one day consider working in a rural community as a medical professional."
RhPAP has secured over 100 leased accommodations across the province in approximately 40 rural Alberta communities. These accommodations are primarily used for University of Alberta and University of Calgary medical students and resident physicians while they train in rural family medicine for varying lengths of time.
During the 2022-2023 fiscal year, more than 315 medical and health professions learners and residents accessed RhPAP Accommodation support while enrolled in UAlberta medical programs, Nashman added.
Rural clinical experience also occurs for UAlberta medical students and residents through the Rural Alberta North Residency Program, Pre-Clinical Networking Medical Education, the Rural Integrated Community Clerkship, and the UAlberta Royal College International Residency program.
"RhPAP is a critically important partner," Dr. Prins acknowledged, noting accommodation is just one piece of the puzzle that must be in place before medical learners are sent for rural postings. His office works closely with the university's respective medical programs to ensure the coordination of the many elements of delivering education including the relationships with rural preceptors.
He is also keen to champion the value of rural medicine, something he experienced firsthand while spending eight years in Inuvik, NWT.
According to Dr. Prins, health professionals who work in rural and remote areas have opportunities to participate in a wider variety of cases, which allows them to deliver a broader scope of practice overall.
This is often the way medicine presents itself in a rural setting, and health professionals are positioned to do the best they can with the resources on hand, he explained.
"You deal with whatever comes through the door and you address it." — Dr. Mark Prins
"If you're in a rural setting and you're confronted with an emergency, you meet the patient where their need is, even if addressing those needs lies outside the scope of your expertise. You simply respond with everything in your toolbox," he said.
"Of course, if the patient requires referral to a higher level of care then that is arranged."
Dr. Prins added it is also important to "balance the benefit of transferring a patient to a higher level of care against the cost of leaving home and supports behind," a common scenario in rural practice that urban health professionals may not be able to teach.
Rural physicians rely on support from their community of practice, which often includes the medical director and the nurses.
"As colleagues, co-workers, and medical leaders in those scenarios, you hold each other up," he explained, stressing that collegial support is equally important in urban settings, but often with more options available in terms of resources.
Forty per cent of UAlberta's rural medical students return to rural practice. Some medical students are keen to explore careers outside of an urban area even without a rural background, but it's a much lower percentage.
"I think as a rule … humans don't want to surprise themselves too much," he added.
"They don't choose a career that they can't identify with."
Dr. Prins hopes to continue to foster an interest in rural practice amongst medical students during their educational path, while highlighting the need to reach out to younger students even before they make their post-secondary decisions.
"Students who don't have doctors in the family might watch a movie [with physicians] and think that's cool. But their identity as a physician [likely] requires interaction with local community members who are health professionals or some other organization to put that idea in their mind," he explained.
"In order to imagine yourself working in a rural setting, you need to be given opportunities to help grow your imagination."
— Lorena Franchuk