Perhaps nobody appreciates the nurses at the Mayerthorpe Healthcare Centre more than the physicians who practise there. While doing their rounds each morning, physicians rely heavily on the nursing team to keep them up to date on each patient's condition.
"They do most of our work," says Dr. Zahirali Jamal. "We say hello to the patient. We examine them quickly, change their medications and then we're off. But who takes care of them and takes care of the families of the patients? It's our nurses, and they do an exceptional job."
The 20 nurses who practise here each make the patient priority one, and they provide great support to the families as well.
"Oh, yes, they are so good to me," says Ann Adams, a patient in acute care. "You ask for something, you get it with a smile on their faces. It's just wonderful."
Matthew Doraty, Site Manager at the Mayerthorpe Healthcare Centre, also speaks highly of the nursing team.
"They're absolutely dedicated to providing the highest quality of care to their community and to making this a place where everybody in the community seems safe, welcomed, and cared for as soon as they set foot through the door," says Doraty.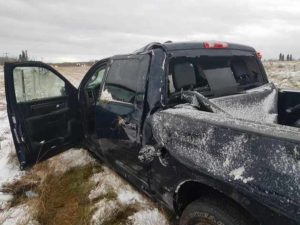 Even the Mayor of Mayerthorpe, Janet Jabush, is no stranger to the high level of care. "Not quite a year ago, I was in a roll-over accident with my pick-up truck, my husband and I," says Jabush. "They brought us both to this hospital in ambulances. Those guys [the nurses], they just handled it like consummate professionals, but with that personal touch that makes everybody feel like it's gonna be okay."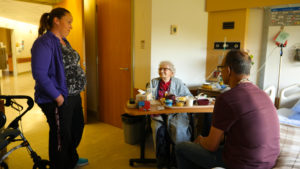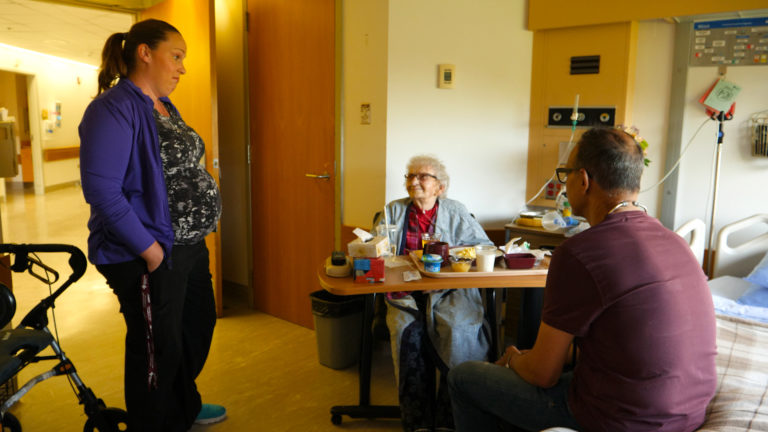 "It's a pretty good culture here," says Jayme Moffat, assistant head nurse. "We've got some nurses who've been here a long time and some who are brand new. So, it's kind of nice to help each other out and feed off each other for different learning experiences."
The efforts of the Mayerthorpe Healthcare Centre Nursing Team are deeply appreciated by their community.
"They are doing their best whenever they come to this facility, so I believe that these people, they need to be rewarded," says Dr. Nabeel Al-Gailani, a physician at Mayerthorpe Healthcare Centre.
"This is a very much deserved recognition for [the team], and I couldn't be more thrilled that [they] are being honoured this way." adds Mayor Janet Jabush.
The nursing team was humbled by their recognition.
"[There are] so many amazing nurses out there throughout the whole province," says Melanie Kidd, a registered nurse who has practised in Mayerthorpe for 32 years. "To be singled out, you just don't expect something like that."
"It was a shock to win," added a grinning Jayme Moffat. "I didn't think a little, small town like Mayerthorpe could make it on the map like that."