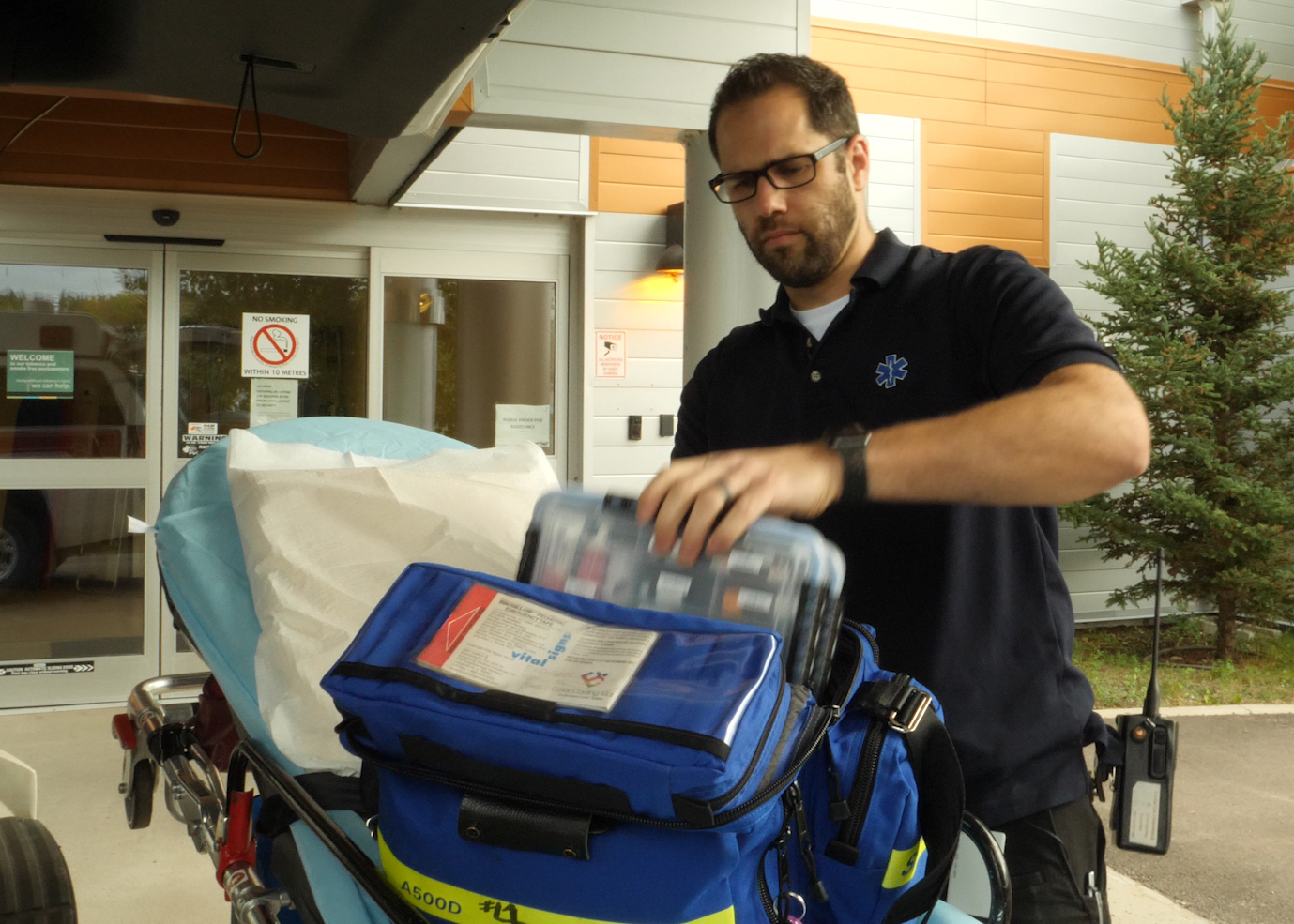 Vincent Dazé is an Advanced Care Paramedic in Fort Chipewyan.  Previously, he worked as a paramedic in Edmonton but was looking for a new challenge.
"I just wanted to try something different," says Vincent. "This is great because there are so many more opportunities to explore the world of medicine. You communicate more with the physicians. You work really closely with the nurses.  There are physiotherapists that come here.  You get to work with them.  It lets me learn a lot more."
In the city, working as a paramedic solely on an ambulance, once you drop a patient off at emergency you will likely never see them again.  Here, ambulance calls are far fewer and there is the opportunity to be involved in patient treatment afterwards.
"In the past, I would never be able to setup for a sterile procedure or cut something out of someone.  That's neat, right? You can see the happiness and the thanks in the patients later on," says Vincent, who lives in Edmonton and works in Fort Chipewyan two weeks in, two weeks out.
The Nunee Health Centre is funded by the federal government and managed by the three indigenous groups that live in Fort Chipewyan.  A physician works here only on a part time basis, so Vincent and the nurses work as a team.  They do have access to a physician via phone 24/7 for advice.
"You are remote.  You have to rely on each other," adds Vincent.
He taught suturing at a recent RhPAP skills day for high school students in Fort Chipewyan.  Suturing is a skill he often is required to use at the Nunee Health Centre.
"You see a patient for their regular ailments – cold, flu, sore back, sprained ankle.  Sometimes, we'll put a half cast on a patient and ship them off to Fort McMurray because they might have a fracture," says the advanced care paramedic.
Fort Chipewyan is located on Lake Athabasca in the far north of Alberta.  The 850 residents here are a welcoming lot.
Michele Voyageur, councillor for Athabasca Chipewyan First Nation says, "The people in Fort Chip are very, very friendly.  So, if you come to our community and you are walking down the street, someone will probably stop three or four times to ask if you want a ride."
Robert Grandjambe, a local tourism operator, agrees, "We enjoy people's company so it's the perfect opportunity for us to meet people and also provide a service for the community."
Robert offers tourists dog sledding trips in winter and guided boat tours in summer.  "We dogsled a lot and also we hunt and fish and trap."
Vincent has often been invited to join the locals trapping, ice fishing and boating on Lake Athabasca.  "The community has been very nice to me," he says.  "I even brought my family over this summer.  We had a blast.  We really enjoyed it."
Fort Chipewyan is Alberta's oldest community, originally established as a fur trading post in 1788.
"Fort Chip became the gateway to the Mackenzie (River), the Arctic Ocean, and also across on the Peace River to the Pacific Ocean," says Maureen Clarke, director at the Fort Chipewyan Bicentennial Museum.  "Some of the local people here, their ancestors were the guides with Sir Alexander (Mackenzie) when he made these two voyages."
At the local museum, you can see some of the remnants of those fur trading days, including a replica of the fort that existed here from around 1885 until the last building was removed in 1958.   You'll even find the bell from that fort in the museum.
Today, there are many of the amenities of a larger centre.  A modern swimming pool and fitness centre.  An ice rink.  A large community hall.
"They are really trying to make life good for health care professionals in Fort Chip so that we can attract newer, younger, experienced health care professionals," explains Michele Voyageur.  "There's lots of perks to living here."
Fort Chipewyan is a good fit for anyone looking to work to full scope of practice and who really enjoys the outdoors.
Vincent Dazé says, "For someone who has been doing the EMS work, you know, lifting stretchers for a long time, getting a sore back and just wants to do something totally different within the health care field, this is great. It's very rewarding."
The dream of locals is that youth from the community will also pursue careers in heath care here.
"I'd really like to encourage the young people to look at the health care industry as a means of a career," says Robert Grandjambe.  "It can be such a rewarding career and you are helping your own people.
Tagged In