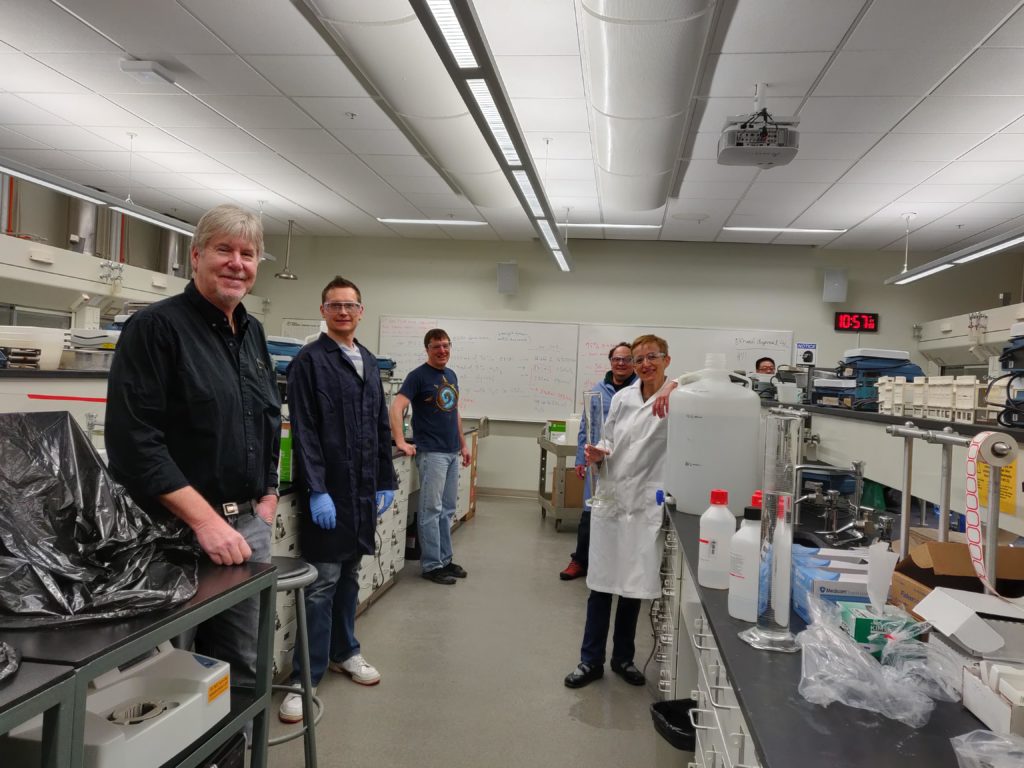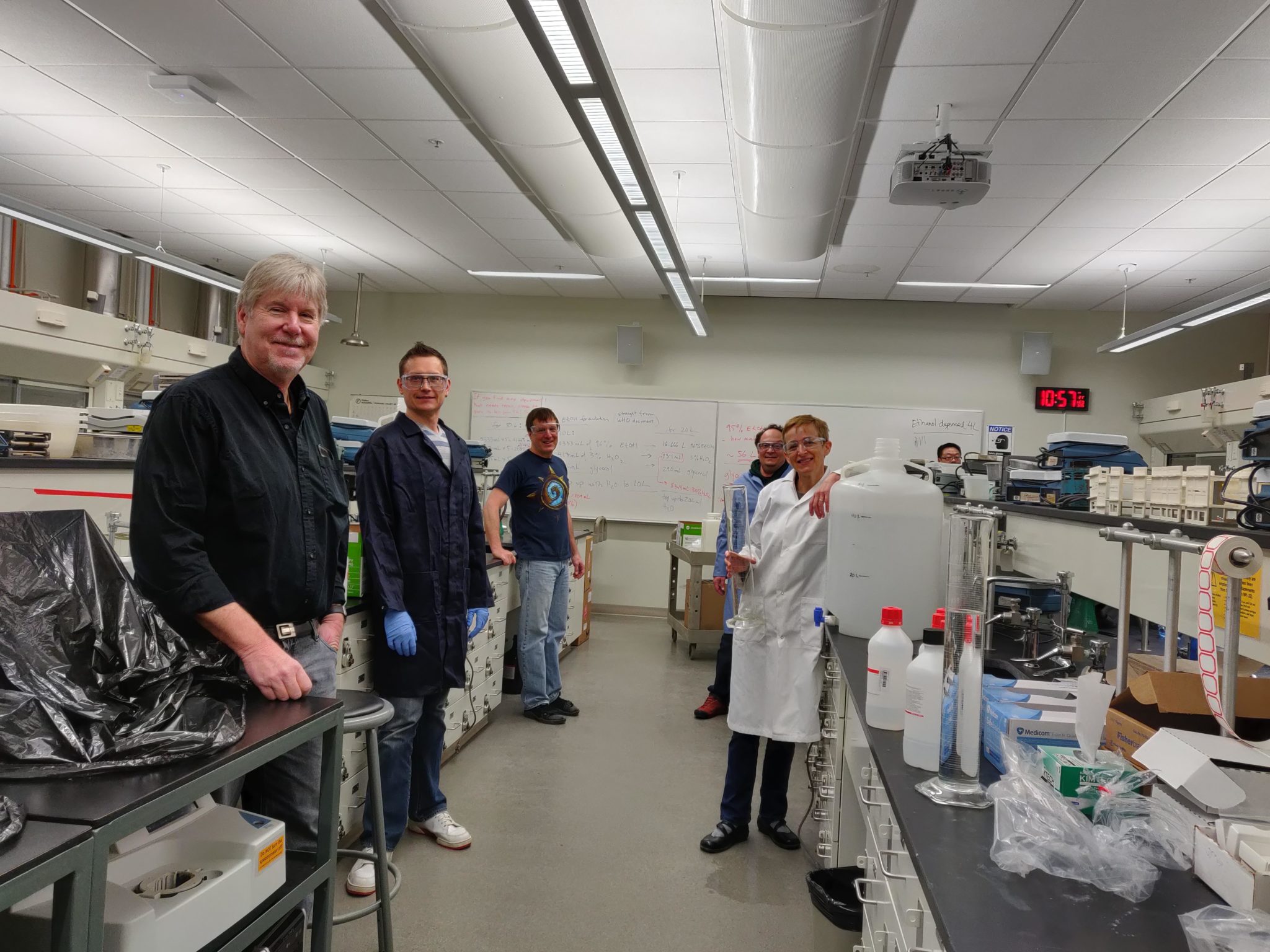 Front-line workers in remote Northern Alberta communities are getting a helping hand from some fellow Albertans.
The University of Alberta's Department of Chemistry recently donated 200 litres of in-house produced hand sanitizer, after learning rural communities in the Mackenzie Region were in need of some critical supplies with the COVID-19 pandemic.
"I was a little concerned for our surrounding communities and their access to items such as hand sanitizer, gloves, and masks if their communities were closed off," says RhPAP Rural Community Consultant, North West Zone, Cheryll Welke. Welke and her husband, Jan, also co-own the High Level IDA Pharmacy, which is located about two hours south of Alberta's border with the Northwest Territories.
"The surrounding communities come to High Level or La Crete to pick up supplies. We have delivery services to all of these communities via the pharmacies, so I reached out to them to see the levels of supplies they had at that time and there were shortages everywhere. They had some, but they didn't know how long their supplies would last."
Welke, who also owns the Pioneer Pharmasave in Fort Vermilion, says the idea to reach out to the University came from fellow RhPAP consultants Alicia Fox and Colleen Lindholm during a Zoom meeting.
"They mentioned a story on Global Edmonton about the University of Alberta making hand sanitizer," she recalled. "So I contacted the university and gave a summary of what our situation was, how large our territory is and the distance some of these communities have to travel to come to town. The ice bridge was melting fast as well and I thought a community like Fox Lake would soon be completely closed off and fly-in only."
Department of Chemistry Chair and Professor Rik Tykwinski, his chemistry colleagues Fred West, Vlad Michaelis, and Jon Veinot, as well as U of A staff, Andrew Yeung and Laura Pham were keen on making a difference and hand sanitizer provided the opportunity.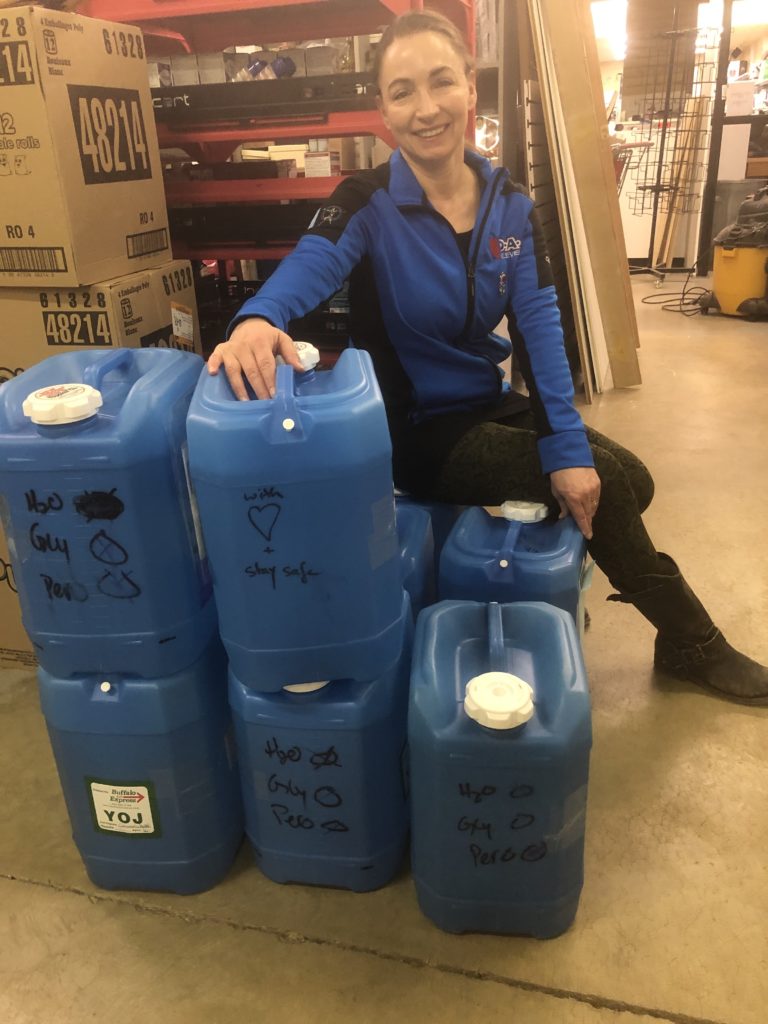 "Professor Jillian Buriak first encouraged us to [make] it after hearing about a university in the United States making hand sanitizer," said Tykwinski. "Due to COVID-19, we had closed the department to all but essential research. In our storage room that supplies the undergraduate labs and further research, we had all the ingredients we needed to make hand sanitizer."
He says they followed the World Health Organization's Guide to Local Production: WHO-recommended Handrub Formulations when making the sanitizer.
"The guide is designed to basically make hand sanitizer anywhere in the world," Tykwinski explained. "It is not medical grade, but you can use it without worrying about it. The first time we did it, we just grabbed whatever we had around the department to package it in. We had a bunch of 4-litre bottles that we use in the lab, but that got to be a lot of work, so Vlad went to Canadian Tire and filled up the back of his pickup truck with 20-litre containers and we started using those."
We are not doing this to get rich and famous, we are just doing it because it is the right thing to do.
– Professor Rik Tykwinski
Tykwinski said the group had made three batches of sanitizer before Welke's request.
"The first time we made 200 litres," says Tykwinski. "We made about 300 litres the second time in an hour and a half because when you are doing it at the type of scale, it is a lot easier. The last time about mid-April, we made 800 litres.
"After COVID-19 is done, this isn't something that we are going to continue. Everything is a donation, so the Department of Chemistry and the Dean of Science, Matina Kalcounis-Rueppell has agreed, that between the Chemistry and the Faculty of Science, all costs are covered," he added.
"We are not doing this to get rich and famous, we are just doing it because it is the right thing to do. Once nobody needs donations anymore, we will go back to our day jobs. We are just really glad that we could help."
Welke said she contacted Commonwealth Freight in High Level to assist with transportation.
"Co-owner Kurt Bishop said they would figure out all the logistics," says Welke. "So we hammered out the details, and then he involved Buffalo Air Express to support us with transportation. High Level IDA Pharmacy was going to pay the shipping costs, but Kurt covered the costs as a donation."
She said they will now bottle and label the hand sanitizer, distributing as needed.
Welke explains that distribution priority will be based on access and distance, "These front-line providers are at risk, so we have to make sure they have the necessary supplies to protect themselves for the long-haul. One of the reasons why we are controlling distribution is so it won't go all at once, we will do it on an as-needed basis.
"Front-line workers are critical in everyone staying safe."
+ Alberta distilleries and breweries producing hand sanitizer
Send in your own COVID-19 good news story
Tagged In