It was all smiles and positive feedback on Monday, May 6 following the third annual High School Skills Day at the Sundre Hospital & Care Centre.
A collaborative effort between the health-care facility and the Sundre Healthcare Professionals Attraction and Retention Committee (SHPARC), the educational experience focused on giving students a glimpse of what it's like to be a health professional in rural areas.
"It's an enriching learning environment," shared Chantal Crawford, a registered nurse and educator. "To actually be able to come in and get their hands on the different things we do and see the different things that we do."
Welcoming students from Sundre, Caroline, Cremona, and area, the event created opportunities for students to get hands-on experience with instruments and equipment used in real medical situations.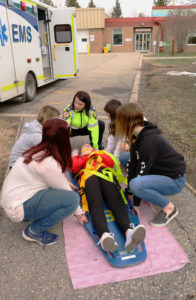 "We had eight different stations from lab and digital x-ray all the way to EMS, casting, and suturing, which is always a fan favourite, just to show them lots of different [opportunities] are available," explains Gerry Greschner, secretary and coordinator for the Hospital Futures Program and SHPARC.
The day offered students an opportunity to try new things, while working next to professionals. They were able to ask questions and learn more about their options and future education.
"It's just the opportunity to see what's out there," shared Shari Leedahl, a physical therapist. "There are a lot of professions that work within the (health-care) team that may interest them."
According to occupational therapist, Laura Zinter, students are also learning a bit more of what the requirements are for the programs they are interested in.
You get a different perspective on how these people work – Keanna Kyncl, student
"To be an [occupation therapist] or a [physiotherapist] is quite a commitment, it's many years in university, so [it's good] to know that ahead of time and see if it's something they really want to pursue."
With roughly 80 students taking advantage of everything the day had to offer, the skills event grows every year and it's easy to see why.
"If I had the chance to do it next year, I probably would," said Deandra Meyer, a Grade 12 student from Olds Mountain View Christian School.
We really got to connect with the students.  It was really exciting to bring them into an actual health-care environment. – Sonja Gauvin, Combined Lab & X-Ray Technology, Northern Alberta Institute of Technology.
"It was super fun and super educational," shared Ava Rosch, a Grade 9 student at Sundre High School.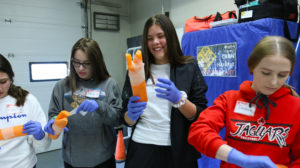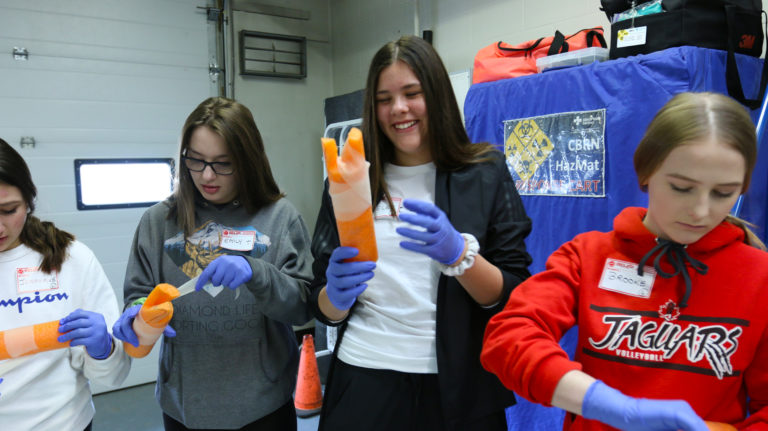 "You get a different perspective on how these people work," Keanna Kyncl, a student, Sundre High School.
Instructors who take part also say it's an amazing opportunity, one they wish they had when in school.
"I had some similar opportunities, but not quite as specialized as the experience we had today," shared Sonja Gauvin, Combined Lab and X-Ray Technology (CLXT) Program Chair at the Northern Alberta Institute of Technology. "We really got to connect with the students… [it] was really exciting to bring them into an actual health-care environment."
"We had people coming in as guest speakers, but that was in the school environment," added Amber Ostapchuk, an Instructor and Clinical Coordinator for NAIT's CLXT program. "So like Sonja said, coming to the hospital and having people come on-site and really explaining and [demonstrating] the tools that they're going to use, I didn't have any of that."