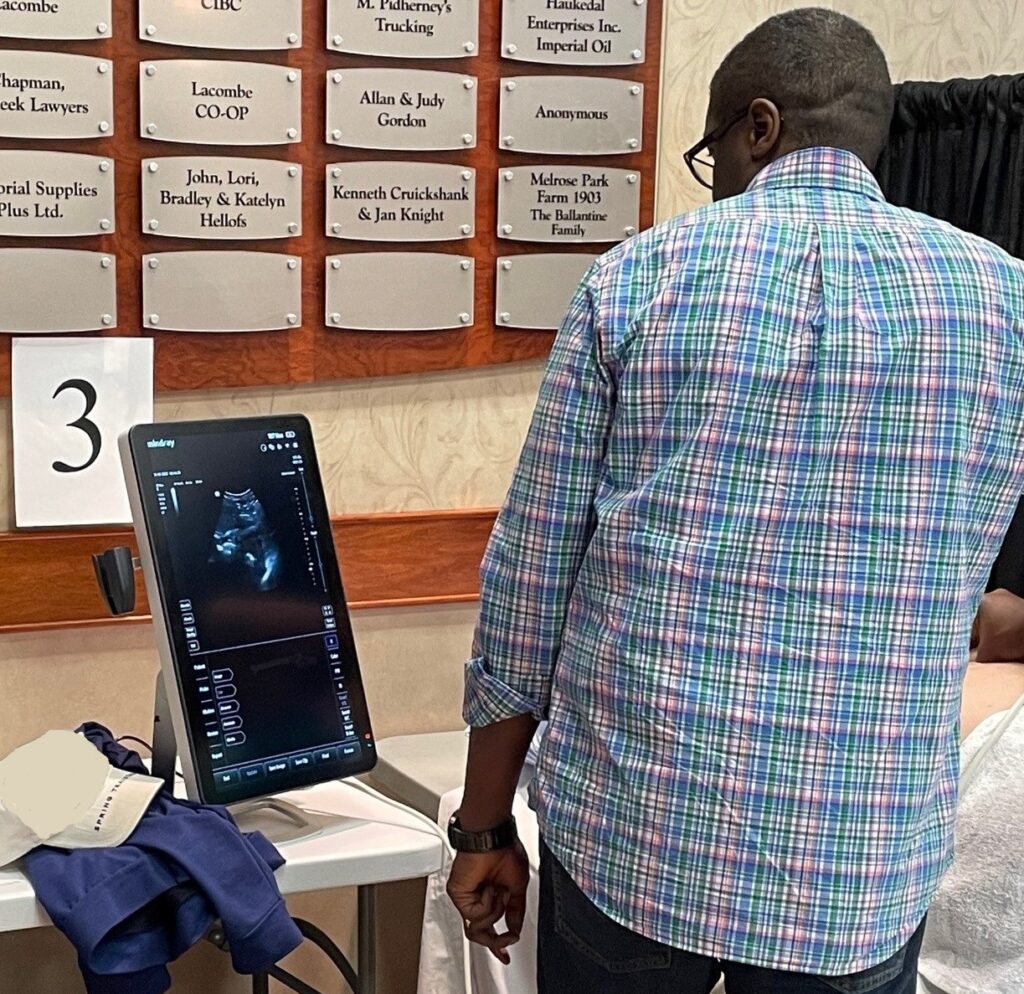 February 8, 2023 – The Lacombe Memorial Centre played host to a highly engaged group of physicians during an RhPAP sponsored EDE Point-Of-Care Ultrasound (POCUS) course.
Ten local physicians received a full day of learning with state-of-the-art equipment and volunteer "patients" who graciously allowed the physicians to practice their skills with the overall goal of improving patient care.
The purpose of the EDE Ultrasound course is for local physicians to gain experience and confidence using a portable ultrasound machine when examining a patients' organs without requiring the patient to see a specialist or radiologist – something there may not be time for with a critical injury.
According to Dr. Mathew Unger, a Lacombe physician who served as the driving force to bring the course to Lacombe, "Courses like this are so beneficial because they allow us to become more familiar with the technology. This technology changes so fast and days like today gives us much more confidence in using EDE Ultrasound in our practice."
Dr. Renee Crawley (also of Lacombe) had similar comments.
"This course is very beneficial when it comes to treating patients with trauma in the Emergency Room. It will give us more control over the situations we see, and even allows us to re-assure patients who may not be experiencing an emergency. If the patient does need more critical care, it will allow us to provide better referral information to a specialist when they receive the patient."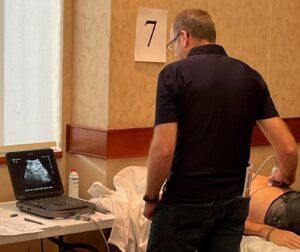 All of the physicians involved were thankful that RhPAP was able to bring this training directly to them. Otherwise, physicians would need to spend time travelling to a larger centre for a course like this one.
RhPAP has partnered with the EDE Course to sponsor courses in rural communities throughout Alberta. The EDE Ultrasound course has been teaching Point-of-Care ultrasound to emergency physicians and other specialists for over twenty years.
Unlike past ultrasound systems which were not transportable and did not have high image quality, today's systems provide high definition resolution and can even work on the screen of a tablet.
If your rural medical team is interested in having an EDE Course in your community or region, please contact RhPAP to find out more about hosting or participating in an EDE course.