RhPAP has chosen to mark November 2 as Preceptor Recognition Day. This is your chance to tell these unsung heroes to "keep up the good work". A preceptor is an experienced and competent health-care practitioner who serves as a clinical role model and resource person for learners.
When students spend time living and training in rural Alberta, it is more likely they will consider rural practice. Preceptors matter because without them, these students would never have a rural training experience.
Check out our new video on preceptors Dr. Adam Mildenberger and Dr. Kathryn Wood.
---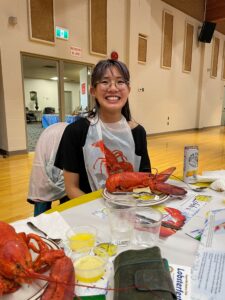 Read an appreciative reflection from Eileen Tu on her preceptor experience with Vegreville's Dr. Beren Hollins:
"Dr. Hollins is a blessing to the community of Vegreville and to the Faculty of Medicine in his educator role. I felt very lucky to have been placed under his mentorship for my rural medicine rotation.
He thoroughly supported me in my clinical endeavors, provided ongoing teaching around cases and encouraged me to explore all aspects of medicine that I was interested in, including those within and outside of rural medicine. I was able to expand my knowledge and procedural skills in this fostering environment, as well, I found myself constantly inspired to in the future emulate his method of an enriching mentorship. Dr. Hollins' practice also has a focus on adolescent mental health and it was striking to see in action what impact the primary care provider can provide to patients in the community, especially in light of the prolonged wait times patients currently face until they can see a psychiatrist.
It was very evident with the warm-hearted collegiality between Dr. Hollins' and colleagues at the hospital and clinic that he and his team are devoted to working together for the betterment of patients and of the town. The gratitude and rejoice that his patients would express at their appointments was yet another reflection of the positive impact he has had on the community.
All in all, Dr, Hollins was a wonderful physician, preceptor and Vegrevillian and it was a pleasure to have worked with him."
---
Here are some other comments from medical learners who have benefited from the kindness and experience of preceptors:
I would like to nominate Dr. Jena Smith. She is an amazing physician. She takes the time to teach and is interested in helping residents feel confident and manage issues on their own while she is in the background. I can also see how she tries to teach life work balance and cares about resident wellness. – Caroleen Nasr

I would LOVE to have Dr. Liesl Heyns (Pediatrics) recognized. Dr Heyns is a brilliant and kind educator who provides the most amazing learning experience for each of her learners. She has the perfect balance of challenging you to try out new skills while supporting you every step of the way. She is a wonderful role model of dealing with stressful situations and staying calm, while also being an amazing team player. I'm so grateful to have learned from her and for her amazing kindness. – Alyse Schacter

I'd like to nominate Dr Tavish Barnes. He took the time for lots of procedural teaching and career mentorship and provided many learning opportunities. It was a real growth opportunity, and I'm grateful for that! – Karol Boschung

I'd like to recognize my Midwifery preceptors Leesha Mafuru (RM) and Stacy Peleskey (RM). They are both incredibly kind, patient, and supportive teachers. They have a wealth of experience and wisdom to share, and they work tirelessly to support and improve maternity care in rural Alberta. I am so grateful for their generous contribution to my growth as a student and to the growth of Midwifery in general. – Dani Pierog

Dr. Tharine Van Deventer is an absolute pleasure to work with. Not only does she make sure her patients receive the best possible care, every clinic day is an opportunity for learning and Dr. Van Deventer makes sure to accommodate learners always willing to take extra time out of her day for even the slowest learners (like me) 🙂 – Peter Anto Johnson
Check out our latest edition of Rural Health Beat and learn about another great preceptor and the impact they had on a medical learner.