Pradeep Neupane, a male nurse, is making the morning rounds at the Sacred Heart Community Health Centre in McLennan. Here, 25 per cent of the nurses are male. That's an anomaly.
Neupane says only 8 per cent of his classmates in the Bachelor of Science Nursing Program at Red Deer College were male. That's similar to the national average for nurses: 9 per cent male and 91 per cent female, according to a 2019 study by the Canadian Nurses Association.
Even though the number of male nurses practising in McLennan is three times the national average, old stereotypes linger. The morning that RhPAP visited Neupane, the call button went off: a patient needed help from a nurse immediately.
"I showed up and [the patient says] 'oh, I'm waiting for the nurse,'" Neupane recounts. 'You can go' she said." Neupane replied to her "No, no, I am the nurse. I can do whatever you want me to do. I'm here to help you."
"We have [occasions] sometimes, in outpatients in particular, where [the patients] say 'Is he the doctor?'," said Jacquie Melnyk, clinic coordinator at Sacred Heart Community Health Centre. "So, a little bit of stereotyping for sure happens."
Melnyk adds that many of the male patients feel more comfortable with a male nurse.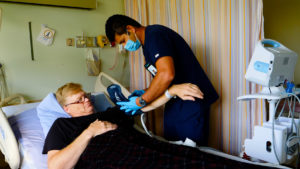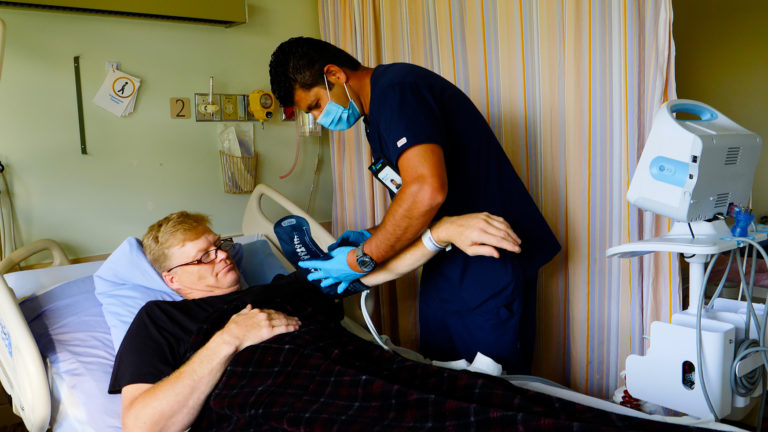 "As long as they know what they're doing, it doesn't matter to me," added Marc Farnell, a patient at Sacred Heart Community Health Centre.
One night at the dinner table, Neupane discovered a 180-degree twist on the old stereotype when his four-year-old daughter asked him: "'Hey, daddy can girls be nurses?'"
Neupane recalled with a smile. "That was a unique moment for us. We had laughter. She sees me as a nurse, as a man, and she is wondering if she could be a nurse."
McLennan is a hospital that welcomes newcomers who want to start their career – Pradeep Neupane, RN
As for physicians, the proportion of females practising in Canada has climbed dramatically: from 7 per cent in 1970 to 42 per cent in 2018 (the latest statistics that are available from the Canadian Medical Association). Pradeep's spouse, Dr. Karen Neupane, who practises as a family physician at the Sunrise Medical Centre in Peace River, doesn't have to battle the same stereotypes.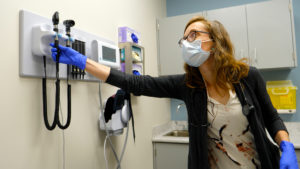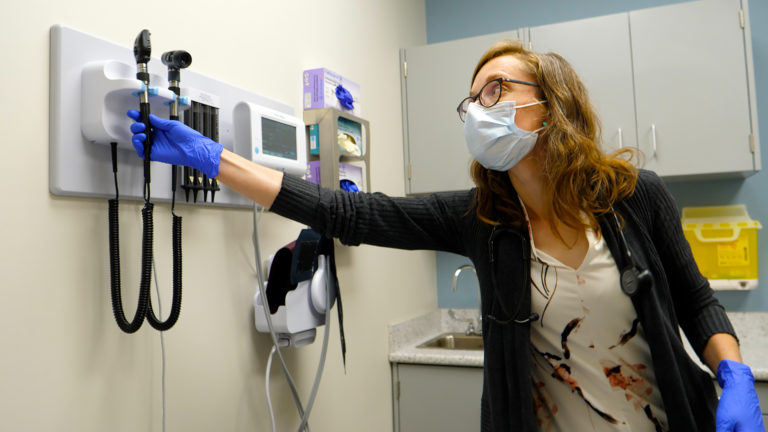 The couple first met in Pradeep's native homeland of Nepal.
After returning to Canada with Karen, he enrolled in nursing at Red Deer College. That eventually led him to McLennan. 
McLennan's a great place to work – Jacquie Melynk, clinic coordinator
"McLennan is a hospital that welcomes newcomers who want to start their career," explained Neupane. "They're willing to teach people."
"McLennan's a great place to work, and definitely, we will accept you regardless if you're a male or a female," says Melynk with a grin.
Neupane embraces the challenges of rural nursing.
"We don't have special units here. It's general nursing. So, you see everyone (who is admitted). That's actually very exciting because you get exposed to so many different things."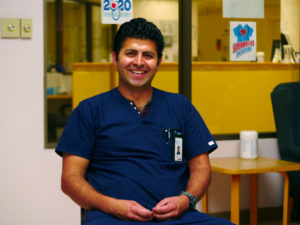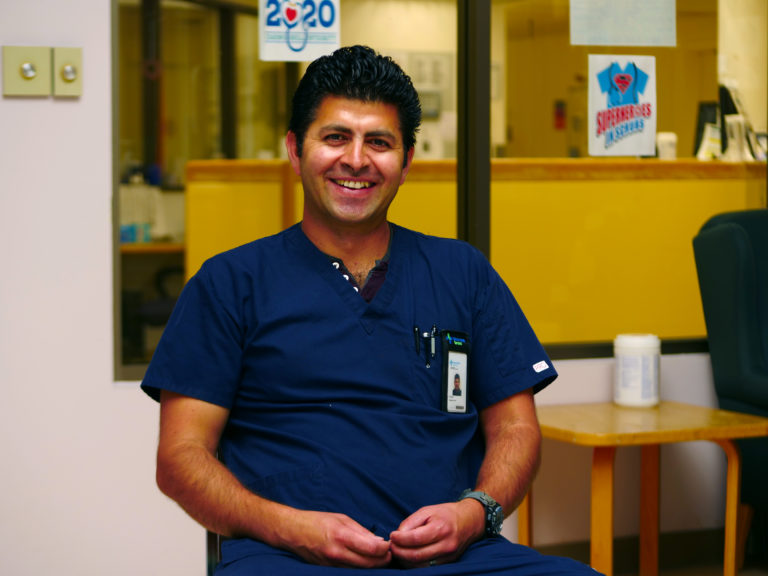 Sometimes, the things Pradeep learned growing up in Nepal help as a rural nurse in Alberta. 
"We had one new patient come into the unit," starts Neupane. "He was anxious. He was distressed. He was a bit restless. So, I was trying to communicate with him, but I wasn't getting too far. And, I found out that he spoke one of the ethnic languages that I spoke."
"So, I actually sat down with him and talked to him in his own language [Hindi]. And then after a while, he was able to calm himself down and that was good for me".
Tagged In