The World Health Organization proclaimed 2020 as Year of the Nurse and the Midwife—a tribute to front-line caregivers in health care. The year was chosen to coincide with the 200th anniversary of English nursing pioneer Florence Nightingale's birth to bring attention to this valued profession.
This week, Rural Health Beat talks with nurse practitioners about how they contribute to health care throughout Alberta and how their integration is working in two rural clinics.
Nurse practitioners help fill the gap in rural Alberta
Some rural Alberta communities are thinking outside the box when it comes to health care so residents can receive medical services close to home.
Both Arrowwood Medical and Wabamun Medical Clinic hired nurse practitioners to perform a variety of key primary health-care duties in August. Nurse practitioners are registered nurses who have an additional two years of training that allows them to practise autonomously.
Less than an hour west of Edmonton, nurse practitioner Tammy St. Louis oversees the primary care at the newly reopened Wabamun Clinic with assistance from a medical office assistant.
[The clinic] is definitely going to improve the overall quality of life and health for lots of people around the area. Anytime you can provide health-care services, your community is going to naturally get better."
– Shirley Munro, Wabamun
When Wabamun's medical clinic closed five years ago, the community suffered and some community members even neglected seeking medical care, said Shirley Munro, a former registered nurse at the clinic and now president of the Wabamun Physician and Health Care Professional Recruitment and Retention Committee. The group changed course from its original goal to entice a new doctor to the community when Alberta Health provided funds for nurse practitioners to deliver primary care in rural areas, she said.
Locals embraced the clinic, which recently increased its opening hours from two to three days a week due to patient demand.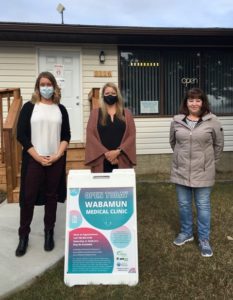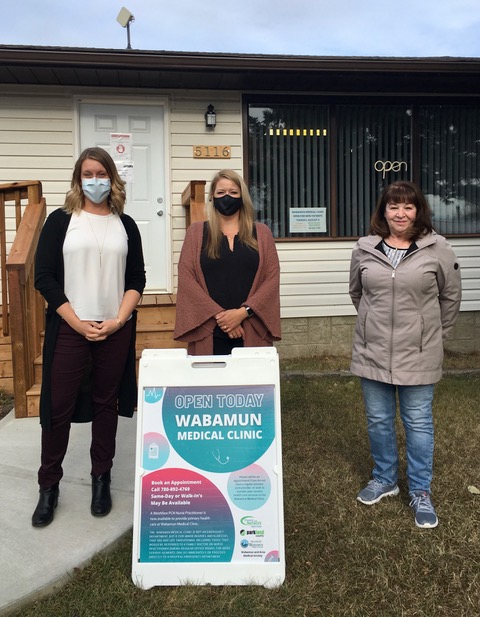 "[Our nurse practitioner Tammy] is loved by everybody that goes there," said Munro. "[The clinic] is definitely going to improve the overall quality of life and health for lots of people around the area. Anytime you can provide health-care services, your community is going to naturally get better."
She expects the clinic will be more stable going forward with stakeholders—comprised of the Village of Wabamun, Parkland County, WestView Primary Care Network in Spruce Grove, and the committee—overseeing the clinic and sharing the costs for the two staff and office overhead. The Wabamun and Area Medical Society works as a separate fundraising arm and has raised more than $5,000 for additional medical equipment through corporate, local business and personal donations, bottle drives, and other initiatives since the clinic opened.
Arrowwood Clinic's team-based approach has also been well received by patients seeking acute and preventative medical care, said Dr. Lana Fehr. She opened the clinic one and a half years ago and already has a long waiting list with many seeking care from the adjacent Siksika Nation and the surrounding region.
As a physician, Dr. Fehr acknowledges she can't realistically do everything herself.
"Jessica [Halpern], Alison [Page], and I all have different scopes and skills. We try our best to match a patient's needs to the person most suited to meet [those needs]. This approach frees me up to manage and monitor the more acute and complex issues, which improves access," Dr. Fehr said, noting she had seen first-hand how well a team-based model works during her postings at clinics in High River, Black Diamond, and Brooks.
According to Page, a registered nurse, the collaborative approach also gives all three health professionals a chance to concentrate on their areas of interest and expertise. She handles many of the prenatal patients and spends time triaging patients, so they receive timely care with the appropriate health-care provider.
As a nurse practitioner, Halpern has experience in women's health. She addresses the minor mental health cases, pelvic floor issues, and provides extra support for stable chronic disease patients. The nurse practitioner is also a go-to person for patients who are considered "stuck" due to a lack of motivation, but still show interest in working to improve their health.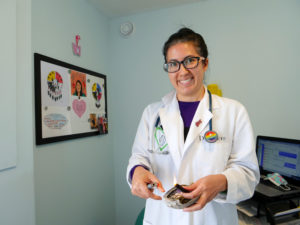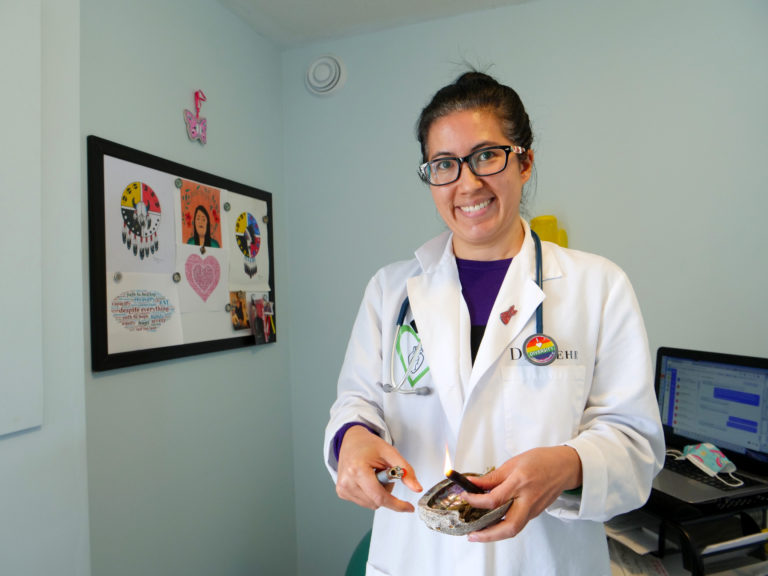 Halpern is licensed to do assessments, offer diagnoses, prescribe medications, order tests, make referrals to specialists, and perform certain procedures, according to the Nurse Practitioner Association of Alberta. The care she provides is primarily centred around health-care promotion, disease and injury prevention, and rehabilitation.
Clinics staffed with nurse practitioners have shown proven cost benefits, said Halpern.
"Billing doesn't allow [physicians] to meet [with a patient for] an hour to talk to someone about their diabetes every month. To have a primary care provider that they're able to spend regular time with to unpack what's going on and to work through a long series of trial and error on both medication and lifestyle management is important," said Halpern who has worked as a nurse practitioner for seven years.
Studies have shown that patients who receive these kinds of interventions tend to be less reliant on the health system and less likely to need significant health-care interventions down the line.
According to Halpern, "If you can make one change with a patient, they're often ready to [make] do another."
— Lorena Franchuk 
Did you enjoy this article?
Subscribe to the Rural Health Beat to get an article about positive developments in rural health delivered to your inbox each week.
Oops! We could not locate your form.