For 43 years, registered nurse, Irene Crosland, worked in the fast-paced environment of labour and delivery, the emergency department, and acute care, nurturing people across North America.
Now retired, Crosland has turned her attention towards caring for the migratory bird population that congregates around Tofield.  The long-time nurse quite literally stumbled upon her passion while out for a walk in 2006 along the south shore of Beaverhill Lake northeast of Tofield.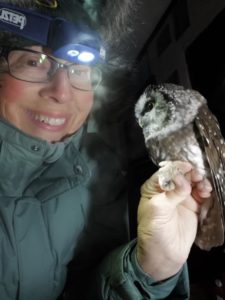 There, Crosland discovered the Beaverhill Bird Observatory (BBO), Canada's second-oldest migration monitoring observatory.
The nonprofit, funded wholly by donations, grants, and public support, tracks changes in bird populations, migratory routes, breeding, and survival.
Their extensive long-term research is thanks largely to staff and volunteers like Crosland.
Crosland started her nursing career caring for people in Kentucky's coal mining country filled with booms and busts. She eventually returned to Canada, accepting postings in Calgary, Edson, and Taber before landing in Tofield, where she spent the bulk of her nursing career and continues to live with her husband, Bill.
Crosland retired from nursing in the spring of 2020, but she maintains that her ability to give back as a volunteer was a great stress release while she was working. Her contribution at the BBO was responsible for getting her "out for exercise and fresh air while getting familiar with birds and all their wonderful ways."
Out at the BBO, Crosland learns about birds and their behaviours and gets to handle them too. She does some banding, which involves putting uniquely numbered bands around birds' legs to help with studying and identifying individual birds.
Crosland believes that her volunteer experience at the BBO is similar to her nursing experience, as it is driven by a desire to care for those around her. Her love of nature drew her there, and it's her ability to express her love for nature and people that keeps her there.
She concedes that the nicknames she has been given — "Mother Goose" and "field mom" —relate to her offering her skills freely, whether extracting birds from nets or bringing meals out to the staff and campers taking part in Young Ornithologist Week.
"These young people [the participants of this free week-long natural history camp] are beginning their journeys, and maybe in some small way, I can impact their lives, make them feel welcome in our community, and love them up a little bit."
Sara Pearce Meijerink, head biologist for the BBO, said it's not just the birds who benefit from Crosland's volunteer work.
"Irene is a wonderful addition to the team. She has been a long-term volunteer [and she's] been here longer than most of our staff."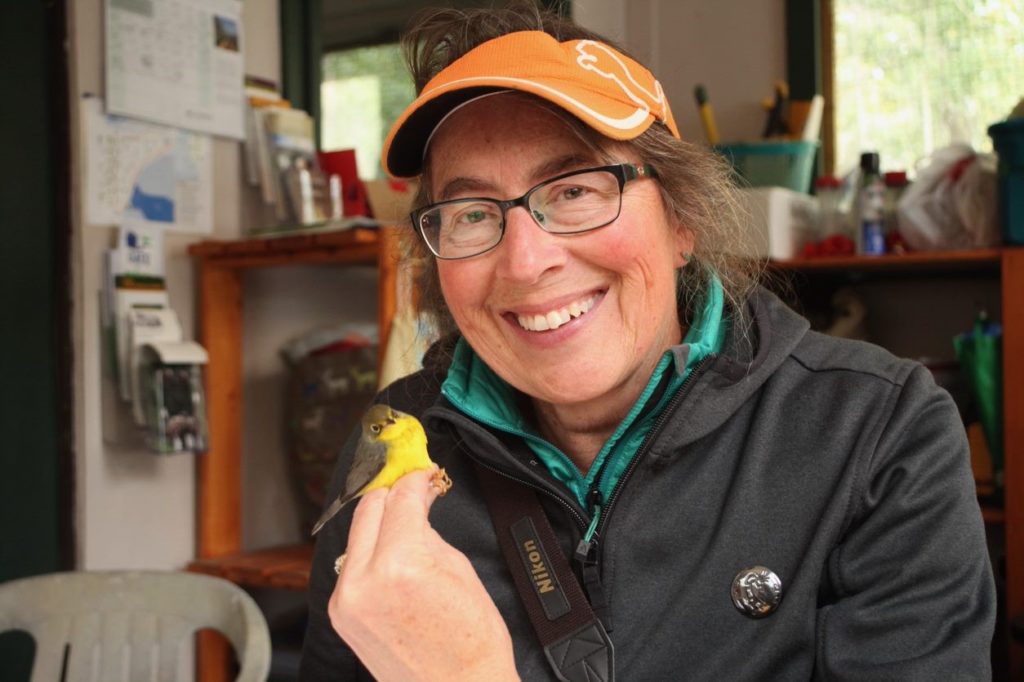 Crosland also invites the BBO staff, many of whom are from out of province and away from their families, to join her family for Thanksgiving dinner, according to Pearce Meijerink.
"Health and wellness are never to be taken for granted,"  – Irene Crossland
"She is beloved by the staff, is always checking in to see how we are doing [as individuals] and sometimes even brings us goodies in the form of her delicious baking."
Crosland has seen many benefits to living in rural Alberta: there is less pressure to conform to many materialistic demands and she's been able to focus on faith, family, and friends while participating in her community, she explained.
"Simpler living is not a sacrifice, but a choice," she said. She loved her career as a nurse, but is enjoying stepping out of that capacity to focus on other areas and adjusting to the slower pace of retirement.
She considers herself blessed with good health, which she feels is attributed to a mixture of good genes and having an active lifestyle.
"Finding balance is important."
-Billi J. Miller