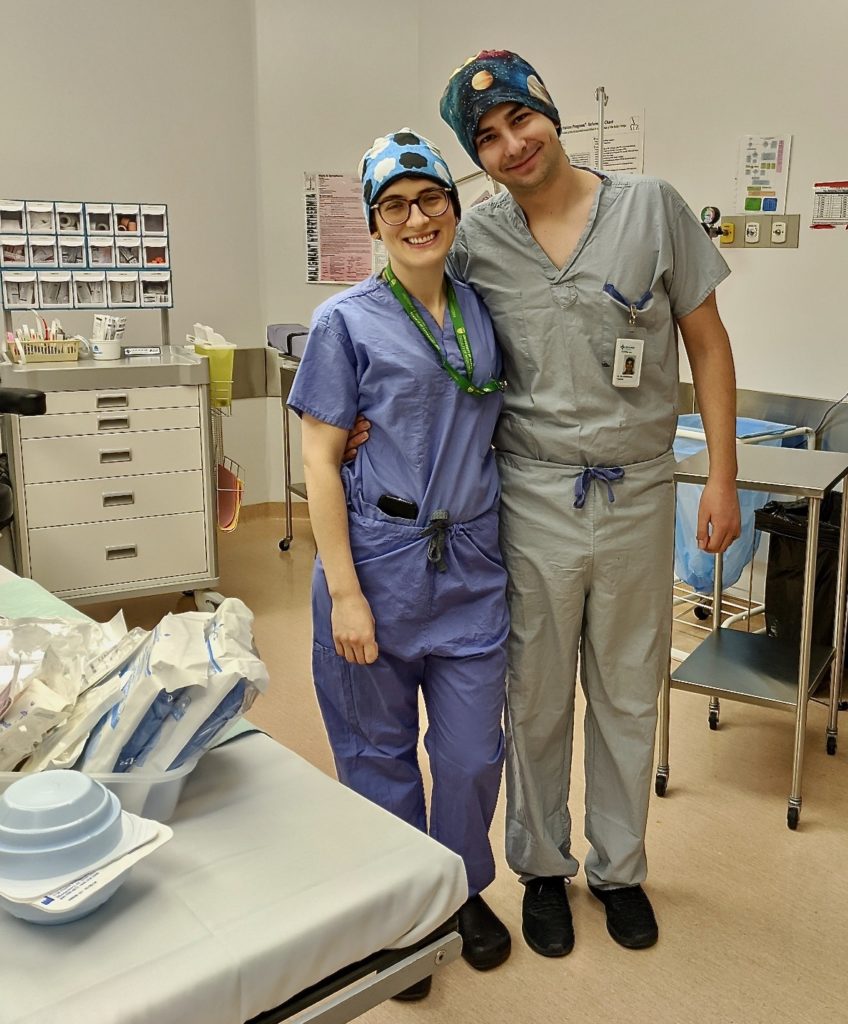 Many homegrown family doctors have been drawn to a welcoming Northern Alberta community, outfitted with a well-supported teaching hospital.
Several western Canadian graduates have been part of a slate of physicians setting up a practice in Peace River over the past few years.
"Eight out of 11 new physician recruits in the last three years completed a portion of their training in Peace River—outstanding," says Susan Smith, a physician resource planner with Alberta Health Services (AHS) North Zone.
Dr. Kathryn Wood is one of those family physicians hired from within Alberta, along with her husband Dr. Adam Mildenberger, who grew up a couple of hours west in Beaverlodge. They both completed the University of Alberta's Rural Alberta North Family Medicine Residency Program in Grande Prairie followed by enhanced skills training in Saskatchewan. Last summer, they settled in Peace River after having previously spent time training in the community.
"When I first visited Peace River as a second-year medical student, I was drawn by the full scope of medicine and strong community among the physicians in town," says Dr. Wood. "There was a spirit of mutual support that I realized later… not every small-town physician group has."
About 20,000 residents live within the town and the surrounding area, giving family practitioners an opportunity to experience a broad scope of medical practice including family medicine, emergency care, obstetrics, and surgery.
So far, my practice in Peace River is exactly what I hoped for.
– Dr. Kathryn Wood
Dr. Mildenberger trained as an anesthetist, while Dr. Wood specializes in surgery and obstetrics. Both are family physicians in the community.
"I appreciate the chance to establish continuity of care with my patients, whether that's obstetric, family medicine, or surgical patients that I then follow through post-operatively," says Dr. Wood.
"So far, my practice in Peace River is exactly what I hoped for. I have had several difficult cases where the support of my colleagues has been invaluable, and I have been able to continue a broad scope of practice."
Dr. Mildenberger believes practising in a rural area can yield closer and stronger relationships with patients—although this can make breaking bad news for a patient even harder.
The trust that is built is very valuable.
"It's one of those privileges and drawbacks to working rural," he says. "Often your patients are your friends and your colleagues…"
Mildenberger adds there are benefits to having your spouse as a colleague.
"Kathryn and I can share experiences and can talk with each other. You always have a colleague to back you up wherever you go… but it also means that we're on opposite on-call schedules. It's like passing ships in the night."
Dr. Karen Lundgard has done her fair share of on-call coverage since she started practising at the Peace River Community Health Centre in 1980.
The community medical director grew up in Berwyn, about 30 minutes west of Peace River, and left the area to pursue medicine and anesthesia training. Dr. Lundgard returned to the region to start her family practice and has delivered about 2,500 babies since—even some third generation patients.
One of our successes is that we mentor our young physicians.
– Dr. Karen Lundgard
Dr. Lundgard also enjoys taking medical students, residents, and new physicians under her wing.
"It's almost like having my kids work with me and come back and take over the business," she says, noting both Dr. Mildenberger and Dr. Wood spent time learning in Peace River before they returned and purchased a home.
"One of our successes is that we mentor our young physicians," Dr. Lundgard explains, noting the facility is a teaching hospital for the Rural Alberta North Family Medicine Program.
"They never feel like they are alone … The fear of being alone in emerg[ency] and having that horrendous MVA [motor vehicle accident] coming in, or the guy that's bleeding out in front of you, [that] scares everybody to death. So we make sure they have backup."
Statistics indicate Peace River is an example of a homegrown success story in hiring Canadian-trained doctors. Dr. Lundgard says her community welcomes qualified family physicians from around the world, but hiring local can sometimes be less onerous for the doctors in terms of relocation and document requirements, leading to a quicker placement.
For Dr. Lundgard, it doesn't matter where health-care providers come from, but it often helps if new arrivals have an understanding of the nuances of a rural lifestyle.
Elaine Manzer is chair of the Peace Regional Health Care Attraction and Retention Committee and the town's deputy mayor. The group—with representatives from the surrounding municipalities, health-care workers and the public at large—formed three years ago when they realized the community should take responsibility for supporting their physicians throughout their tenure.
"It's something to be proactive about rather than always complaining that we don't have enough doctors," says Manzer, adding that RhPAP was instrumental in getting the committee established.
"[Now,] if the committee hears that [a physician] is coming to town, we try and host them for a lunch to introduce them to the area and community," she says. Events have also been organized such as mini golf, barbecues, as well as special recognition through RhPAP's Rhapsody Awards. The Peace River Community Health Centre's operating room team and local physician Dr. David S. Welch were both award recipients in 2018.
Community and colleague support, coupled with great amenities to explore on days off, are also important selling features for physicians.
Dr. Lundgard says the current physician team is on the younger side, so they've also bonded during their off hours.
"Their kids are having play dates together. They help provide child care for each other… They're making it their own little community."
Dr. Lundgard hopes she's regarded as a good mentor and a friend to them after hours.
The mother of three chuckles when she recalls overhearing one of the physicians speaking about an upcoming Australia and New Zealand cruise.
"I thought, 'this cruise is awfully familiar.' I said, 'Guess what? I'm coming on your honeymoon.'
"We had a great time. So, I go above and beyond as community medical director in that regard. I will even make sure you are safe on your honeymoon."
Tagged In