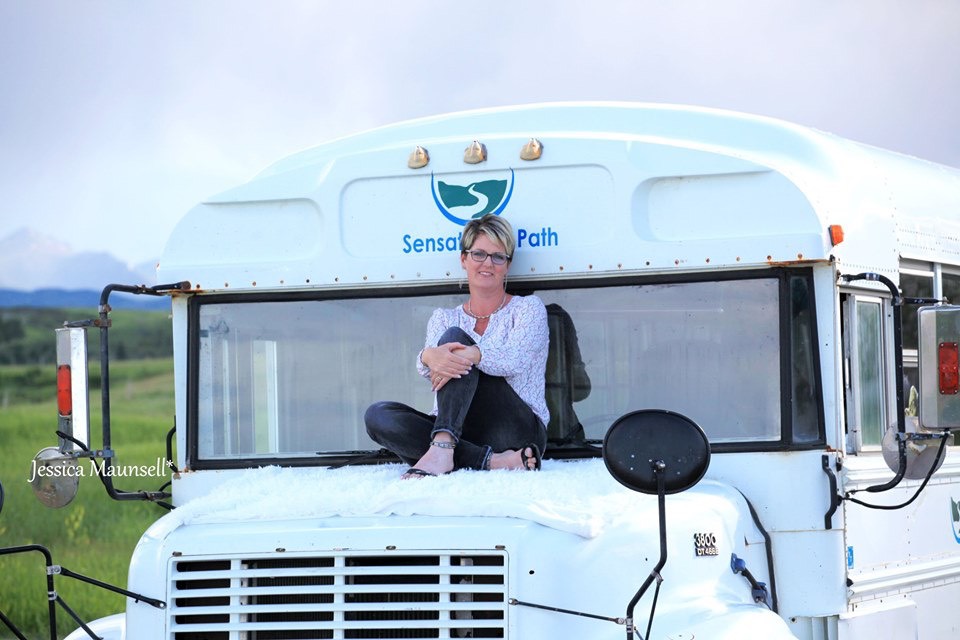 Imagine as a child having the ability to jump on a bus at school — not for basic transport, but to learn and play. Erin Grujic, an occupational therapist from Pincher Creek, thought this idea was an excellent one.
Thus was born the Sensational Path Bus, filled with equipment similar to a playground for occupational therapy sessions.
"Everyday, it looks like I get to play, but I actually get to help these kids develop pathways…"
– Erin Grujic
Grujic reconfigured a school bus to house all her equipment for preschool- and elementary-aged children so she could travel to them, avoiding the barriers of long trips and missed appointments.
"Everyday, it looks like I get to play, but I actually get to help these kids develop pathways [in their brains], develop the foundational skills that they need to be able to learn, behave, pay attention, get dressed, and do things for themselves," says Grujic.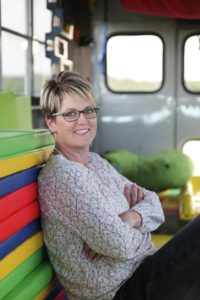 The mobile clinic is geared to support high-needs kids with moderate to extreme speech delays, behavioural issues, and fine motor and sensory issues. Grujic uses mats, tunnels, and other toys on board the bus to help kids work through their challenges. The occupational therapist (OT) also has her office set up on the bus for consultations.
One of Grujic's clients is a boy with autism.
"He is a busy boy, on the move," explains Grunic. "After being on the Sensational Bus for an hour, he went inside his house and, for the first time, he sat calmly beside his dad. It really helped him have his sensory needs met."
Grujic, who has worked as an OT for almost 20 years, travels throughout the Livingstone Range School Division to communities such as Pincher Creek, the Crowsnest Pass, Fort Macleod, Stavely, Nanton, and Claresholm. The school division requests that she do an assessment if a child shows a need for occupational therapy and, if needed, she provides follow-up therapy. The sessions are covered through Program Unit Funding (PUF) by Alberta Education.
Assistant principal of West Meadow Elementary School in Claresholm, Dana Burrows, mentions that Grujic visited their school four times in the previous year, making a huge impact in accessible care in the rural community.
"It's been awesome," says Burrows. "I think the bus provides kids with a way to learn to work on their fine motor movements without it seeming like a work session, in a fun play session. That's the best way, with play."
"It's been awesome."
– Dana Burrows
The therapy bus has covered a lot of miles since it was launched in October 2018. Grujic hopes the concept takes off in other areas of the province to help make appointments more accessible for high-needs kids.
"It has made work fun again," said Grujic. "Driving around in this bus was a dream of mine, so it's empowering to get in and be like, 'I did this.' And it's fun."