RPAP's Community Recruitment Consultants (CRCs) are involved in supporting the development and enhancement of local physician attraction and retention (A&R) committees. This involvement includes  participation in community engagement activities, such as the annual Rural Alberta Community Physician  Attraction and Retention Conference, and the administration of the Community Physician Attraction and Retention Website.
Objective
To support the establishment and sustainability of Community Physician A&R Committees and their efforts.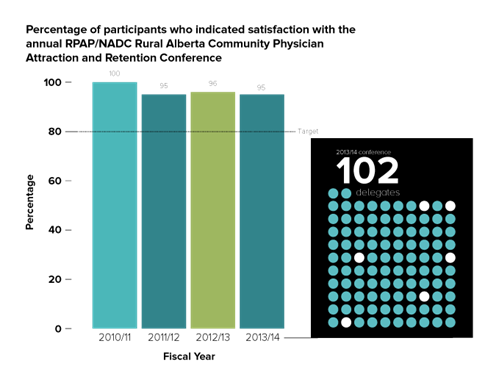 (Click on image to download PDF infographic)
To download a PDF copy of the ninth report on key performance data for RPAP | Health Workforce for Alberta, click here.
RPAP | Health Workforce for Alberta supports Alberta's rural practitioners, their families and communities in improving the quality of rural health care by offering comprehensive, integrated initiatives to enhance rural medical services, education, attraction, recruitment, and retention.
For further information, contact RPAP Research & Analysis at 780-423-9911 or email: info@rpap.ab.ca.
Related