In September 2019, the Alberta Government announced it was increasing spending to hire nurse practitioners to work in primary care settings in rural and underserved areas, including the Bonnyville Primary Care Network (PCN), the Aspen PCN in northern Alberta, and the Bow Valley PCN. Nurse practitioners were also hired to work in two urban settings: an opioid dependency clinic in Sherwood Park and the Covenant Health Foster Care Clinic in Edmonton.
As a result of this initiative, nurse practitioners will have more opportunities to do a broader range of work and perform to their full scope of their training. The intent of this initiative and the expansion of nurse practitioner scope of practice made by the previous government is to provide Albertans in underserved areas greater access to a health-care provider.
In December 2019, the Rural Voice Information Panel (Rural VIP), RhPAP's monthly provincial survey for attraction and retention committees on health-related matters, asked members about their awareness and perceptions of three health professions in Alberta that had experienced recent changes in their scopes of practice—midwives, licensed practical nurses, and nurse practitioners.
Overall, respondents recognized that they had a limited understanding of the scope of practice of nurse practitioners and midwives and rural communities have a high need for nurse practitioners and practical nurses. 
"What is the full practice of nurse practitioners?"
"[What are] all of the benefits a nurse practitioner can add to a community[?]"
"What can they do for patients?"
– Member responses to the December 2019 Rural VIP survey
These rural community members indicated that they would like more information related to these providers' scopes of practice, the benefits and impacts for patients related to employing them, and how to attract and retain them.
RhPAP saw an opportunity to address this informational gap. Educational materials about nurse practitioners and other health professions were developed to create greater awareness and answer common questions about these providers.
A closer look at nurse practitioners
Nurse practitioners are registered nurses with advanced knowledge and skills based on two years of nurse practitioner graduate education. These care providers are able to autonomously assess, diagnose, and treat patients, order medical tests, prescribe medication, and perform annual checkups.
Nurse practitioners can also make referrals to specialists and perform specific procedures within their scope of practice. The profession is regulated in all ten provinces and three territories.
Nurse practitioners first appeared in Canada in the 1960s to provide care in northern rural and remote areas. The regional nurses, outpost nurses, and community health nurses who served these areas underwent additional training in order to be able to provide more independent primary health care in isolated settings.
During the 1970s, reports and studies were published that supported nurse practitioners as a safe and effective provider of primary care services, and more education programs were developed. However, many nurse practitioner initiatives ended the following decade due to funding challenges, a perceived oversupply of physicians, a lack of legislation to support nurse practitioners, and limited buy in from other health professions.
In 2018, there were 5,697 nurse practitioners in Canada.
In the mid '90s, government reports called for primary health-care reform with a renewed focus on nurses and allied health professionals as key contributors, which led to a re-introduction of nurse practitioners. Federal and provincial governments, nurses, and nursing associations continued to advocate for defined standards and supports for nurse practitioners. As a result, common standards for nurse practitioner education and practice are in place across Canada. 1
In 2018, there were 5,697 nurse practitioners in Canada. Of this total, 529 were working in Alberta, with approximately five per cent of Alberta's nurse practitioners serving in rural or remote areas as compared 15 per cent nationally.2
Alberta's nurse practitioners work in a variety of settings, such as hospitals, acute care centres, specialty clinics, and primary care networks. These care providers can work as part of a health-care team that includes physicians or independently in an office environment. Some perform home or long-term care facility visits to provide care directly where their patients are living. Often, they are paid on a salaried rather than a per-patient basis, which can allow for more flexibility in terms of how they provide care.
Primary health-care nurse practitioners, also known as family or all-ages nurse practitioners, typically work in the community in settings such as community health centres, primary health-care clinics, and long-term care.
Acute care nurse practitioners, also known as specialist nurse practitioners, provide advanced nursing care for adult and pediatric patients who are acutely, critically, or chronically ill.
Alberta Health research has shown that the inclusion of nurse practitioners on health-care teams improves patient access to care and the continuity of care provided to patients resulting in extremely high patient satisfaction results.3
Examples of nurse practitioner models of care
Initiatives and practice models that support more nurse practitioners in primary care and community settings help to improve health-care access particularly in rural and remote regions. Primary and community care services support people's basic health-care needs and provide them with an entry point into the health-care system.
Nurse Practitioner-led Clinics in Ontario4
In 2006, Canada's first nurse practitioner-led clinic was developed in the northern Ontario city of Sudbury, a regional hub serving many rural residents. In areas where there is limited access to a primary health-care physician, this model allows nurse practitioners serve as the lead care providers and care team leaders.
The Sudbury nurse practitioner-led clinic has six nurse practitioners, two collaborating physicians, a registered nurse, pharmacist, social worker, dietician, and clerical staff. Physicians are available on-site a total of five half days per week to consult about more complex care issues. The clinic director is a nurse practitioner, and the clinic's board of directors has strong nurse practitioner representation.
Approximately 25 nurse practitioner-led clinics operate in the province. The Ontario Ministry of Health and Long-Term Care provides funding for nurse practitioner salaries at these clinics.
Care for Seniors Program in Ontario5
The Care for Seniors Program began in 2008 when the North Perth Family Health Team in rural southwestern Ontario hired a nurse practitioner in geriatrics to develop a program to help older adults with complex medical conditions.
Under the Care for Seniors Program, the nurse practitioner collaborates with primary care physicians and other health-care providers to deliver coordinated, comprehensive care to geriatric patients.
The nurse practitioner holds monthly clinics for seniors, helps patients transition to new living situations, such as long-term care, accepts referrals from other health professionals, and assists with care plans through regular multidisciplinary meetings at the local hospital.
Care for Seniors offers patients more timely access to primary care providers and addresses many of the challenges associated with older adult care in rural communities.
Mobile Clinics in Manitoba6
In Manitoba, nurse practitioners and registered nurses provide primary care for people living in smaller, underserved communities through Mobile Clinics. Mobile Clinics are buses specifically designed to serve as primary care clinics. People who live in or near a community served by a Mobile Clinic can use the clinic to meet their occasional or regular health-care needs.
Nurse Practitioners bring primary care to British Columbia
British Columbia has several rural communities that rely on nurse practitioners to provide health care. The Sorrento Community Health Centre Clinic was established by a nurse practitioner in 2013 to bring health-care services to hundreds of residents who would not otherwise have access to local care.
This model was so successful that, in 2018, the British Columbia Ministry of Health announced it was hiring 200 new primary care nurse practitioners over three years to improve access to primary health-care service in the province, with hiring focused in regions with the highest need of primary care services, including rural and remote communities.7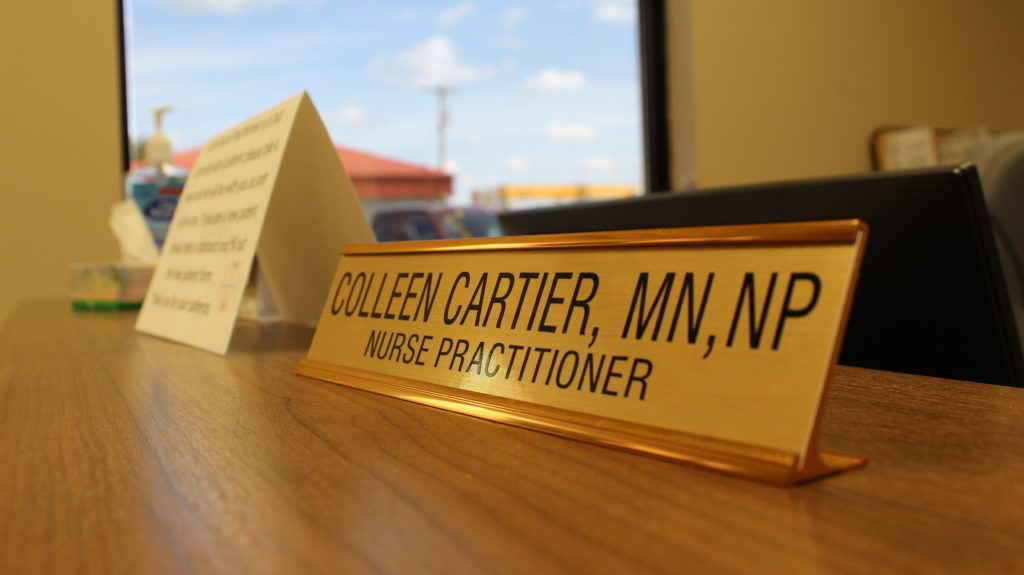 Nurse Practitioner keeps medical services in a rural Alberta community
Rural Albertan communities have also found innovative ways to integrate nurse practitioners into their local health-care model. When Thorhild County, located about 80 km north of Edmonton, learned that the doctor who had been coming to Thorhild to provide care would soon require his patients to travel 40 minutes for appointments, the local municipal council was determined to maintain health services in the community.
To this end, they established a medical centre in the local county building and hired a nurse practitioner as a salaried county employee. Thorhild's nurse practitioner is able to offer a variety of services: diagnoses and treatment of a wide variety of illnesses and injuries; lab and diagnostic test ordering and interpreting; medication prescriptions and adjustments; minor treatments such as suturing; women's health assessments; chronic disease management; and referrals to specialists.
RhPAP is privileged to support rural Alberta's dedicated health-care providers and teams who provide health services throughout the province.
Nurse practitioner research in rural Alberta
The following studies, set in rural Alberta, research the implications of integrating nurse practitioner roles in rural primary care settings.
"Benefits and challenges faced by a nurse practitioner working in an interprofessional setting in rural Alberta"8
This study looked at the addition of a nurse practitioner to a rural primary care team and found that having a nurse practitioner improved access to care, with 817 previously unattached patients being added to the nurse practitioner's caseload. Moreover, feedback from the care team and patients was positive. The nurse practitioner provided cost-effective, quality care and relieved strain on the local primary care system as well as filling service gaps by providing more focused treatment of chronic disease and support for mental health.
The study authors also found that buy-in from patients and local leaders and mentorship and support from local physicians was important for introducing a nurse practitioner to the community. The nurse practitioner's background working as a registered nurse in the area before becoming a nurse practitioner was key for developing buy-in and trust from both community members and the health-care team.
On the financial side, the study suggested the need for a sustainable provincial funding model in order to be able to integrate nurse practitioners into primary care across rural Alberta. Such a model and the stable funding that would come with it would make hiring these practitioners more feasible.
"Introducing a nurse practitioner: experiences in a rural Alberta family practice clinic"9
This study found that the addition of a nurse practitioner to a physician clinic in Taber, Alberta, resulted in high patient satisfaction, better health services for patients, and streamlining of primary care services between the clinic and the regional health authority. Clinic physicians believed having the nurse practitioner on the team was cost-effective and recognized benefits to the clinic and the broader health system.
The study found that successfully introducing a nurse practitioner required some initial flexibility in determining how this provider would work with the health-care team. The nurse practitioner was able to meet with health professionals in the clinic and the broader health-care system to build trust and establish secure relationships with these individuals, which was necessary to build a strong foundation for future collaboration and initiatives. A management team was also created to provide support and guidance for the nurse practitioner. By offering advice and mentorship related to interpersonal matters, the clinic management team helped to smooth the integration of the nurse practitioner into the clinic.
As identified in the previous study, sustainable funding mechanisms and strong community connections outside the clinic were necessary for successfully integrating the nurse practitioner into the care team.
RhPAP support for rural nurse practitioners
RhPAP is privileged to support rural Alberta's dedicated health-care providers and teams who provide health services throughout the province.
Nurse practitioners can access RhPAP's suite of continuing education courses, programs, and resources, such as:
RhPAP Housing Coordinators work with University of Alberta Nursing Program Coordinators to provide accommodations for nursing and nurse practitioner students in rural communities.
In addition, RhPAP's Rural Community Development and Engagement team supports rural attraction and retention committees in expanding their efforts to include nurse practitioners in their attraction and retention activities.
References
1 Delvin, M; Braithwaite, S; Camargo Plazas, P. (2018). Canadian nurse practitioner's quest for identity: A philosophical perspective. International Journal of Nursing Sciences,  5(2), 110-114. https://doi.org/10.1016/j.ijnss.2018.03.001
2 Canadian Institute for Health Information. Nursing in Canada, 2018 – Data Tables. Ottawa, ON: CIHI; 2019.
3 Zuck, N; Sproule, J; Cook, C; Albrecht, R. (2019). Nurse Practitioner Demonstration Project: Final evaluation report. Edmonton, AB: Institute of Health Economics.
4 Nurse Practitioners' Association of Ontario. Nurse Practitioner-Led Clinics. https://npao.org/about-npao/clinics/
5 Prasad, S; Dunn, W; Hillier, L; McAiney, C; Warren, R; Rutherford, P. (2014). Rural geriatric glue: a nurse practitioner–led model of care for enhancing primary care for frail older adults within an ecosystem approach. Journal of American Geriatrics Society, 62(9), 1772-1780. https://onlinelibrary.wiley.com/doi/abs/10.1111/jgs.12982
6 Manitoba. Mobile Clinic Fact Sheet, 2016. https://www.southernhealth.ca/assets/Finding-Care/07d6c684a7/Mobile-Clinic-Fact-Sheet.pdf
7 British Columbia. 2018. Creating new opportunities for nurse practitioners as part of team-based care system [News release]. https://news.gov.bc.ca/releases/2018HLTH0034-000995
8 Hunter, K.F., Murphy R.S., Babb, M., & Vallee, C. (2016). Benefits and challenges faced by a nurse practitioner working in an interprofessional setting in rural Alberta. Nursing Leadership, 29(3), 61–71. 10.12927/cjnl.2016.24893
9 Reay, T; Patterson, E; Halma, L; Steed, W. (2006). Introducing a nurse practitioner: experiences in a rural Alberta family practice clinic. Canadian Journal of Rural Medicine, 11(2), 101-107. https://www.ncbi.nlm.nih.gov/pubmed/16630436