Thank you, rural preceptors!
November 2 is designated as Rural Preceptor Recognition Day by RhPAP to acknowledge the commitment health-care preceptors give to share their clinical expertise with students in their field.
A preceptor is an experienced and competent health-care practitioner who serves as a clinical role model and resource for learners.
When students spend time living and training in rural Alberta, they are more likely to consider rural practice. Preceptors matter because, without them, students would not have rural training experiences.
We dedicate this edition of Rural Health Beat to the dedicated health professionals in rural communities who teach and mentor future health-care providers.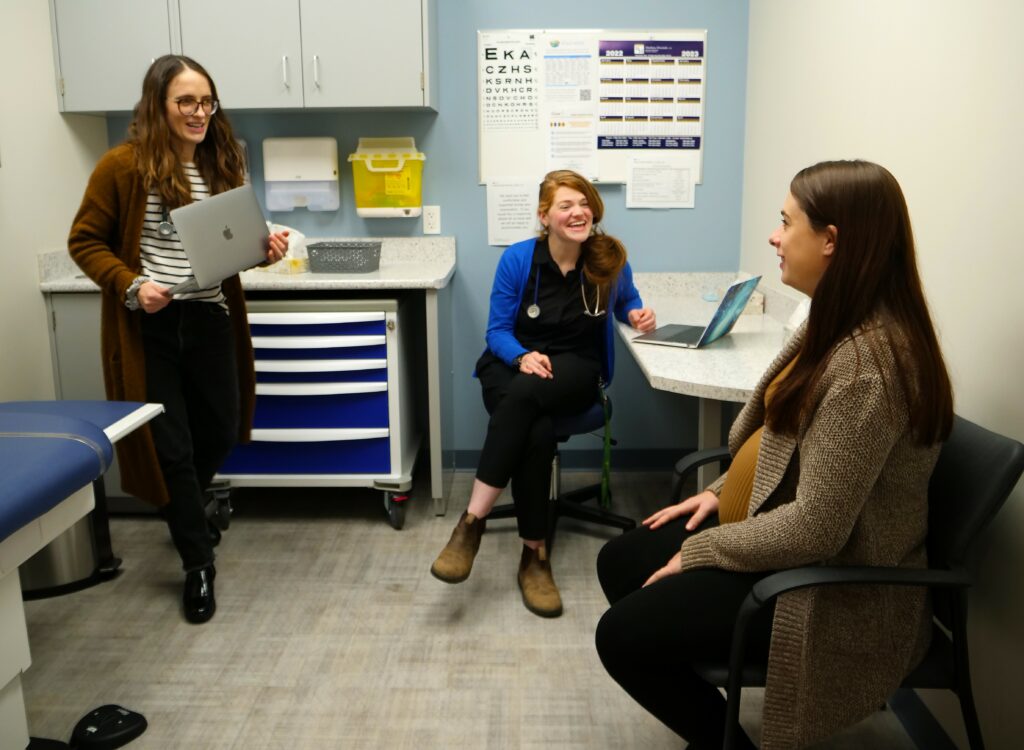 Teaching isn't a one-way street in health care.
Just ask Dr. Dewet Dowling, a Rocky Mountain House physician who has been mentoring medical students as a preceptor since 2018.
"I learn so much from the students, they are so enthusiastic," said Dr. Dowling, a family doctor who has practised in the community for seven years.
"[Students] view my regular patients with new eyes, picking up on subtleties that I never noticed. I am encouraged to stay up to date with all the new guidelines, and this benefits my patients as well."
Dr. Dowling recalls being challenged to learn more about transgender medicine after he and a student encountered a transgender patient.
"My knowledge was very limited. The student saw that I was overwhelmed, and calmly stepped in to take over the conversation with the patient. The patient felt so comfortable with her.
"Afterwards, this student taught me so much about a topic I have no formal training in."
Relationships between a preceptor and a student is symbiotic, said Rosilita Jn-Pierre, a registered psychiatric nurse and long-time preceptor who also serves as the manager of Addiction and Mental Health in the Alberta Health Services — North Zone.
"It allows you to think critically. Many times I've had students ask me questions and [I] say, 'oh, I've never thought of this, let's look it up together.'
"It helps you grow, honestly, it helps you become a better nurse."
Preceptorships are a key training opportunity for up-and-coming health professionals such as physicians, nurses, social workers, and other clinical practitioners to practise their education in the field while still being supported by a mentor.
Preceptors generally receive some compensation for the time spent working with students.
In the Regional Municipality of Wood Buffalo, student nurses work alongside a preceptor for about three months.
In Rocky Mountain House, Dr. Dowling mainly works with medical students through the University of Calgary Longitudinal Integrated Clerkship (UCLIC) program.
"This program places a student in Rocky Mountain House for the majority of their core curriculum blocks, and the student works with me in all areas of rural medicine.
"They spend time in the clinic, emergency department, in-patient unit, obstetric unit, outreach clinics on the First Nations reserves, and many other areas. They see patients mostly on their own, and then I assist them with fine tuning their history taking and clinical exam skills. We then review the patient together and come up with an assessment and treatment plan."
"[Students] view my regular patients with new eyes, picking up on subtleties that I never noticed. I am encouraged to stay up to date with all the new guidelines, and this benefits my patients as well." — Dr. Dewet Dowling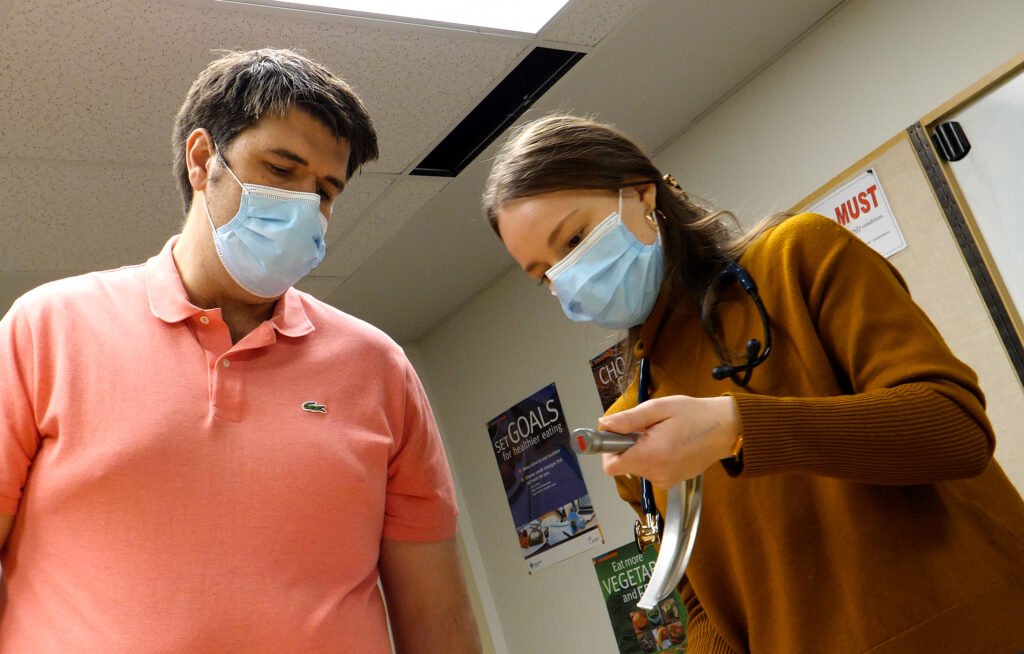 Dr. Dowling remembers one preceptorship when he and his student worked closely with an emergency room patient who had severe abdominal pain.
"The student and I worked diligently through the different diagnoses, and we eventually made a diagnosis of aortic dissection," he said.
"The student told me that he will forever remember how we made the diagnosis using the clinical signs and basic lab work, and not relying on advanced imaging."
Jn.-Pierre currently mentors University of Alberta and Keyano College fourth year nursing students as part of their leadership practicum. They touch on a variety of topics including meeting management and budgeting and often work on specific projects involving nursing leadership.
Preceptorships give Jn.-Pierre an opportunity to recruit new employees, while giving students a glimpse into nursing beyond a clinical environment. She believes it's important to offer students a good experience right off the start by providing support in their new roles.
Hannah Swan is a new registered nurse preceptor at the Northern Lights Regional Health Centre in Fort McMurray.
As a student, shadowing her mentor was time well spent.
"When I was a preceptee, it …was the best time of my nursing career," she said. "You're really trying to be an actual nurse and have more responsibility."
It also gave her an opportunity to delve into the specialties she could focus on after graduation while still having support in her role.
"It's kind of [a time] when you get to pick more of what you're passionate about because you get to [experience] a department that you [may] want to work in."
Now as a preceptor, Swan wants her students to feel just as comfortable as she once did.
"I do my best to give them the same type of experience that I got," said Swan, who works in the same psychiatric unit at the hospital where she completed her own on-site training.
Swan, who is new as a preceptor, has found that working with students keeps her on her game.
"Through teaching, I believe you become a better nurse, for sure. I learn a lot from [students] as well. I think just through teaching, we're learning … the proper ways of doing things and wanting to do the best that we possibly can.
"The preceptorship brings the entire nursing degree to an end and the [on-the-job training] experience just helps to bring all of it together."
"It's trying to get them familiar with what I do on the unit and getting them comfortable with being their own kind of nurse [while] guiding them."
— Lorena Franchuk