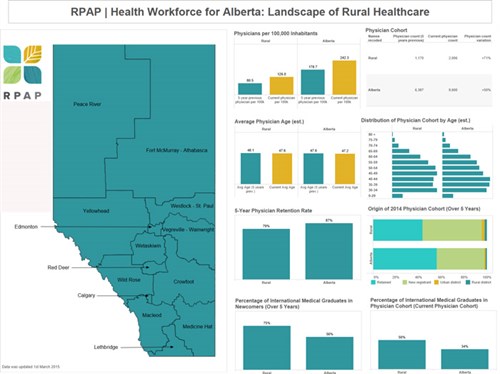 Starting this week, and continuing on a weekly basis until July, we will be profiling the landscape of rural healthcare in Alberta, by the regions.
From Crowfoot to Yellowhead, each week we will feature an individual electoral district, looking at key data in comparison with Alberta provincial averages.
RPAP's Research and Analysis team have compiled data on the following areas, and have grouped it according to the province's federal election districts as of the 2012 federal election, prior to the recent redistribution:
Physician count
Average Physician Age (est.)
Age distribution
5-Year Physician Retention Rate
Percentage of International Medical Graduates in Newcomers (Over 5 Years)
Origin of 2014 physicians
Physicians per 100,000 Inhabitants
Percentage of International Medical Graduates in Physician Cohort (Current Physician)
We begin our profiles this week with a comparison of  the healthcare landscape in Alberta's rural constituencies, compared to the provincial average.
RPAP | Health Workforce for Alberta supports Alberta's rural practitioners, their families and communities in improving the quality of rural health care by offering comprehensive, integrated initiatives to enhance rural medical services, education, attraction, recruitment, and retention.
For further information, contact RPAP Research & Analysis at 780-423-9911 or email: info@rpap.ab.ca.