Above: Red Deer College students Andrea Luca, RN (left), and Roxanne Hiebert, who works in health information management at the Red Deer Regional Hospital Centre, looked to health professionals for feedback on their rural postings. — Photo supplied by Roxanne Hiebert and Andrea Luca
---
Promoting what you have to offer is a great way to sell people on a rural community.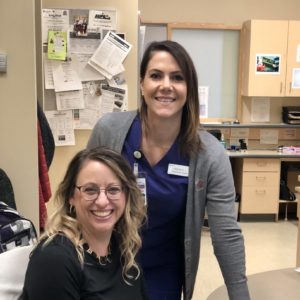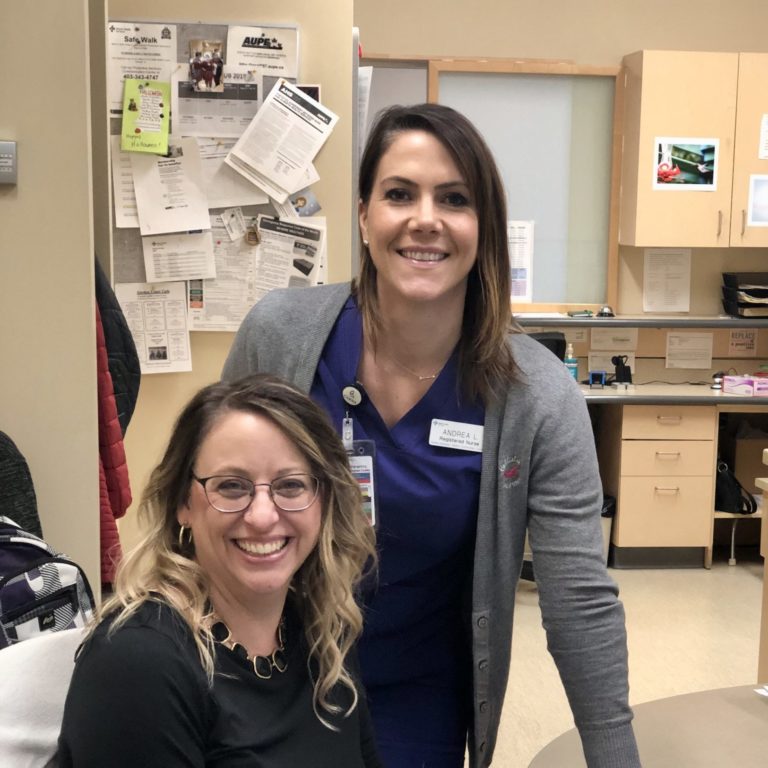 Two Red Deer College students, who also work at the Red Deer Regional Hospital Centre, are recommending that rural communities go even further to pitch their communities to potential health-care professionals who are looking for work by highlighting local health-care amenities and services.
A case study from health-care management students, Roxanne Hiebert and Andrea Luca, entitled "Working as a Community, Caring for a Community," is aimed at offering suggestions on how to attract health-care professionals to rural areas and keep them employed there.
Their final assignment focused on central Alberta communities with fewer than 5,000 residents, specifically Rimbey and Consort. Twenty-three health-care staff (other than physicians) from these communities volunteered to complete anonymous surveys related to employee attraction and retention.
"One of our big recommendations from our findings is perhaps some future work could be done around packaging and promoti[ng]… a facility [and]… getting the community to view the hospital [and] health services …as an asset," said Luca.
While there is a lot of information on community websites about demographics, education, business, and recreation, local health-care details are often overlooked or brief in nature, Hiebert reports.
"That would be a perfect opportunity to highlight the clinics or health environment that [are] available in the town," she said of the opportunity to add specific health-care information to the community profile.
"A nurse or health-care professional wants far more detail," added Luca. "They want to know what equipment you have, what services you offer, the procedures you do, and how often, so you don't have to find that out on your first day."
Maybe some people or nurses who work in urban [areas] think that rural [health care] isn't doing any of those specialty services or procedures when they are, and they are alleviating some of the workload in the city." – Andrea Luca, RN
A video, link, or other method of promotion may be able to fill that void for potential health-care recruits, including nurses, occupational therapists, physiotherapists, diagnostic imaging and lab technicians, and health information and support staff, the report noted.
The survey found the top selling feature of a community for health professionals is the ability to have a broad scope of practice in their rural roles. The opportunity to have family and a sense of community followed as a close second. These findings mirror similar studies from around the world.
Another key revelation for the urban students was the importance of cooperation between rural and urban health care.
"We both have now a stronger appreciation and respect for interdisciplinary collaborat[ion] between rural and urban health," said Hiebert. "It opened up my eyes, because I had never been exposed to it."
The students were connected early on with key leaders in the health-care workforce attraction and retention field including Rebekah Seidel, RhPAP Director of Community Development and Engagement. Seidel helped connect the pair to the Rimbey Attraction and Retention Committee, which encouraged local health-care staff to participate in the study.
"For an organization like ours, that kind of research on an ongoing basis, or check-in, helps us look at what types of support we might be able to offer," said Seidel. For example, one of the topics the research project focused on was the accessibility of professional development. RhPAP offers these opportunities for physicians and has started to expand their offerings to multidisciplinary teams with an eye to expanding opportunities to other health professionals in the future.
Projects like this one also give health professionals an opportunity to provide feedback on attraction and retention efforts, enlighten others in the profession about rural practice, reinforce past research, and generate ideas for future endeavours, Seidel added.
Due to time, scope, and budget limitations, Hiebert and Luca weren't able to take the research further and implement their recommendations, but they hope that the project will serve as a base on which communities or other organizations can build in the future.
Overall, the project gave the duo a new appreciation for rural health care.
"[Rural] isn't just a band-aid hospital," said Luca, noting small hospitals often perform acute and high-level care.
"Maybe some people or nurses who work in urban [areas] think that rural [health care] isn't doing any of those specialty services or procedures when they are, and they are alleviating some of the workload in the city."
"Rural depends on urban and urban depends on rural."
— Lorena Franchuk
Did you enjoy this article?
Subscribe to the Rural Health Beat to get a positive article about rural health delivered to your inbox each week.