Fear of being labelled keeps more than 60 per cent of Canadians with mental health issues or illnesses from seeking help, according to the Mental Health Commission of Canada.
Fortunately, a new project by a nurse practitioner (NP) in Wabasca may help health professionals broach the subject with patients and open the door for Canadians who require assistance.
April Steele drew upon her experience in psychiatric mental health and emergency medicine, as well as her work with the Bigstone Health Commission, to conduct a study last year entitled: Reducing Mental Illness Healthcare Provider Stigma: A Quality Improvement Project in Rural Primary Care Practice.
"I have a passion for assessing and treating mental health concerns [that] stems from being a primary care health-care provider in a rural vulnerable population that often has little access to mental health care," explained Steele, who primarily works with Indigenous patients in her Wabasca practice, located about four hours north of Edmonton.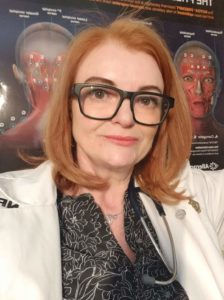 "[The study] will enable organizations to improve mental health-care outcomes by being keenly aware that mental health stigma exists in the health profession and addressing it [through] onboarding and continuous professional education sessions," Steele added, noting it also helped to fulfill the requirements necessary for her Doctor of Nursing Practice degree.
While Canada is seen as a leader in addressing mental illness stigma by health-care providers, Steele said her study shows that more work needs to be done in all geographical areas and clinical settings.
"I really see the project as helping … with opening the conversation and equipping health-care providers that are non-mental health trained to be keenly aware of the burden of mental illness stigma faced by patients," said Steele.
Health-care practitioners without specific mental health training can feel ill-equipped to address mental health.
"There's a sense they shouldn't bring it up unless they are a specialist or have specialty knowledge [and] this couldn't be farther from the truth," Steele continued.
"Acknowledging [mental health concerns] and even saying 'I'm not sure what to do as far as assessment and treatment, but I will find out'— even that is a lot that someone can do."
Steele said the study is particularly relevant for her own Indigenous patient panel.
"The patient satisfaction scores were particularly interesting. When the patients felt the provider was holistically asking them about their concerns including mental health issues, the scores were very high. The patients felt respected and that they were able to address their concerns with their health-care providers.
"Alternatively, when the patients were not satisfied, it was usually around issues of [not] feeling respected [or] psychologically safe, and feeling as if they could [not] easily talk to their health-care provider … and that all their health issues were [not fully] addressed."
Steele now screens all her primary care patients to see if they have issues with mental health.
[Health providers] need to see patients as not having only physical issues or only having mental health issues. Patients want to be seen as a whole person.
–April Steele, a Wabasca nurse practitioner who recently studied the stigma of mental health
Angela De Varennes, manager of the Bigstone Medical Clinic, said Steele's work has prompted more people to consider patient's potential mental health needs.
"Her study will mean patients can look for improved overall health-care outcomes in the future and health professionals now have better insights in how they can address stigma in their work with patients."
Steele stresses that "There truly is no health without mental health."
"If patients are trying to access assessment and treatment for a mental illness, they need to be assured the health-care provider is well equipped to mitigate stigma as much as possible and to provide many opportunities to start the conversation about mental health.
"[Health providers] need to see patients as not having only physical issues or only having mental health issues," said the NP.
"Patients want to be seen as a whole person."