RESIDE Program Application Process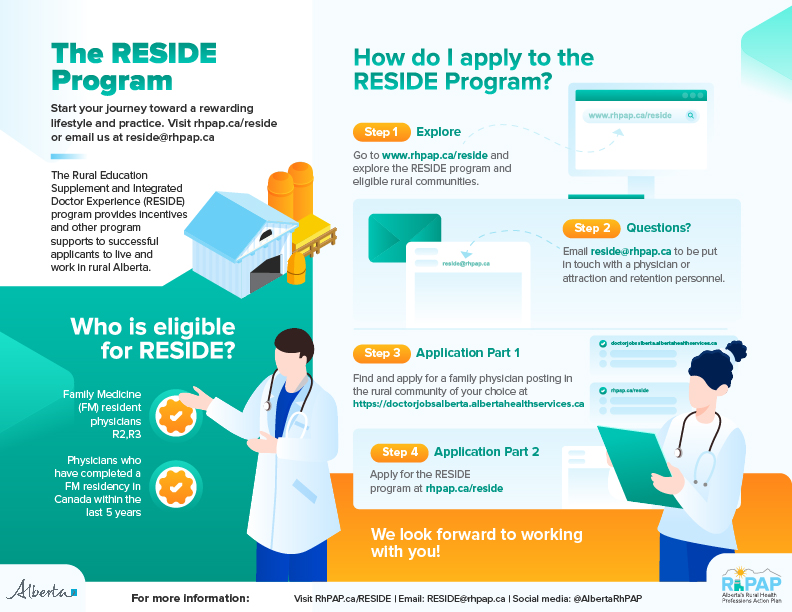 There are four steps to apply and be selected for the RESIDE Program:
Step 1: Explore and identify community of choice
Visit www.rhpap.ca/reside and explore the RESIDE Program eligible communities. Identify your preferred communities and proceed to step 2.
Step 2: Get in touch and know the community
Do you have questions about your community of choice including about health practice and quality of life? Email us at reside@rhpap.ca to be put in touch with a community member.
Step 3: Apply for a Family Physician position
Visit https://doctorjobsalberta.albertahealthservices.ca/ and search for a family medicine physician vacancy in your preferred communities (as per step 1). Review and apply for the job opportunity. Note: Only family medicine physician vacancies in a RESIDE Program community are eligible for the RESIDE Program funding.
Step 4: Apply for the RESIDE Program

On completion of step 3, proceed to www.rhpap.ca/reside and apply for the RESIDE Program. You will need the job identification number of the job you applied for to complete this section.
RESIDE Program Selection Process
On completion of Step 3 and on the job closing, Alberta Health Services (AHS) will review your application and schedule an interview if you have been shortlisted. AHS is responsible for the interview and recruitment of physicians for the posted positions. RhPAP works with AHS to identify successful applicants who are eligible for the RESIDE Program.
Applicants will be informed of the outcome of their job application by AHS while RhPAP will provide information on the applicant's RESIDE application afterwards. Successful applicants will be offered positions by AHS in the community that the applicant identified during the application process.
Candidates should keep the following in mind in terms of the outcome of this process:
If applicants are not successful in the job application stage, the applicant will not be considered for the RESIDE Program by RhPAP.
Successful applicants will have two weeks to decide if they will accept or decline the RESIDE Program agreement.
If a successful applicant does not wish to participate in the RESIDE program, they can proceed with their practice in the community. The applicant won't be eligible to apply for the RESIDE program for that same community in the future. However, the applicant may access other RhPAP programs that they are eligible for.
Questions? Email the RESIDE team.