RhPAP has a number of different programs and courses for rural health professionals. Please read the descriptions below to find out which one is best suited to your continuing professional development.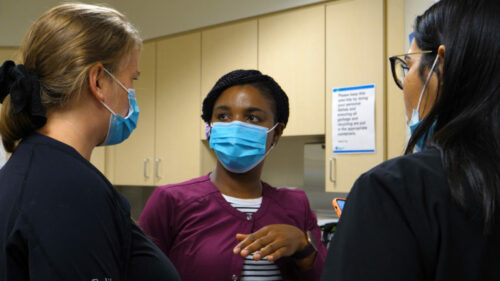 Professional Development Supports
Rural Education and Advanced Learning (REAL) Program
Are you a rural nurse, nurse practitioner, midwife, or allied health professional in a PCN, an out-of-scope, non-union position, or independent practice interested in education opportunities that would help you better address your community's patient needs? REAL is designed to be flexible to support you to pursue opportunities that work with your schedule.
Find more information and eligibility criteria for REAL.
Financial Incentive for Rural Staff Training (FIRST) Program
Want to bring a course or education session to your rural multidisciplinary team? RhPAP provides up to $5,000 to help you support skills development workshops or courses, communication skills or practice management training, special speaker engagements, team-based webinars, or simulation training in your community.
Find more information and eligibility criteria for FIRST.
Team Based Learning Initiative (TBLI)
This initiative offers broader and more flexible support to facilitate rural health-care teams to access opportunities for relevant, applicable training, right in their facility or community. The initiative is directed toward enhancing health professionals' individual skills, but also their confidence in each other and cohesiveness as a team.
Find more information and eligibility criteria for TBLI.
Continuing Professional Development Funding
RhPAP regularly provides funding for education opportunities designed with rural practice in mind including, but not limited to, Emergency Medicine for Rural Hospitals, Rural Anesthesia for GP Anesthesiologists, Rural Surgical Skills Update, the Rural Virtual Conference Series, and Endoscopy Skills Days.
Click here for more information.
Professional Development Courses
Emergency Department Echo (EDE) Ultrasound Course
Offered through the Canadian Point of Care Ultrasound Society, the course aims to help physicians and other health-care providers develop a basic understanding of ultrasound image generation and interpretation to enhance rural patient care. RhPAP will subsidize 50 per cent of the cost for rural Alberta health-care providers to take this course in their community.
Find more information, eligibility criteria, and course requirements for the EDE Ultrasound Course.
General Emergency Medicine Skills (GEMS) Course
Offered in partnership with Shock Trauma Air Rescue Society (STARS), this course provides rural physicians, nurse practitioners, and physician assistants with access to relevant interactive, online, multimedia skills training at their rural location followed by a hands-on STARS Human Patient Simulation Session.
Find more information, course content and participant eligibility criteria for GEMS.
Advanced Cardiac Life Support (ACLS)/Pediatric Advanced Life Support (PALS) Courses
Health-care teams can apply for funding to assist with costs of bringing an ACLS or PALS course to their community. These advanced resuscitation programs are designed to help health-care providers to improve outcomes with adult patients experiencing a cardiovascular emergency, and pediatric patients experiencing respiratory emergencies, shock, and cardiopulmonary arrest.
Please email us for more information on how to apply for funding assistance.