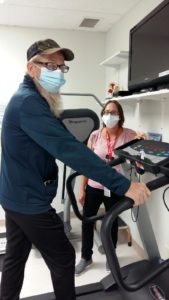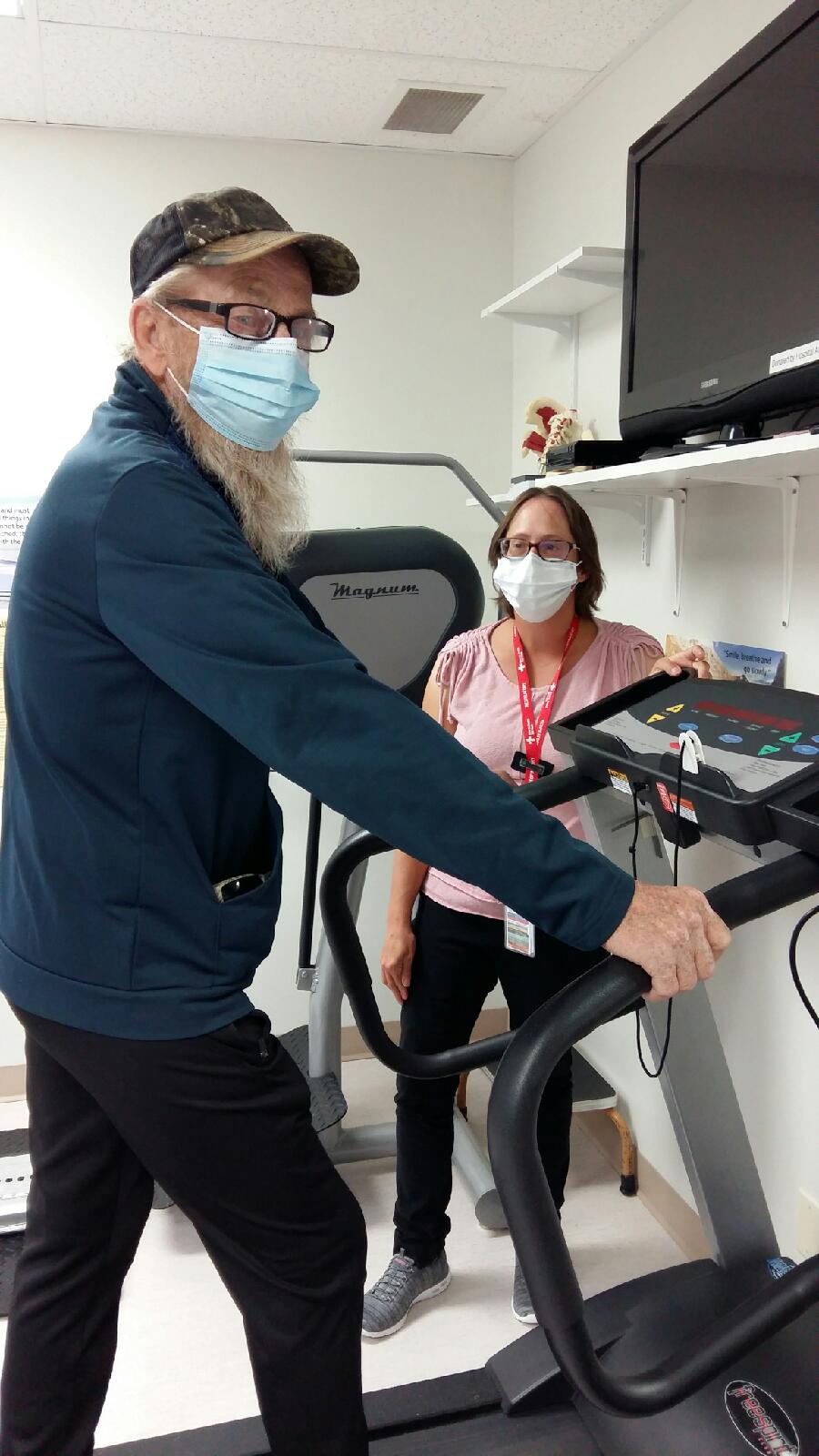 Dave Warnke says he owes his life to two Rocky Mountain House women.  Amie Genest and Renee Nuttall didn't save Warnke's life all at once, but, rather, took him on a journey that lasted through eight weeks of the Breathe Easy Pulmonary Rehabilitation Program.
"I'm indebted to [them] for the rest of my life," Warnke says of Genest, an Alberta Health Services (AHS) community respiratory therapist, and Nuttall, an AHS exercise specialist, at the Rocky Mountain House Health Centre.
The 75-year-old retiree needed a portable oxygen machine to complete a three-block walk in the western Alberta community.
Warnke was diagnosed with chronic obstructive pulmonary disease over a year ago. After frequent breathing issues, several different prescriptions, and many trips in and out of the hospital, he was referred to Genest and Nuttall who coordinate Breathe Easy in the community.
He and another patient started the program before the COVID-19 shutdown, meeting twice a week with the Breathe Easy team to learn how to manage their disease, incorporate exercise to address shortness of breath, and receive support. On off days, he carried on practising at home.
It's the first time Breathe Easy—a program developed through the G. F. MacDonald Centre for Lung Health at the Edmonton General Continuing Care Centre—has been offered in the area, said Genest.
We help the patient get the rest of their body working well, so it takes a load off the lungs."
– Tina Jourdain, registered respiratory therapist and clinical supervisor, G. F. MacDonald Centre in Edmonton
"Both our clients loved [Breathe Easy] and … were very happy with the results. The biggest thing was getting them exercising again, because both …  had been active people in the past, who had been slowed down by their respiratory disease, and had never really been told that [inactivity] is actually the worst thing you can do for respiratory disease."
"First, you get short of breath, stop moving, and … get less short of breath. You rest, you decondition a little bit, and the next time you try to do something you're more short of breath, so you think you have to rest more. You get into this cycle of just avoiding movement, to avoid shortness of breath and then you just [lose your conditioning.] It's a downhill slide," Genest explained
Natalie Costa, an AHS exercise specialist in Wainwright, reports that many patients with lung disease also suffer from other chronic health issues such as arthritis, osteoporosis, and diabetes. Breathe Easy can be tailored to meet their needs as well.
"We had one lady—her bedroom was upstairs, but she couldn't go up the stairs without having severe shortness of breath to the point where she would actually get some chest pains, so she hasn't been able to sleep in her own bed for years. Her goal was to be able to walk up those stairs and sleep in her own bed. It's the little things you don't even think about and how much [they are] impacting their life."
"By the end, … she came in and was all excited: 'I slept in my own bed, I didn't have chest pains, and I wasn't even huffing and puffing that much because of the program,'" reports Costa.
The exercise specialist typically teaches and monitors her clients' activity at the Wainwright Primary Care Network office. Costa also makes a point of introducing them to the local recreation centre and walking the track so they feel comfortable accessing the facility after the program ends to maintain their fitness regime.
This regular exercise can also reduce the risk of developing dementia, loneliness, and depression, and sometimes event to an increase in independence and socialization, she says.
Breathe Easy is normally offered three times annually in Wainwright through pre-recorded videos via Telehealth with the local support of Costa and a respiratory therapist. Due to the pandemic, the program has been put on hold to protect vulnerable clients and likely won't resume until Stage 3, said Rena Sorensen, a professional practice lead with AHS Allied Health Central Zone.
Tina Jourdain, a registered respiratory therapist and clinical supervisor at the G. F. MacDonald Centre in Edmonton, reports that many rural Alberta communities offer Breathe Easy. Other communities offer similar programs, but sometimes without the exercise component due to staff and equipment limitations.
Jourdain said that evidence shows education alone does not lead to an increase in functional ability. Breathe Easy's triad of education, exercise, and support is the key to success and gives people the best opportunity to improve their daily living.
Both our clients loved [Breathe Easy] and … were very happy with the results. The biggest thing was getting them exercising again…"
– Amie Genest, respiratory therapist 
"Unfortunately, with lung disease, there is often no cure. Once the damage is done, it may be permanent, so we focus on self-management techniques that prevent further progression of the disease process. Increased knowledge, fitness, and the ability to cope all contribute to the patient's success.
"We help the patient get the rest of their body working well, so it takes a load off the lungs." People who self-manage their disease often require less medical care and are able to improve their quality of life, Jourdain insists.
Everyone with lung disease should have an opportunity to give Breathe Easy a try, said Warnke.
"Where would I be if this [intervention] hadn't taken place? I can feel the difference now … and I can see it. I understand [my disease] more now than I did weeks and months earlier and, as time went on, it got to the point where I got to recognize certain things and [I'd] … automatically [self-manage issues] on my own.
"It's amazing,—one of the simplest things to do to make things easier [is] just breathe!"
— Lorena Franchuk 
Ask yourself these questions
November is designated as Lung Health Month, and World Chronic Obstructive Pulmonary Disease (COPD) Day follows on Nov. 18.
Here are some questions to consider with lung health in mind:
Do you get frequent colds that persist longer than those of other people you know?
Do you cough regularly?
Do you cough up phlegm?
Do even simple chores make you short of breath?
Do you wheeze when you exert yourself at night?
If you answered "yes" to any one of the above questions, talk to your doctor.
– Courtesy of The Lung Association/Breathe Easy Pulmonary Rehabilitation Program