Opening a practice as a new physician is an overwhelming endeavour in itself, but doing so with a young family in tow makes it even more challenging.
For Dr. Sarah Le Roux, the opportunity to participate in the Rural Education Supplement and Integrated Doctor Experience (RESIDE) Program was a game changer.
The RESIDE program, an RhPAP-administered program that was launched by Alberta Health in early 2022, provides incentives and other program supports to successful resident and new-in-practice family medicine physicians to live and work in eligible rural Alberta communities.
Three months ago, Dr. Le Roux and husband, Johan, settled into Cold Lake after living in the Leduc area, the first physician to be placed under the RESIDE program. The couple have three kids under five years of age and Dr. Le Roux had just given birth to her youngest daughter four months earlier.
Realizing that transitioning to a new community would be taxing for her young family, Dr. Le Roux opted to move before starting her practice in January 2023.
"I wanted to make sure that I was around during those three months to kind of help them with settling in and being available to my husband to help with the kids," Dr. Le Roux explained. It gave the family time to register for kindergarten and day care and get a feel for the community.
The new physician was also able to arrange some local locum work which allowed her to get to know some of her colleagues and familiarize herself with the area's health care system beforehand.
"Moving five people was a bit of an undertaking, I must say. So having that allowed us to slowly settle into the community."
Dr. Le Roux recommends RESIDE—which sees physicians commit to practising in the community for two or three years—to other doctors, especially those who are conscious of the costs required to establish a practice after relocating.
"I definitely think [RESIDE] is a great steppingstone for anyone starting in practice and wants to work rural because, you know, anytime you're starting a practice and moving, there's always costs involved," Dr. Le Roux said.
"To have the stress of the finances taken away makes it easier for people to commit to more rural towns."
Dr. Le Roux said she worked in nearby Bonnyville during her residency so she had some knowledge of the region when the opportunity to apply for RESIDE suddenly came up.
"We kind of fell in love with the [Cold Lake] community first," she said.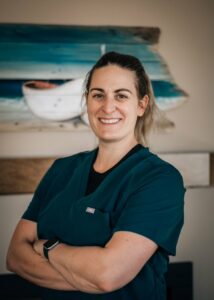 Fortuitously, Cold Lake was on the list of RESIDE eligible communities during the initial intake stage of the program, and Dr. Le Roux asked her husband, "Do you think we should go for it?"
"My husband [replied], 'I don't know, do they have a Canadian Tire? That was basically his [requirement]."
Cold Lake Mayor, Craig Copeland, was thrilled to learn his community was selected as a community to participate in the RESIDE program.
"As everybody knows, like some of the other [communities we're] pretty desperate for family doc[tors], so it's good to get recognized….
"Our community has got a lot to offer for a young doctor to come and work in our community…. It's a great place to raise a family."
The lakeside community is ideal for families who are interested in outdoor recreation such as fishing or hunting, has a good school system, diverse demographics, and plenty of shopping opportunities, he noted.
"We're a lake community. It's kind of a hidden jewel."
Dr. Le Roux said that outdoor experience really spoke to her and Johan, along with the welcoming community spirit.
Her five-minute commute to the clinic was also a huge draw.
Learning that Dr. Le Roux was coming to practise was a huge win for the community, said Kari Leiper, executive director of Hearts For Healthcare. The nonprofit group formed in 2009 to try attract and retain doctors to the area.
"We have been … collaborating with the community trying to build our level of physicians in the area," said Leiper. "Finding out that we were one of the chosen communities was really, really amazing."
Leiper noted having open communications with all the partners including Alberta Health, Alberta Health Services, the universities, and the community has been beneficial and gave her group an opportunity to participate early on to welcome Dr. Le Roux and focus on retention efforts.
"It's nice to kind of have those other organizations like [RhPAP], stepping up and helping out [to] … have that central agency that can connect everybody together."
Since the initial stages of the program, the list of RESIDE eligible communities has been expanded to include the majority of rural and remote communities in the province.
To learn more about RESIDE eligible communities, and how to apply if you are an eligible resident physician or practising physician, visit rhpap.ca/reside.
— Lorena Franchuk