Congratulations to Kim Ruether, recipient of the 2022 RhPAP Rhapsody Health-care Heroes Award!
Kim grew up in Northwest Alberta, on a homestead outside Worsley.
In her early years. she had no intention of working in health care.
"I actually started off, I was going to be a Phys-ed teacher, an Art teacher, but then my Aunt Pat worked here in Fairview in Diagnostic Imaging and she said, 'you know, not so many jobs for teachers, but x-ray is where it's at.'"
After two years of training in Edmonton and Calgary, she returned to Fairview, where she's been practising at the Fairview Health Complex for 36 years.
In that time, she's x-rayed them all.
"Quad accidents, dirt bike accidents, MVAs, kids falling off trampolines, skiing accidents, lots of ski-doo accidents, industry accidents with farming."
Kim has even seen a rancher that was trampled by an 1800 pound bull.
"…It's really quite creative and artistic in the way that when you have a really serious injury, you're having to really try and figure out how you can get 90 degree angle views of a terrible, terrible injury without moving the patients or harming the patients. It's profoundly fun."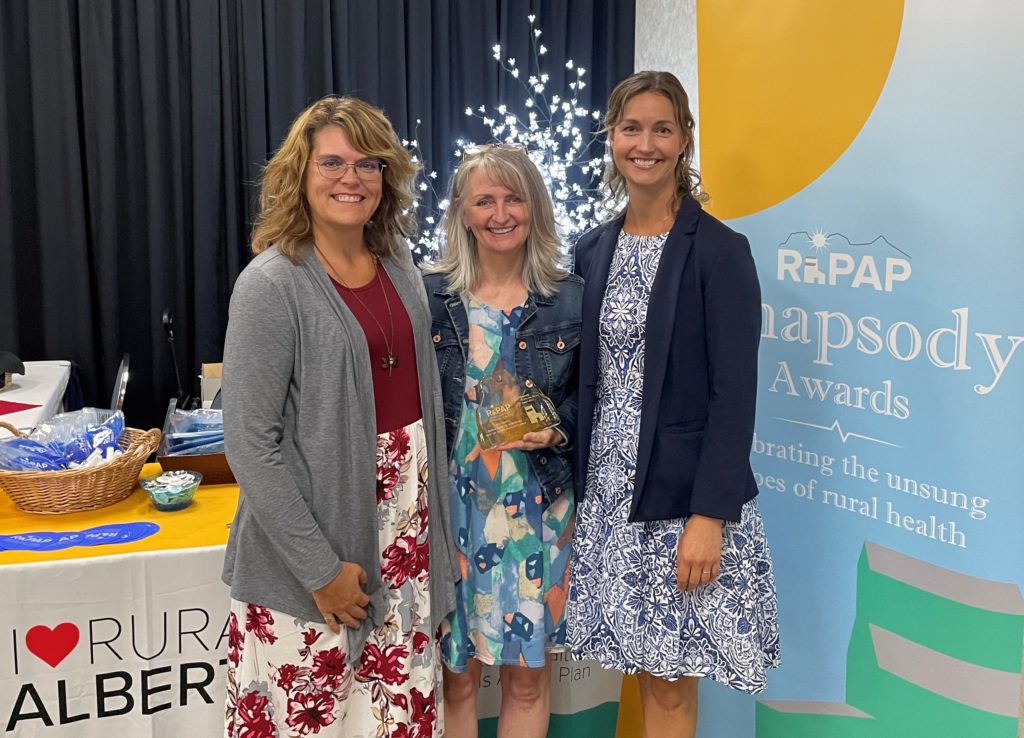 One of Kim's greatest achievements was born out of tragedy.
In 2012, her 16 year old son named Brock went to the high school in Fairview for a volleyball practice.
"He went to his practice and about half an hour later, one of his teachers phoned and said he had collapsed. So, he collapsed and ended up dying of cardiac arrest."
Even though there was an automated external defibrillator or AED at the school, it wasn't used on Brock.
"The teacher and students who were there got the AED and put it beside him but weren't instructed to use it and had not been trained or informed of the importance of having an AED applied rapidly, so instead of a 95% chance of survival, he went to a 0% chance of survival in the 10 or 13 minutes until the EMS got there."
In such a life changing event, one can get bitter or better. Kim chose better, in a big way.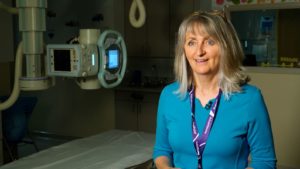 "As I started doing more research, I found all of these examples of kids around this region who had died of cardiac arrest at the schools, at the pool in Peace River, hockey practice up north. I felt it was important to learn as much about what happened and try and do better so that we can change the outcome for the next young person that had a collapse."
Kim created Project Brock in schools.
She visited all the schools in the region to train the students CPR and the use of AEDs. She also influenced 9-1-1 protocols for emergency dispatchers so that they now instruct bystanders to put on AEDs in an emergency situation. Those changes took place not only in Canada but as far away as New Zealand, reaching over 29,000 dispatchers world-wide. It led to changes for dispatchers to improve locating and retrieving the closest AED.
Kim is an advocate for rural health-care. She invites students to her workplace to show her what a diagnostic imaging technologist does by x-raying teddy bears.
She is a preceptor for technologists as part of their training.
"I think it's really important to have all our kids know how important health care fields are and how delightful the lifestyle can be." – Kim Ruether
Kim is also an accomplished artist, she loves painting with water colours, stone carving and pottery. She has volunteered for the Fairview Fine Arts Centre, as well as dozens of other organizations including the local health professionals attraction and retention committee.
She is loved by those she works with and her community.
Congratulations to Kim Ruether, recipient of the 2022 RhPAP Rhapsody Health-care Heroes Award. Thank you for all you do for rural health care!