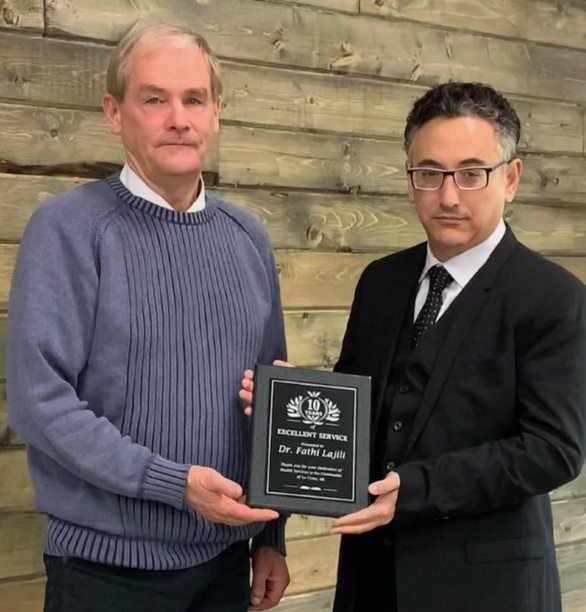 Having a family doctor to call their own wasn't something La Crete residents were accustomed to before Dr. Fathi Lajili arrived 10 years ago.
Back then, a doctor's appointment in La Crete meant hopefully connecting with a physician who sporadically covered for the community some 700 kilometres north of Edmonton.
"We were used to having a locum doctor," said Joyce Fehr, a community member and long-time rural health-care supporter in the area that includes a large Mennonite community.
"We would have doctors rotating in and out. [So] when Dr. Lajili came [and] was permanent and provided constant health care, that was something new to our community. [It] took time for people to adjust to [the idea that] we can go see the same doctor, Monday, Tuesday, Wednesday, Thursday, [or] Friday.
"He brought a completely new type of medicine to La Crete, which we desperately needed."
Today, Dr. Lajili and his wife, Hanan Omar, are beloved members of the community after moving halfway around the world from their home country of Libya to the farming and forestry community along the mighty Peace River.
"He [is] the first resident doctor to stay here more than a year," said Fehr, noting at one point even a locum wasn't available for a period of six weeks.
"People in the community have a very, very high value of him and his commitment and what he has done for the community."
"They are really fantastic people indeed. They were behind me 100 per cent and tried to make my life easier … to make me feel at home." —Dr. Fathi Lajili
For Dr. Lajili, it all came down to a promise he made to the community when he realized their ongoing health-care challenges—including not having a local doctor—when he first arrived.
Interestingly, he sees some parallels between La Crete, a rural community, and Tripoli, the Libyan city of 1.1 million where he once worked.
"[You have] patients with the same characteristics, same incidents and same diseases like any other big hospital [including] car accidents … come to your [health-care] building," said Dr. Lajili.
The main difference, he noted, is that Libyan patients aren't usually transferred away from the urban hospital to receive health care. La Crete patients who require care beyond Dr. Lajili and his colleagues' scope, or because of limited accessibility to equipment and testing, must be transferred an hour away to the hospital in High Level, and possibly Grande Prairie or Edmonton depending on the circumstances.
Working remotely took some time to get used to, but Dr. Lajili is proud of the relationships he's built with his patients, colleagues both in La Crete and elsewhere, and the community in general.
Two other doctors, Dr. Daniel Erasmus and Dr. Thys Van Rooyen, have since moved into the community to work with Dr. Lajili.
He admits it took some time for area residents to accept him after seeing many locum physicians come and go over the years.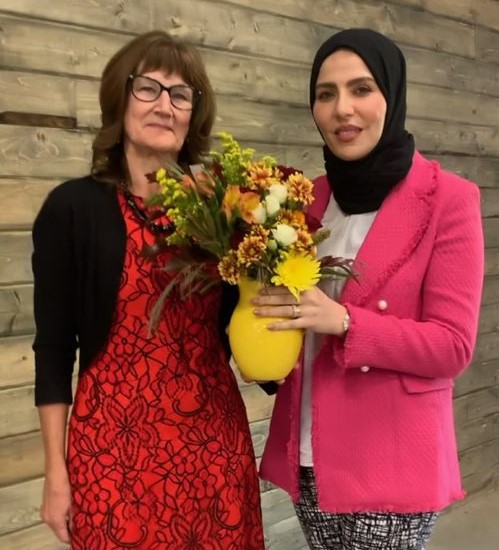 Today, he's a respected physician and La Crete community member.
"In the first few years, there [were] challenges because [I'm] coming from a different country, [with a] different accent, and a different culture," Dr. Lajilli said, noting something as simple as speaking with his hands and other gestures that are common in Mediterranean cultures, took locals time to understand.
He also had to learn about life in La Crete.
"When you're a doctor doing the job in one of those remote areas, if you don't have patience, if you don't respect cultures, and if you don't have whatever it takes to make you [insist] every day that you've got to do the right thing for those people, you're going to give it up very quickly because you think everything is against you.
"In fact, it's nothing against you because this is how [the community] lives. You came to their community, you want to help them, you have to understand how they live, what they like, what they want.…
"As a doctor, … you need to see things from [a] different perspective."
Dr. Lajili is thankful for the community support he's experienced while he has practised in La Crete. Recently, some area leaders and members of the La Crete Health Committee gathered to acknowledge Dr. Lajili and Omar's commitment to the community.
"They are really fantastic people indeed," said Dr. Lajili of the community support. "They were behind me 100 per cent and tried to make my life easier … to make me feel at home."
Since Dr. Lajili set foot in the far northern Alberta community, he's watched the area's population nearly double in size, said Fehr. It's a young community with about 6,800 members under 18 years of age. Nearly 400 babies were born to area families in the past year.
Fehr and Dr. Lajili are excited about the prospect of Alberta Health Services and Covenant Health opening a health centre in the area so parents have 24/7 health services for their kids, pregnant women can give birth locally, and other health services are expanded.
"We are very thankful for the sophisticated system of Canadian health…. It works when you need it," said Dr. Lajili.
"Yes, there [can be] a delay and we understand the frustrations of the patient, but most of the time when the system gets moving… I think the patient gets the best care in the world."
— Lorena Franchuk