Bucking bulls, paintball pellets, live music, and lattes were among the many highlights of a recent Health Skills event in Tofield
Close to 40 nursing and medicine students from the University of Alberta travelled to Tofield on April 13 & 14 for an immersive community experience, and the opportunity to learn skills that rural health professionals use every day.
This trailblazing event also marked the first time stayed with billets instead of at a hotel at an Rural Health Professions Action Plan (RhPAP) Skills Weekend Event.
Cyndy Heslin, chairperson for the Community Attraction and Retention Committee for Tofield, Ryley, and Beaver County, the billet experience was a chance to get a real taste of the Tofield lifestyle.
"One of the reasons we wanted them to be billeted was that they could actually be in the homes of people that live out here and talk to them first hand," Heslin explained.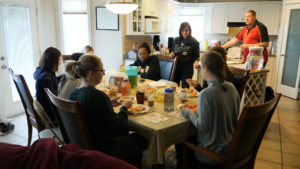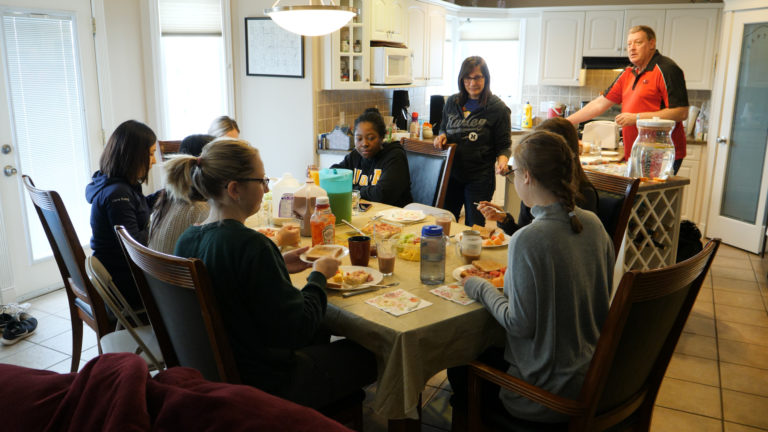 The skills training portion of the weekend took place at the Tofield Health Centre, where a team of health professionals happily volunteered their time to teach health-care students new skills.
"They are giving their best to the students today with the recognition that we need to be part of recruitment," said Mel Henriksen, acute care area manager, Alberta Health Services. "We need to grow those students into expert practitioners and keep our health care alive in rural Alberta."
Licensed practical nurse, Rhonda Smith, who taught Intravenous (I.V.) starts and injections, added, "You learn [from] everybody, and we're such a great teaching community out here that all the staff just work together – 'what do you need, we'll do it.' They'll teach you right in the moment."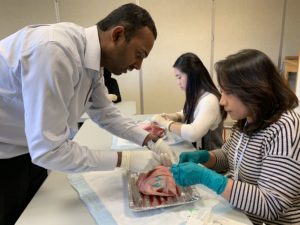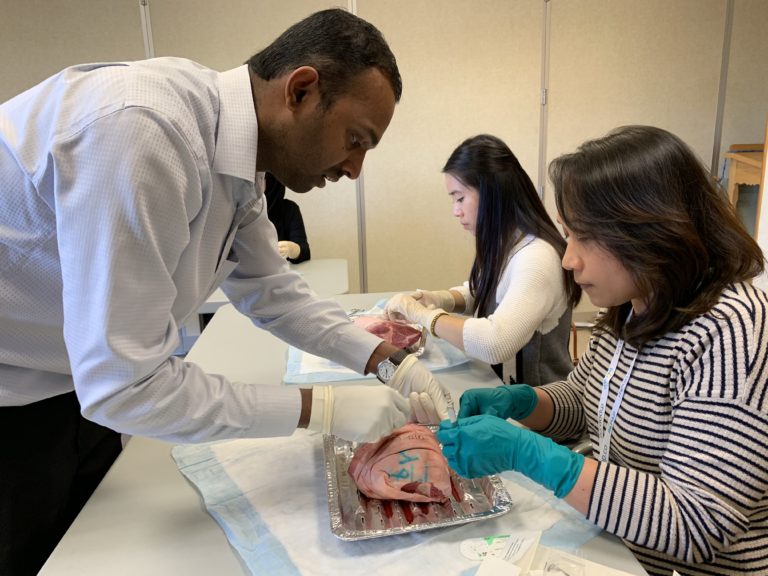 The skills weekend was a wonderful chance for instructors to share why they chose to practise in rural Alberta.
"You know everyone," said Vinu Abraham, a nurse practitioner who taught suturing. "You know their family. You are connected personally to everyone, so that's what I really like in rural [practice]."
They are giving their best to the students today with the recognition that we need to be part of recruitment. – Mel Henriksen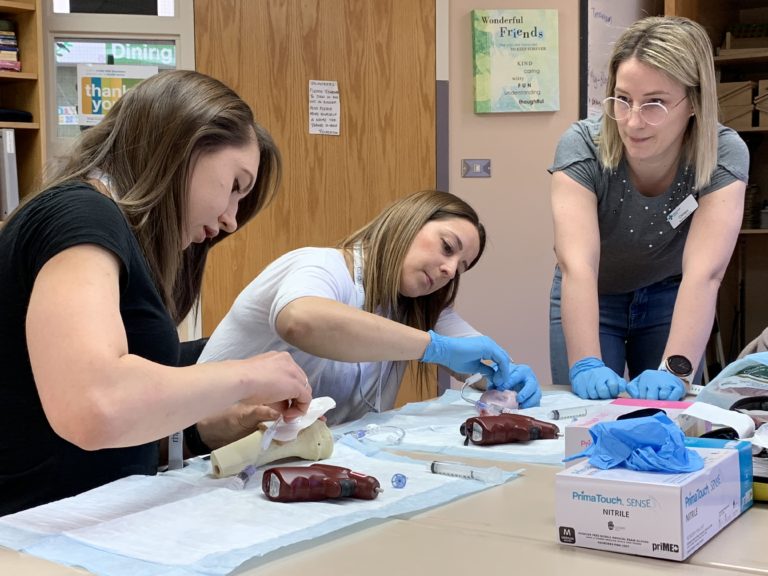 "What drew me out to rural was you're it," added Chrissy Maxwell, a registered nurse who also taught I.V. starts and injections. "You're coming into a critical patient [in emergency] and you have to manage that patient until transport out can get to you safely, so you have to know your stuff."
After the skills event, the students were guests of honour at a community dinner. It was the beginning of an action-packed Saturday night in Tofield. Magician, Greg Dodds, performed card tricks and much more at the dinner. He had students laughing and wondering, "how did he do that?"
Next, the students went to the local arena for the Bull Bash. Bull riders from all over Alberta entered the arena to an impressive pyrotechnics display. The cowboys certainly proved their grit as they were tossed, flipped, and hurled off adrenaline charged and high-kicking bulls.
It was the first time most of the students had been to a bull bash.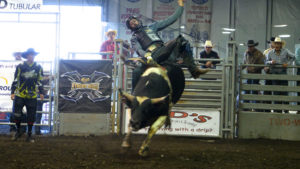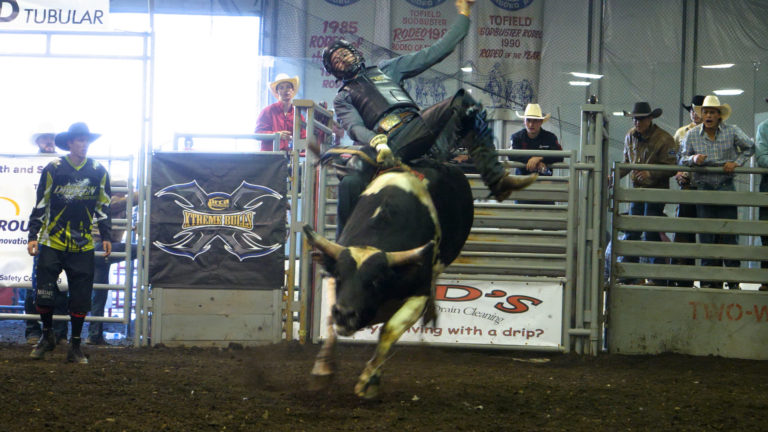 "The bull bash was phenomenal," said an amazed Sharkar Jha, who is in first-year medicine. "It was quite exciting. There was a lot of energy in that room."
Next, organizers mellowed the mood a bit with a visit to the Moonshine Cafe. Everyone kicked back with a latte or cappuccino, met students from other health disciplines, soaked in the sweet tunes of singer and musician Abby K., and tested their accuracy in a game of darts.
"We thought with the skills weekend, we would get more students out here so they could see what rural Alberta is like," says Cyndy Heslin. "That it's not some place way far away, and that there are a lot of fun things that they can do when they come out here."
Billets picked up the students from the cafe and took them to their homes to rest up for a busy Sunday. Realtor, Greg Litwin, and his wife ,Leanne, had a full house. They hosted eight of the students.
In the morning, the group headed out to Sniper Paintball in Beaver County, east of Tofield. Students had fun firing paintballs at a wide choice of targets.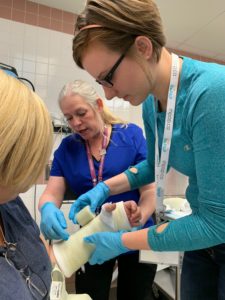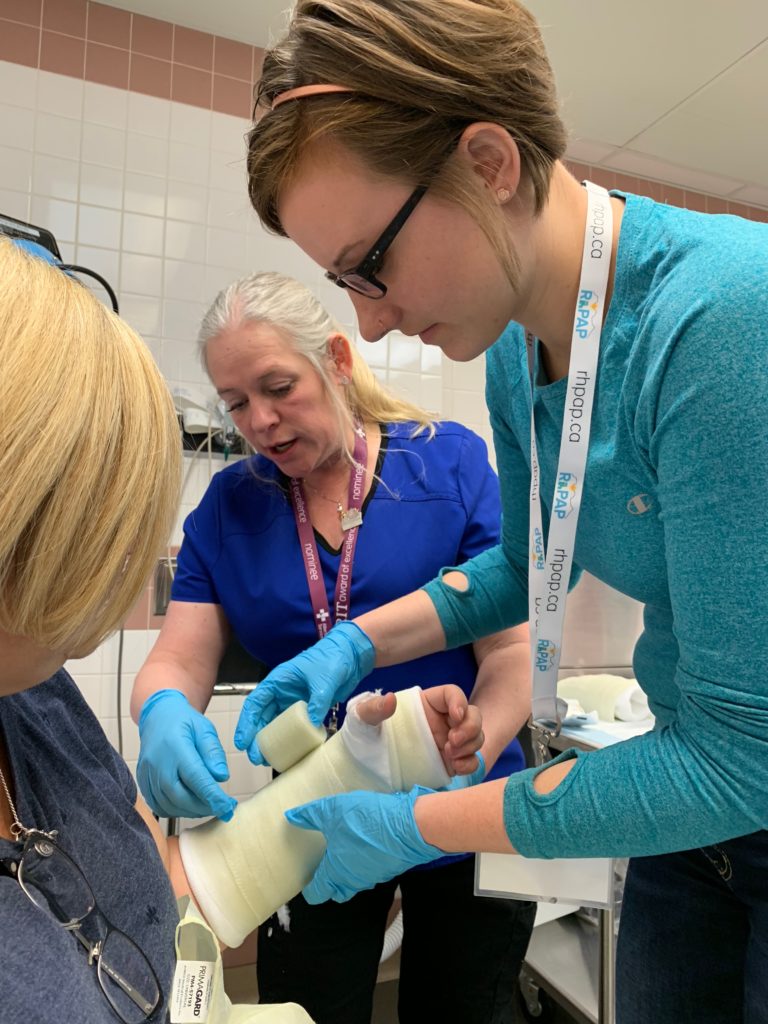 The RhPAP Skills Weekend in Tofield wrapped up at Islet Lake, west of Tofield. While the lake, a popular getaway in summer, still had a thin layer of spring ice on it, nearby a fire was crackling, and the hot dogs were sizzling. It was the perfect time for students to reflect on whether rural practice could be the right career choice for them.
"I went to the Rimbey Skills Weekend as well and that's when I started thinking about rural," said Kelly Anderson, a second-year student in the nursing after-degree program. "I have recently been accepted to go to Wetaskiwin for my last preceptorship, so I will be going rural that way. So, I think Tofield has really [confirmed] 'yeah, rural is the way I want to go for sure'."
"Honestly, I think It's been awesome," adds third-year nursing student Olu Wasoore Fasunwom. "I love the atmosphere of family. It strengthened my thoughts about rural. It [practising rurally] has been something I've considered for a long time."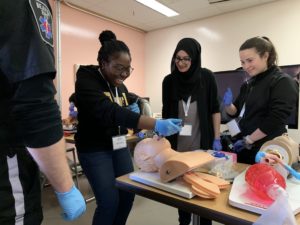 RhPAP Skills Events, including Skills Days for high school students and Skills Weekends for post-secondary students, are sponsored by the Rural Health Professions Action Plan (RhPAP) and are scheduled in rural Alberta communities throughout the year by the RhPAP Rural Community Consultant Team. For more information visit https://rhpap.ca/skillsevents.