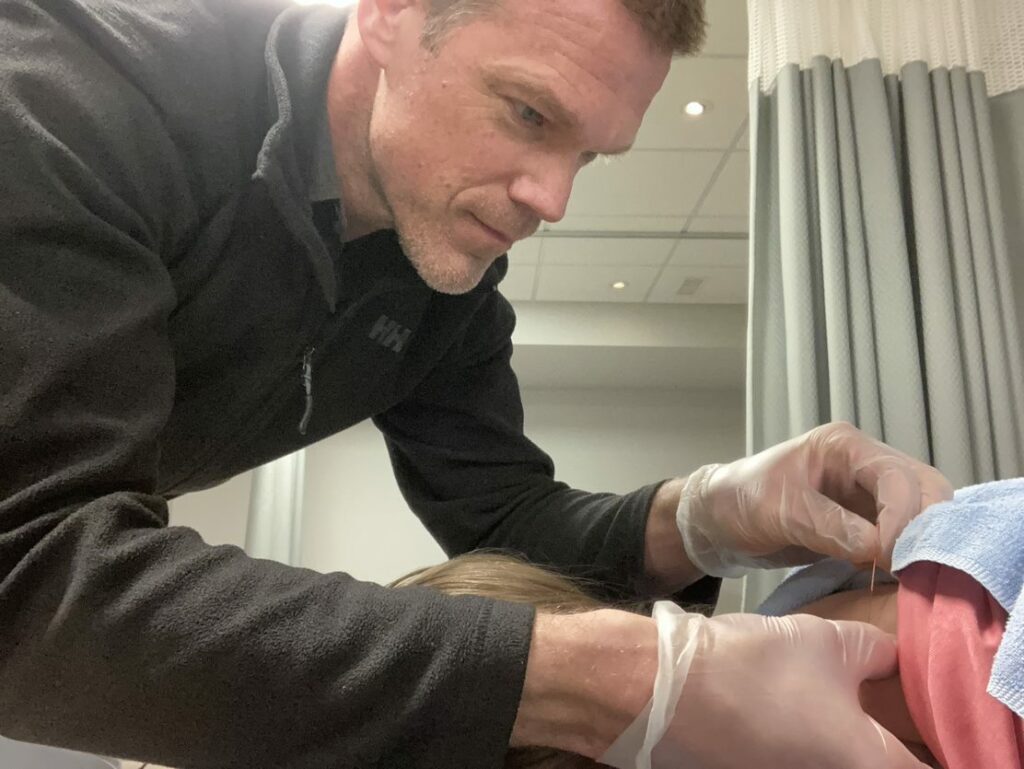 "Dry needling" is so successful for a rural Alberta physiotherapist that he's expanding his knowledge, so more people with chronic pain and other health issues can find relief in their own community.
Stephen Brinks, a physiotherapist who practices in Drayton Valley, 140 km west of Edmonton, recently capped off several hours of advanced online training with a hands-on weekend course in Calgary—all sponsored through RhPAP's Rural Education and Advanced Learning (REAL) Program.
REAL is designed to provide funding for rural health professionals to access continuing professional development and educational opportunities to help them enhance the health-care services they offer in their communities.
So what is "dry needling"?
Brinks said the relatively new physiotherapy technique inserts acupuncture needles ranging in size from 40 to 100 mm (about 3.94 in) intramuscularly into problem areas.
"It's not injecting anything, but it's just a solid filament needle that we use to get that trigger point in muscle tissue. And the purpose of that is to [often] deal with more chronic pain, … muscle imbalances, myofascial [upper back, shoulder, neck] pain, [or] tight muscles that can … help release nerve compression."
Brinks said he was able to take the second level dry needling course earlier than expected thanks to the funding opportunity through REAL.
It's an opportunity really to develop skill sets and stay current with evidence-based practice—Stephen Brinks
"As a business owner, it's also something that I need to make use of and stay on top of in order to really grow as the industry grows and as people's needs change."
Drayton Valley residents used to drive to Leduc, Spruce Grove, or even Edmonton to receive that form of treatment before Brinks introduced the technique to his practice four years ago. That meant patients previously needed to drive an hour one-way—at minimum—and in some cases a few times a week depending on a patient's treatment plan.
Brink now treats about four to 12 patients per week locally with dry needling. The new training allows him to go a little deeper into some areas of the body including the hands and feet.
"In this advanced course I'm doing right now, we're getting into some areas where there's a little bit more risk in terms of you have to know your anatomy, where the lungs are, where the blood vessels are, where the nerves are, in order to treat appropriately."
Brinks has exclusively worked rurally over the course of his 16-year career with the exception of practicums during school. He believes it's important to offer rural residents comparable treatment options as much as possible.
"You almost have to be a bit of a jack-of-all-trades in a rural setting," he said.
"There are certain things, certain specialties that I don't do, but I have to look at what's the greatest demand. And if I can meet the majority of the demand, then great, people don't have to travel.
"As a rural practitioner, those are some of the challenges that you come across. And when you can take a course for something to help [with] that demand, it just allows better care of the people in the community."
Brinks recommends others consider RhPAP's REAL program if they are looking to further their skills as rural health professionals.
"I really appreciate the thought that's gone into developing [REAL] and understand the need for it. The requirements in applying to the program, I felt were very reasonable, and very straightforward so I don't see there being any real barriers for people to access this."
Rural health professionals who work in rural Alberta in a Primary Care Network, out-of-scope/non-union position, or independent/private practice, and have done so for at least six consecutive months, are eligible to apply for the REAL Program.
For more information or to apply for the REAL Program, visit rhpap.ca/REAL.