Technology is dramatically changing the way rural physicians learn how to perform ultrasounds.  
Up until now, each bed station that is part of an Emergency Department Echo (EDE) Ultrasound course had its own in-person instructor present to provide instruction feedback for the particular type of ultrasound being practised at that station.  
Now, using an iPad mini, AirPods, and a state-of-the-art probe, instructors can teach course participants remotely from anywhere in the world.  
On top of that, the new system costs a fraction of what the old system did: $4,000 versus $20,000 – a significant saving for a rural hospital budget.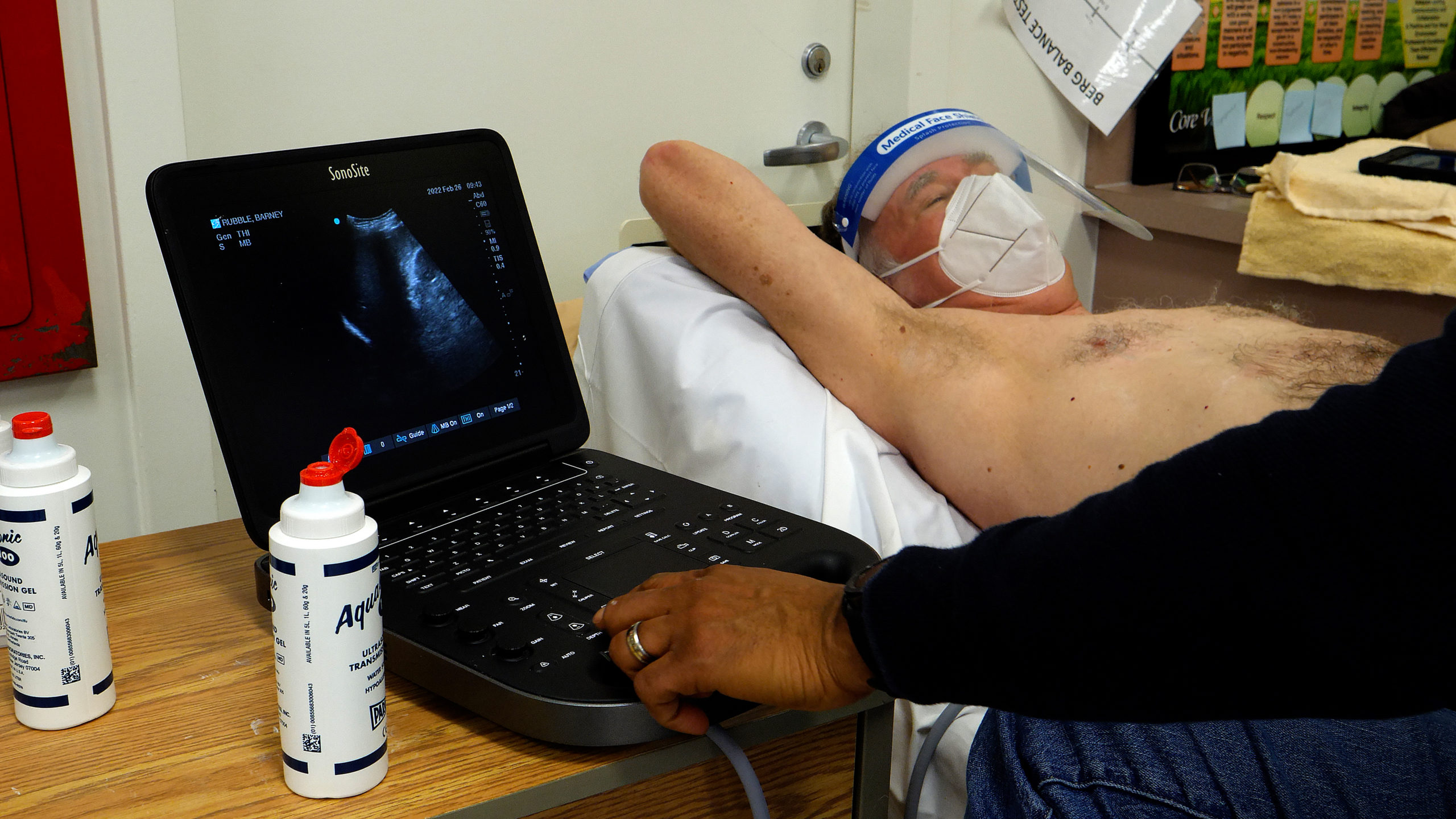 The older ultrasound machines were the size of a large, thick laptop. They are somewhat portable, but a heavy anchor compared to an iPad mini that can fit into the pocket of a doctor's lab coat.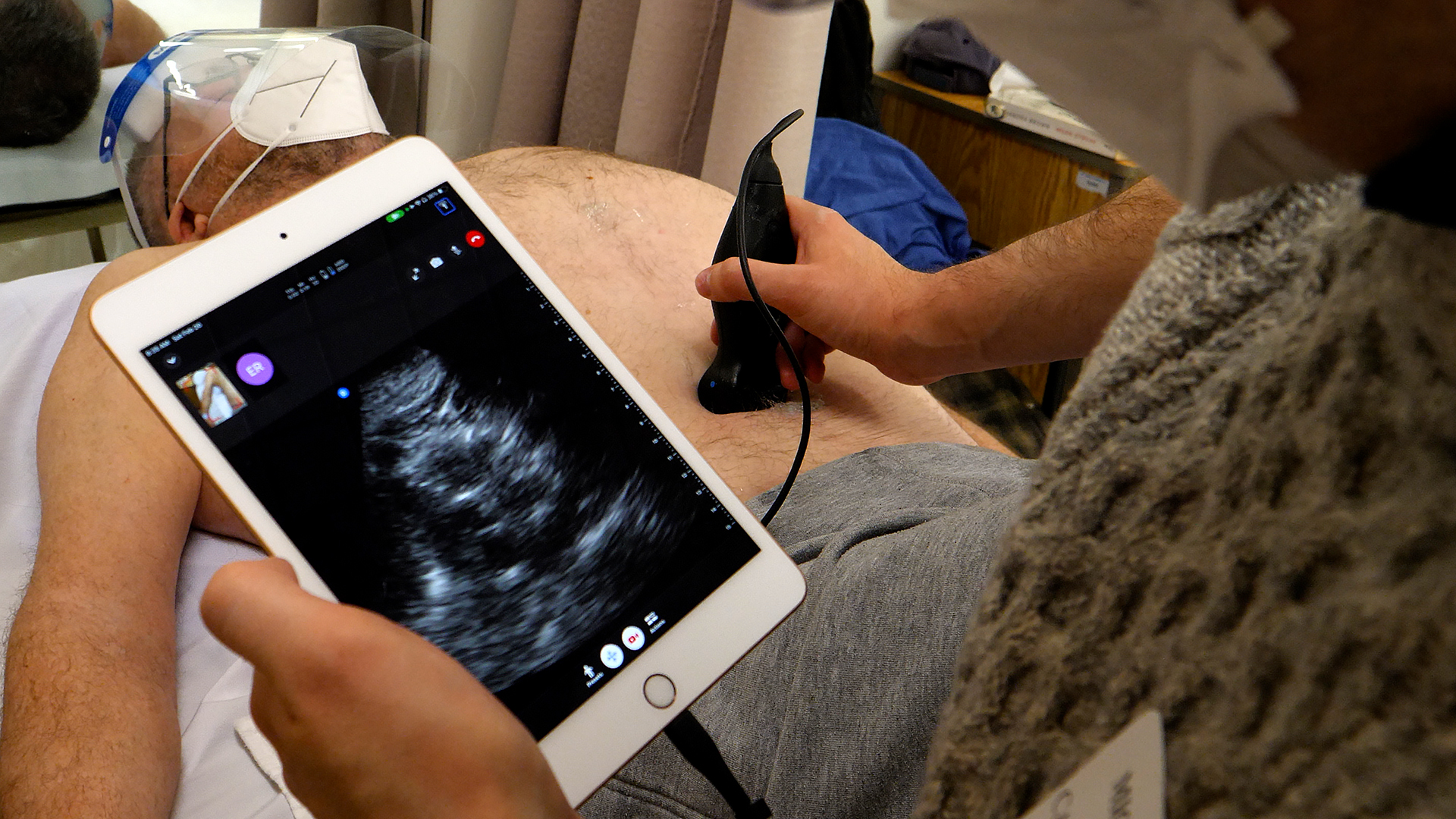 Dr. Byrden Russell, a GP-Anaesthetist in Camrose, who attended the recent ultrasound course in Camrose is a big fan of the portability of the new system.   
"When you're in a busy emergency department and you have to walk across somewhere and get a big, clunky machine, as nice as they are, it's a bit of a barrier to the care," said Dr. Russell. 
"But, when you have something a lot handier, say in your pocket, and you can just stick a probe on … you're going to use it a lot more in the emergency department." 
This is one of the courses that I've been wanting to do for years. I'm super happy that RhPAP's helped put it on for us. – Dr. Bryden Russell
Ten physicians took the second session of the Camrose course on February 26/27, 2022. It's usually held over two full weekends, a month apart.  
Remote instructors were from as far away as Newfoundland. The new ultrasound system allows these remote instructors to not only see the ultrasound screen, but to draw on it and point out any elements of the scan they wish to highlight to participants. 
Dr. Ray Wiss, course director for the Emergency Department Echo Ultrasound Courses, still attends each course. He walks around the room offering tips that can't be taught remotely, such as how to properly hold and move the probe.  
Ultrasound has been called the stethoscope of the future, especially in the emergency department.  
Would your rural community like to host an Emergency Department Echo ultrasound course?   
While the course isn't cheap, RhPAP will subsidize 50% of the cost for eligible rural Alberta health-care providers.  
"I[Ultrasound] is becoming much more common place and we're finding more of the [medical] residents coming through the training programs are already well versed in it," noted Dr. Russell. "So, to get us older guys up to speed is a big advantage." 
"This is one of the courses that I've been wanting to do for years," said Dr. Russell. "I'm super happy that RhPAP's helped put it on for us." 
For more information on bringing an EDE Ultrasound Course to your rural Alberta community, please go to rhpap.ca/EDE or email RhPAP at teams@rhpap.ca.