On January 7, 2021, RhPAP asked the 224 members of the Rural Voice Information Panel (Rural VIP) survey panel about their general understanding of interprofessional approaches to health care. 
Interprofessional collaboration occurs when health professionals of different disciplines work together with patients, families, caregivers, and communities to deliver the highest quality of care.  
We were also looking to determine if and how interprofessional collaboration is used in rural Alberta communities.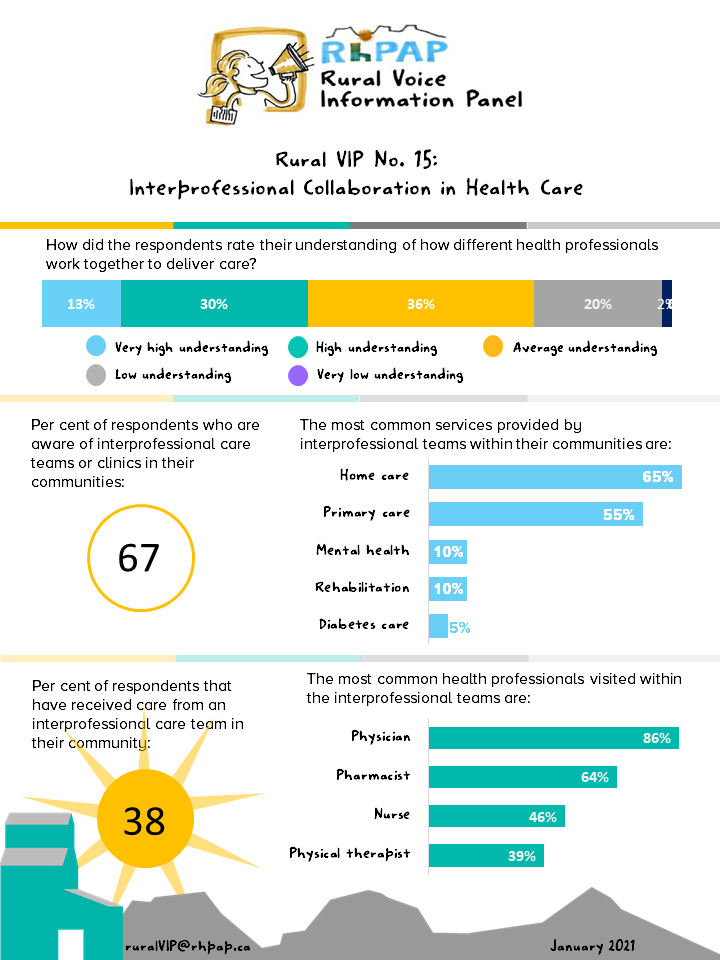 Key findings
Nearly twice as many respondents indicated that they have a high understanding (42 per cent) of how different health professionals work together to deliver care a low understanding (22 per cent). Most respondents (67 per cent) indicated the presence of interprofessional teams within their communities. The most common services provided by these interprofessional teams are home care (65 per cent) and primary care (55 cent). Interprofessional teams are also used in some communities to provide mental health services, rehabilitation services, and specialty services like seniors care, diabetes care, and maternity clinics. 
Thirty-eight per cent of respondents indicated they have received care from an interdisciplinary team and/or clinic in their community. Within the interdisciplinary team, the respondents visited with physicians most often (86 per cent), followed by pharmacists (64 per cent), and nurses (46 per cent). Less frequently, respondents visited with other allied health-care providers on interdisciplinary teams including physical therapists, pharmacists, and social workers. 
Next steps 
The results of this survey suggest that interprofessional collaboration is already fairly common across rural Alberta, and health professionals from diverse disciplines are working together to deliver general and specialty health-care services within rural communities. With only one-in-three surveyed responding that they have received care from an interprofessional team, and with a quarter of respondents identifying that they have a low understanding of interprofessional collaboration, there may be an opportunity to increase awareness of the benefits of interprofessional collaboration and being able to access the expertise of different providers. 
We will be sharing the results and feedback with interested stakeholders and groups who are included in the survey https://rhpap.ca/wp-content/uploads/2021/01/Rural-VIP-Infographic-No.15-v2-003.pdfquestions. Each month, RhPAP also shares learnings and feedback from the Rural VIP with Alberta Health and the RhPAP Board of Directors, who represent the following organizations: Alberta Health Services, the Alberta Medical Association, the College of Physicians and Surgeons of Alberta, Rural Municipalities of Alberta, and the College and Association of Registered Nurses of Alberta.  
Tagged In