Rural VIP No. 19: Primary care
For May's survey, we asked the Rural Voice Information Panel (Rural VIP) members about their experience with primary care in their communities. 
Primary care is the day-to-day, general (non-specialized) health care provided by health professionals like physicians and nurse practitioners. Primary care providers are our first stop for medical concerns that are not emergencies. They provide routine checkups and preventative care, write medication prescriptions, and can refer patients to specialists for concerns that they are unable to treat in their office.  
The goal is for all Albertans to have a regular primary care provider, or to "be attached" to a primary care provider. Evidence suggests that individuals who are attached to a primary care provider have better health outcomes than those who are unattached.  
Key findings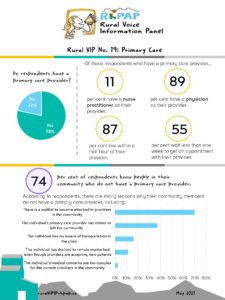 Three-quarters of respondents are attached to a primary care provider. Of these respondents, 89 per cent have a physician as their primary care provider, while 11 per cent have a nurse practitioner. Most respondents (87 per cent) live within a half-hour commute of their primary care provider. 
Half of respondents surveyed were able to book an appointment with their primary care provider in a week or less. However, 20 per cent indicated that they are unable to schedule an appointment with their provider within three weeks. The goal for good quality health care in Canada as developed by the College of Family Physicians of Canada is for all patients to have same-day access to their primary care provider for urgent matters. This access can be virtual, rather than face to face. 
If requiring urgent care outside of regular physician hours, respondents reported being most likely to seek health services from their local emergency department. 
Three-quarters of respondents know people in their community who are not attached to a primary care provider. The most common reasons for being unattached are that either the providers in the community have a waitlist for patients or their provider has recently retired or left the community. 
Next steps 
The information provided through this survey is useful to RhPAP to help direct attraction and retention activities and as a resource for rural community attraction and retention committees. 
Each month, RhPAP shares learnings and feedback with Alberta Health and the RhPAP Board of Directors, who represent the following organizations: Alberta Health Services, the Alberta Medical Association, the College of Physicians and Surgeons of Alberta, Rural Municipalities of Alberta, and the College and Association of Registered Nurses of Alberta.  We may also share this information with other relevant health professional organizations for their consideration.
Click on the link to view a PDF Version of the Rural VIP Summary.