Taking care of our mouth, teeth, and gums is an important part of overall health. This is the message from the Canadian Dental Hygienists Association, which dedicated the week of April 4 to 10 as National Dental Hygienists Week, with the theme, "Oral Health for Total Health."
April is also recognized as National Oral Health Month by the Canadian Dental Association.
RhPAP salutes the many dental and hygiene health professionals working across rural Alberta. We also look at a successful initiative that brings University of Alberta dental students to rural Alberta to provide dental care for Métis residents.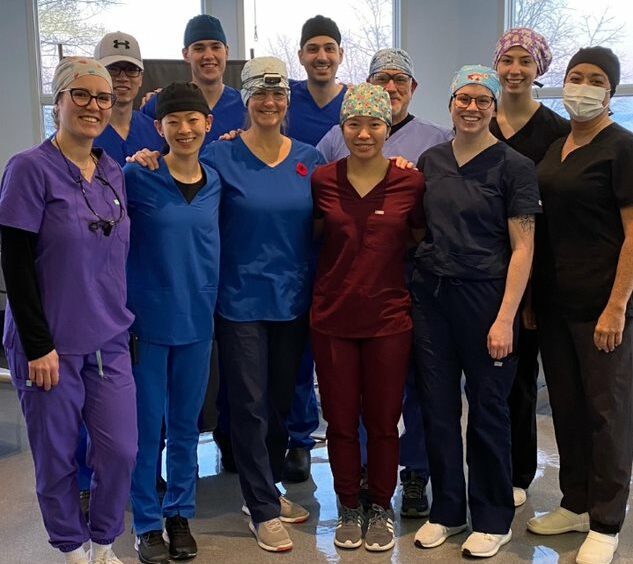 University of Alberta dentistry students are packing up instruments, dental drills, polish, and their expertise in preparation for a return to Northern Alberta to provide dental services for area Métis.
The clinic will take place in Cold Lake from April 16 to 22, following a successful first visit to Lac La Biche last fall to provide dental and hygiene treatments.
Third and fourth-year dental students and their preceptors will once again provide the free service, part of a partnership between UAlberta and the Métis Nation of Alberta (MNA), and other stakeholders including RhPAP.
The student-led initiative was the brainchild of Dr. Suzy Depledge, a dentist and faculty member, Paulette Dahlseide, a dental hygienist and faculty member, and Reagan Bartel, MNA director of health. When the pandemic shut down international experiences for students, the three Métis women came up with the concept to bring dentistry services to regions throughout the Métis nation as part of the Access For All Dentistry program.
"We realized that there are a lot of patients driving two or three hours from out of town to come and see us," explained Dr. Depledge.
The partnership started out with Métis patients—who don't receive government dental support like other Indigenous groups—coming to UAlberta for treatment, she said.
Fourth year student, Adam McCourt, jumped at the chance to spend his five-day fall reading break as a volunteer providing dental care to the Lac La Biche's area Métis community. He started working on planning and logistics for the mobile clinic months in advance.
"I don't think, honestly, there was anything else any of us would have wanted to be doing that week. It was a really special week," said McCourt, who served as chair for the group.
He recruited six fellow dental and hygiene students to volunteer to provide the dental service, and to help raise funds and to access dental equipment and supplies necessary to carry out the initiative. Three preceptors oversaw the dental and hygiene procedures.
The group arrived on a Sunday to set up the clinic and stayed the week in accommodations located just five minutes away, that were arranged and provided through RhPAP.
RhPAP provides housing in rural Alberta communities to help University of Alberta and University of Calgary medical students and residents, and other trainees including nursing and allied health students, overcome some of the barriers and challenges that exist around rural training in Alberta. The goal is to help learners enjoy a positive and comfortable experience in rural Alberta while they train in rural family medicine for varying lengths of time, and to encourage them to consider practising rurally in the future.
That support not only provided a home base for the group, but also helped open doors in the community.
"[RhPAP] was a key link for us to get into the rural communities, not only to have community support from the MNA, but also to figure out things logistically like travel and accommodation." — Dr. Suzy Depledge.
"It was an amazing help for our first trip to Lac La Biche to have some [free] accommodation. [RhPAP's] been more than happy to work with us and to provide that support. We're very grateful for the support and hope it continues in the future," she said.
RhPAP will also provide accommodation for the Cold Lake trip.
It was a busy week, but worthwhile to all participating including patients, students, preceptors and other volunteers, including those who coordinated cultural activities and meals for the group nearby through the Métis Nation.
During the November clinic, 67 patients had appointments booked resulting in 362 treatments completed at a cost of $53,000. All appointments were filled and an additional 33 patients were on the wait list at the end of the week.
"There were a lot of pediatric children that came in a lot of pain, and just extracting a single tooth or doing a single filling made a really big difference for them," recalled McCourt, noting the group performed hygiene care, extractions, fillings, and some partial root canals.
According to Lisa Vaughn, community wellness manager with the MNA, UAlberta and the Métis Nation plan to continue collaborating through the Access For All program to eventually bring free mobile clinics to each MNA region.
"The dental clinic in Lac La Biche was successful at creating a culturally safe space for Métis Albertans to access dental care, as well as to celebrate community and culture."
— Lorena Franchuk