Doctors have become heroes in the COVID-19 pandemic and now it's time to pay tribute during National Physicians' Day on May 1.
The annual designation began three years ago when the Canadian Medical Association joined with Ontario and Nova Scotia in recognizing physicians and doctors-in-training for their dedication to health care.
"May 1 was chosen as the proposed date to pay tribute to one of the most influential individuals in Canadian medical history," according to the Canadian Medical Association.
"Dr. Emily Stowe—born May 1, 1831—was the first female to practise medicine in Canada, and a founder of the country's women's movement.She was inspired to pursue a career in medicine after her husband, John, contracted tuberculosis. At the time, no Canadian college or university would accept a woman, so she pursued her medical studies in the United States, earning a degree from the New York Medical College for Women. Following her studies, Dr. Stowe went on to open a medical practice in Toronto."
RhPAP is sharing some amazing physician stories from rural Alberta over the next few weeks to celebrate the special designation.
Today, we kick off our series with Dr. Andrea Hargrove, a family doctor and community medical director in the southeast town of Taber.
---
Taber 
doctor
'
s
 specialty turned out to be rural 
medicine
A visit to Hinton to experience rural medicine became a pivotal moment for Dr. Andrea Hargrove. 
Now dividing her time between her work as the community medical director and as a family physician in Taber, Dr. Hargrove was once a medical student set on becoming an orthopedic specialist, an obstetrician, or an internist (internal organ specialist)—choices that generally mean practising in an urban setting. 
The RhPAP-sponsored weekend, hosted in the community just outside Jasper National Park, was an unexpected game-changer for Dr. Hargrove, who grew up in Red Deer. It gave her invaluable insight into rural medicine and how it can encompass so many aspects of health care.  
She came to believe rural medicine was right up her alley.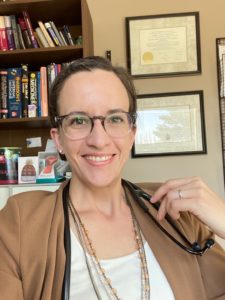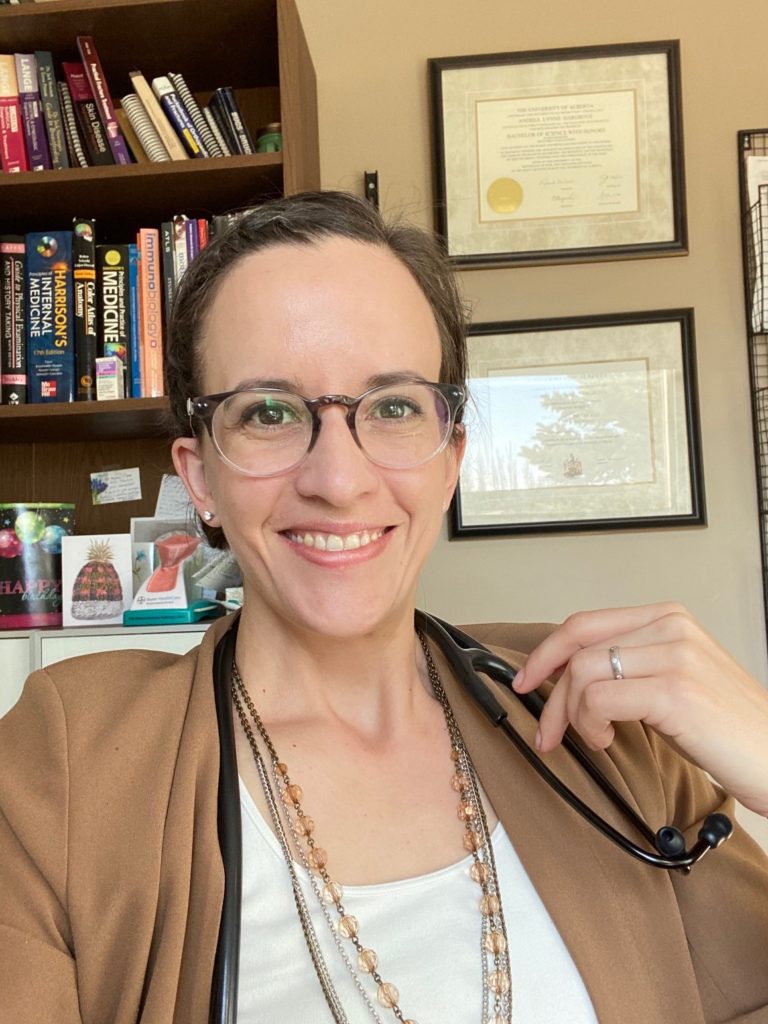 "I liked the whole spectrum of life that you get to care for in [rural] practice," Dr. Hargrove said. "It's almost impossible to get bored when you never know what your day is going to entail. [I could deliver] a baby in the morning, provide palliative care in the afternoon, and have a clinic and help someone with their depression.  
"The combination of different things that I do is just pretty cool." 
Dr. Hargrove's official foray into the medical field as a resident took place in Taber in 2011. 
During her training and work as a locum (a physician who travels to various communities to fill in while local doctors are away), Dr. Hargrove estimates that she visited 20 different communities.  
Throughout those experiences, Dr. Hargrove witnessed many ways medical care is managed across the province. In Taber, physicians are compensated through an Alternate Remuneration Plan (ARP). Rather than doctors receiving a fee for each service they provide to patients, they are paid a flat rate annually for a specific number of patients within the region no matter how many times those patients visit the doctor in a year.
Dr. Hargrove felt an ARP served both patients and physicians well and proved a major enticement for her to practise full-time in the community. 
"The way medicine is practised here sort of stuck with me (as a locum). It's really team-based and the clinic has been on an alternate payment plan for 20 years," Dr. Hargrove explained. 
"They have built a really strong team and processes. As a result of that…. I did my market research [and I knew] I wanted to come back and practise in that way in Taber."
Dr. Hargrove's decision to return to the southeastern Alberta community has lived up to her expectations and has prompted many career opportunities over the years.
"I get to have a full-scope family practice, do some procedures in the clinic, prenatal care and baby care, geriatrics, and palliative care. I also do shifts in the emergency department, and I really enjoy that. I care for patients when they're in the hospital. I deliver babies and I [do minor procedures and assist with surgeries.]
"What I hadn't given a lot of thought to, going into medicine and into practice, was the administrative side of medicine. In the last few years, I've started to take on far more of that than I had ever given any thought to."
Her love for variety lead her to apply for the community medical director position in Taber three years ago. She officially works "about four hours" or more per week in that role and spends the remainder of her time as a family physician at the Taber Clinic with 11 fellow physician partners.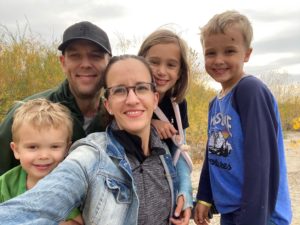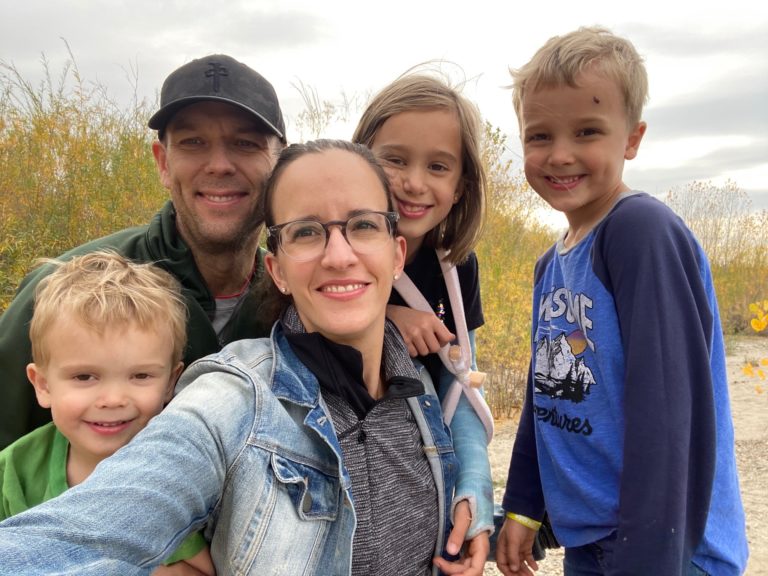 The married mother of three young children admits she is busy with the many hats she is wearing, but Dr. Hargrove enjoys continually learning more about the administrative side of medicine, advocating for the hospital's needs, and serving as a leader and voice for the area's doctors.
"It's the most challenging trying to navigate personalities, system challenges, and system limitations….," she said. "I like being involved, I like knowing what's happening. I enjoy having relationships with leaders that are outside of our [hospital] site and being creative or being involved with making suggestions to improve the care that we deliver."
Dr. Hargrove says the increased paperwork, on-call, weekends, and night shifts can be difficult at times, but she loves caring for her patients.
"Last week, one patient brought in a hand-made item that meant a lot to her, and it meant a lot to me. It wasn't for anything in particular, but she just said she really appreciated how much I've listened to her over the years and have been there for her.
"That really touched me."  
– Lorena Franchuk 
Needles 

make 

even 

doctors 

cry
It's not uncommon for youngsters to burst into tears when they receive a vaccination. Even just knowing that she would be immunized for COVID-19 early on brought a Taber family doctor to tears.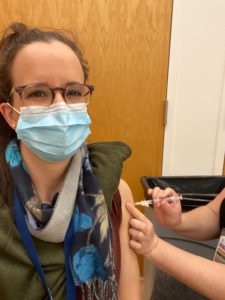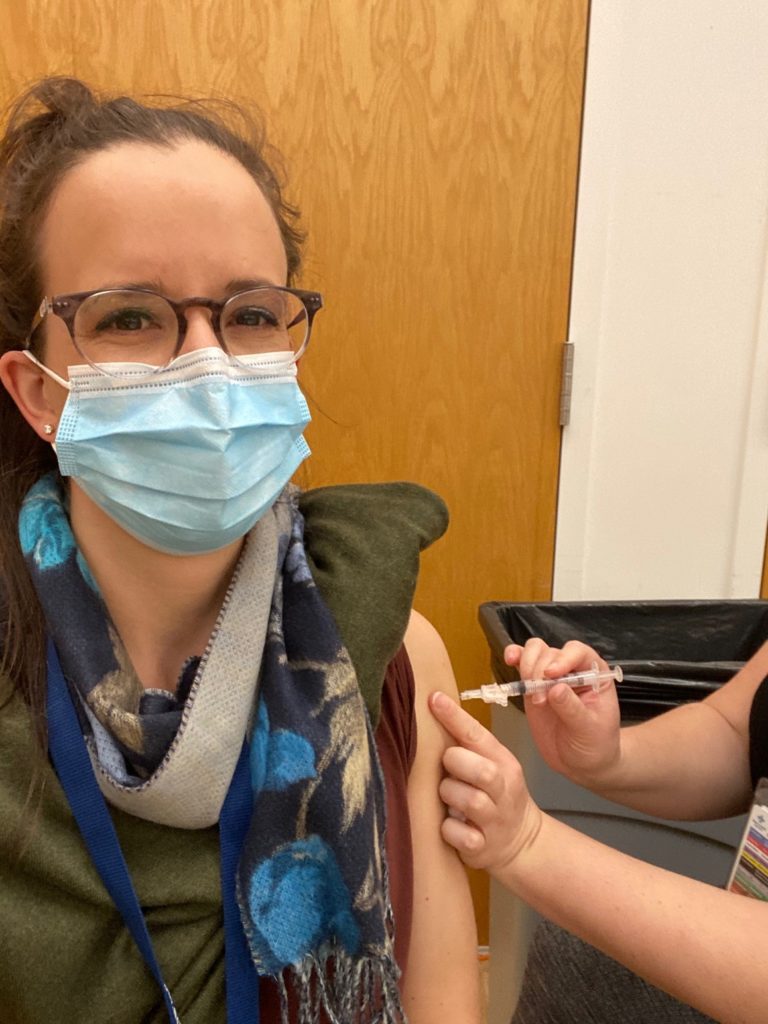 "I cried when I got my call that I was going to be vaccinated," said Dr. Andrea Hargrove, who also serves as the community's medical director. "That was just such a relief to me. I was really happy that we would be vaccinated as rural providers."  
Dr. Hargrove received the first dose this past January and was fully vaccinated by mid-February. She was so grateful that she's sharing her story on YouTube to try and encourage other health professionals and the public to follow suit.  
"It's just such a dichotomy that I was so relieved and honoured to be vaccinated, and that there's a lot of people that are suspicious and not sure that they want to be vaccinated at all."  
"[The Taber area] was relatively spared in the first and second waves, and it was still stressful navigating the[se waves]," Dr. Hargrove explained. "But this third wave is going to be more challenging because people are so tired of the restrictions. There's also a lot of suspicion about vaccinations.   
"So, I'm trying to educate, be positive, and I have taken on some advocacy." 
 – Lorena Franchuk