The new CT scanner in Lac La Biche, which became operational in the spring, has already performed over 500 scans. The scanner marks a huge leap forward for patient care here, especially for patients suffering from  spinal injuries or strokes.
Lac La Biche Healthcare Centre is located two-and-a-half hours northeast of Edmonton. It's a trauma centre for this part of the province. For those injured in a traffic accident with signs of possible spinal injuries, a CT scan is critical in order to determine the proper treatment. In the past, that meant patients had to travel to Edmonton or Cold Lake. By ground, that could take an ambulance up to 12 hours (round trip) and meant that that emergency vehicle was unavailable for other patients during that period.
"If we have a patient who comes in at night, with a possible spinal injury, instead of flying a patient out and flying a patient back, we can say 'okay, we're going to keep you in bed for the rest of the night and we'll get a CT first thing in the morning'", explains emergency physician, Dr. Richard Birkill.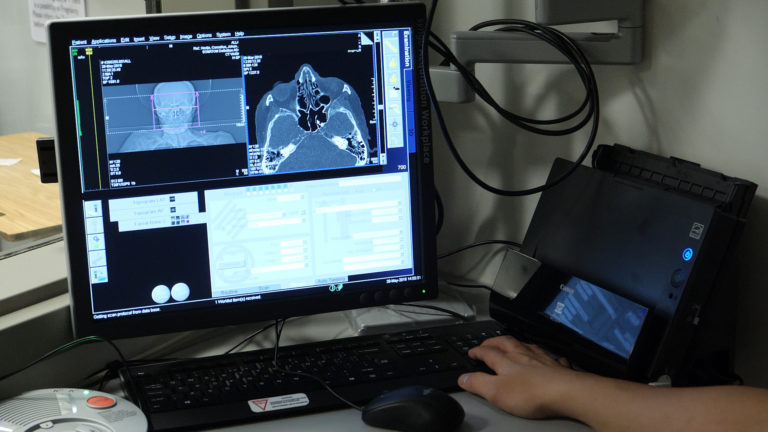 The scanner produces a 3-D view of the body. These images are an important diagnostic tool for accessing stroke patients, and they reveal to a physician whether it's necessary to administer a thrombolytic – a treatment that dissolves dangerous clots in blood vessels.
"Every minute between you getting the stroke and getting your thrombolytic means loss of some brain tissue," says Dr. Birkill. "Having 20 minutes to half an hour to get a thrombolytic into a patient, versus the two to three hours it takes right now, will make a tremendous difference to our stroke patients."
The Lac La Biche Regional Health Foundation raised $2.1 million to fully fund the scanner. They were supported by large contributions from the Nashim family and Lac La Biche County.
The new scan suite is expected to provide more than 1,000 scans per year, serving patients from Lac La Biche and surrounding communities, including Buffalo Lake Metis Settlement, Hylo, Kikino, and Plamondon.