Brooke Elworthy never can predict how her day will unfold when she walks in the door at Bashaw Medical Centre.    
As a licensed practical nurse (LPN) with the Camrose PCN, she prefers it that way.
  
Elworthy spends two days a week at the Bashaw clinic helping Dr. Tony Mucciarone provide care to the region's patients.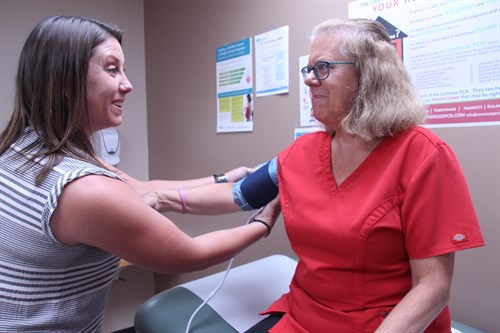 During one appointment she might counsel for weight, diabetes, or high cholesterol management, while her next patient may require wart removal, an immunization, or early prenatal care. 
"I like to have variation and do different things all the time," explains Elworthy during a break from her schedule at the Bashaw clinic. "I get bored easily so it's good to be well-rounded in different areas. The more you can broaden your horizons the better."
  
An emphasis on multi-disciplinary health care — coupled with Elworthy's enthusiasm — led the PCN to expand her responsibilities to include work in chronic disease management and prenatal care in two separate Camrose clinics a few years ago, said Colleen McKinstry, Camrose PCN clinical director. In addition to Bashaw, Elworthy spends one day a week at each Camrose clinic.
  
Traditionally doctors and RNs may have covered some of the duties Elworthy now carries out, but McKinstry says there are many tasks that can easily be handled by LPNs.
  
"It enables us to have a real broad range of health–care providers working to full scope and maximizing dollar-wise the work we do so we can provide additional care in other areas.
  
"She really adheres to the code of ethics," said McKinstry, noting they are in contact with the College of Licensed Practical Nurses of Alberta (CLPNA), a licensing body for LPNs, to ensure she's working to her full potential within the guidelines outlined by the CLPNA.
  
"It was a bit of a sell until the RNs understood the role she would play and once she got out there, and she rocked it, they're now the biggest fans," she said. "There's a whole team that wraps care around the patient. With that complementary care they are all learning from each other," she said of the LPNs, RNs, doctors and other health–care providers.
  
Adding Elworthy to the mix has resulted in reducing the load for colleagues Dr. Mucciarone, and registered nurses, Pam Sherman and Alysa Bartman, enabling the health–care teams to spend more time with patients overall.
  
Sherman, an RN at the prenatal clinic, said her team now sees about 10 to 11 new patients, up from the previous maximum of six when Elworthy first came on board. Follow-up appointments, which generally take less time than first appointments, have also increased.
  
Elworthy often does some of the assessments when women come in for their first prenatal appointments starting by collecting their family, medical, and delivery history, making note of medications and allergies, and providing some initial prenatal education.
  
"She's one of the team here and I've completely seen it as a positive," said Sherman. "To see Brooke's growth in this role is absolutely amazing. She's completely embraced the opportunity and wants to soak in all the information."
  
Bartman agrees Elworthy's role is similar to the other team members in chronic disease management but she knows her limits as an LPN, leaving the complex cases to the RNs and physicians to oversee.
  
Back in Bashaw, Dr. Mucciarone said patients in the surrounding communities of Ferintosh, Donalda, and Alix also really benefit by having Elworthy on their side.
  
"I have a limited amount of time, but Brooke can sit down with them for an hour," he said, noting she handles everything from initial discussions, to sleep studies, to lifestyle management counselling, including 24-hour blood pressure monitoring. She's also taken additional courses to expand her knowledge in specific areas of care.
  
It took a bit of time for patients to build a relationship with Elworthy's expanded role as an LPN, but the level of trust between her and her patients has grown.
  
"Whatever services we can bring to a small community is a bonus," Dr. Mucciarone. More than half his patients are over 55 so it makes it less stressful for them if they don't have to travel to larger centres for medical services.
  
"(Her patients) know she's a small–town girl," said Dr. Mucciarone of Elworthy who lives on an acreage  between Bashaw and Camrose.
  
While Elworthy has been a gem for Bashaw, and a cost saving for the PCN, Dr. Mucciarone and McKinstry agree not all LPNs want to tackle such a broad scope of practice or travel to multiple clinics. And that's just fine.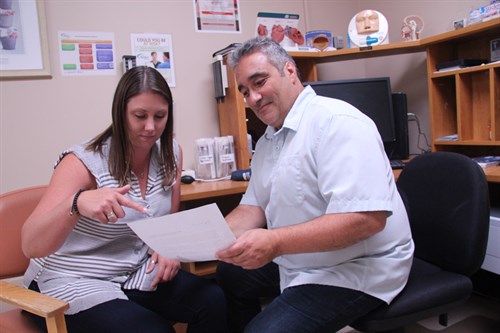 "It's always a matter of hiring the right person and there has to be community buy in," adds Dr. Mucciarone. "It's a matter of working as a team and everyone has a role. Brooke and I work very well together." 
"Brooke is very passionate about caring for her patients … and that is evident," adds McKinstry. "She puts her patients first and gives them what they need to be successful. We want to maximize her potential and work toward job satisfaction." 
Elworthy said working in three different clinics with a range of ages and health issues keeps her engaged. 
"It's fresh and new so it keeps me on my toes. It's good to challenge yourself all the time. I don't think we learn unless we challenge ourselves." 
Article and Photos by Lorena Franchuk