55 post-secondary healthcare students arrive after a little over a 3-hour ride from Edmonton.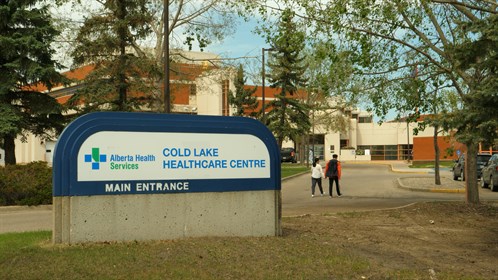 They're here at the Cold Lake Healthcare Centre, a hospital that serves about 35,000 people in the region. The Skills Day begins with a tour.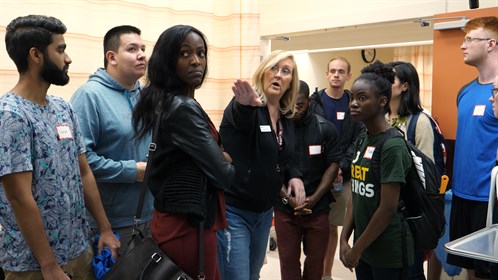 Cathi Garon, Site Manager at Cold Lake Healthcare Centre says, "They walk in here and they say 'oh my gosh, this is a beautiful hospital.'  We have everything that any big city hospital has with the exception of we don't have an intensive care unit. But we have a cat scan, we have access to any kind of equipment that you need or any kind of diagnostics that you need. We are a stroke centre."
Cathi's passion and energy teamed up with the fundraising efforts of Hearts for Healthcare have brought equipment here that you won't find in most similar sized hospitals in Alberta.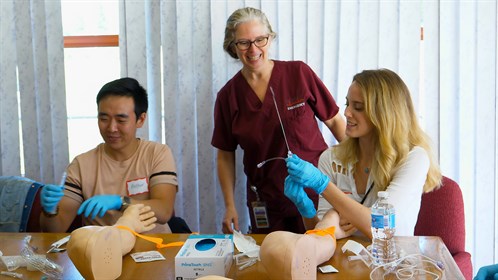 Roberta Salter is one of the registered nurses teaching IV Starts today. She embraces the fast pace here and loves diversity. She works in emergency, endoscopy and day surgery in the operating room.
"For a nurse, your scope of practice, you use everything you've been taught and more because you are constantly learning more," says Roberta Salter, RN.
"And what's really great about nursing, and medicine, and EMS, and all of the different disciplines that come here is they'll have an opportunity to really branch out and be that whole complete trained person that knows how to do their skills well in any kind of setting," says Cathi Garon.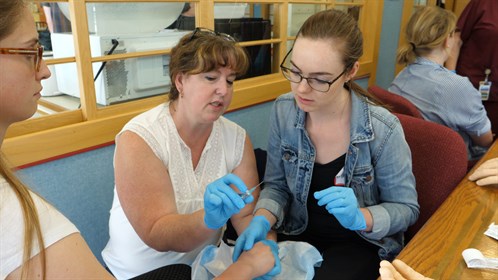 "This hospital is fantastic! I've worked in hospitals across Canada, and I have to say the team that is here is family. Everyone works together and we work for the best of the patient," says Nicola Girardi, an RN who works in Emergency, the Operating Room and Medical Device Reprocessing at Cold Lake Healthcare Centre.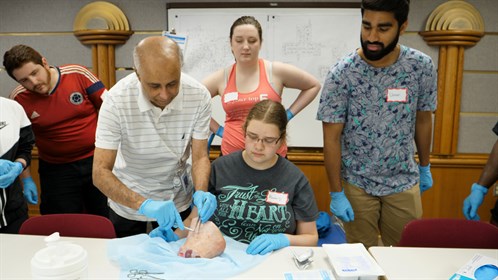 Dr. Sandrasekeram Parameswaran, who taught suturing, has a wealth of worldly experience. He practised in Sri Lanka, the United Kingdom, Newfoundland, and Florida before coming to Cold Lake.
After the Skills Day, the students enjoyed dinner at a local golf course.
"I hope that when the time comes that you think about us and that you take a chance on Cold Lake, and you will not be sorry. And I thank you so much for coming,"  Cathi Garon told the students.
Thunderstorms with heavy rain washed out the golf games planned for after dinner, but it didn't stop the students from having fun and getting to know each other better.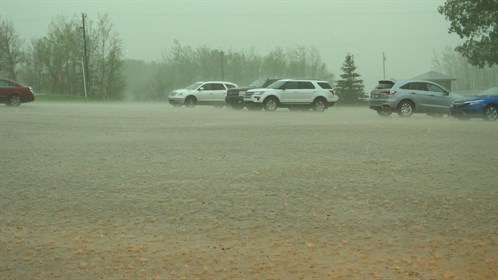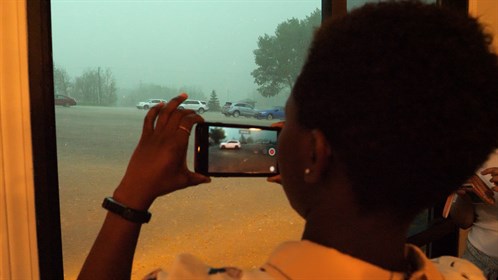 It was still raining the next morning for the city tour, so it wasn't the best time to showcase Cold Lake.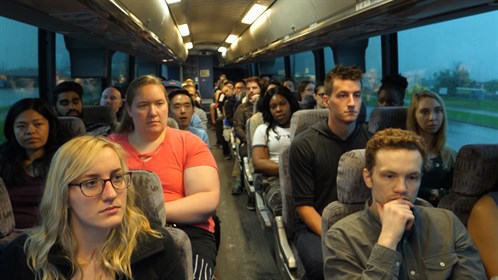 But the afternoon before was beautiful, and many of the locals were out enjoying the many recreational opportunities here.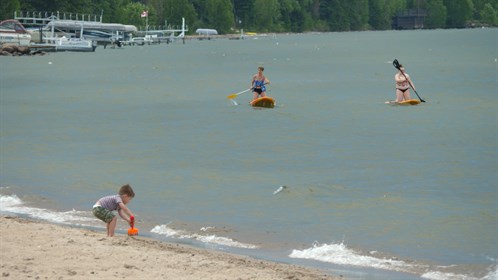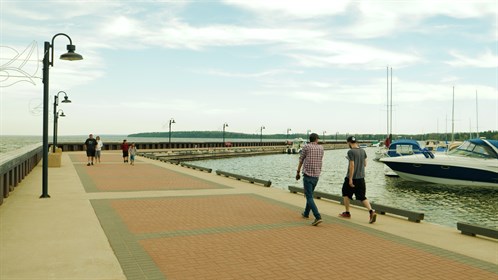 "I find that Cold Lake is a big beautiful playground. I really do," says Theresa Nickel, Executive Director for Hearts for Healthcare, a group that focuses on attraction and retention of healthcare professionals in this area. Hearts For Healthcare is also a big fundraiser for the hospital in Cold Lake.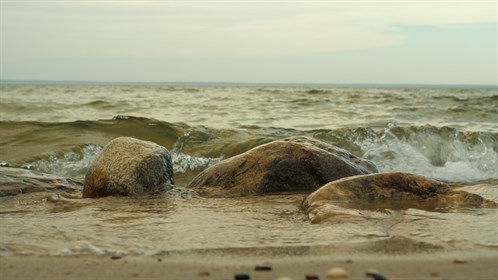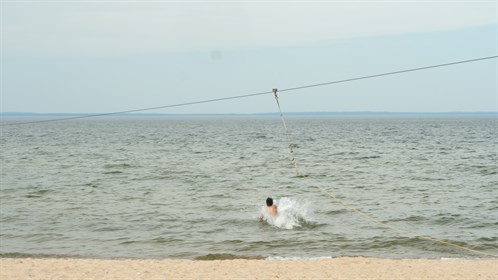 "Our lake is absolutely beautiful," says Roberta Salter. "So if you like to boat, if you like to camp, if you like to hunt, anything like that, it's here. We have the ski hill in the winter. There's so much to do."
"And it's this beautiful city. It's growing in leaps and bounds. Housing is affordable. You have an incredible lake to live beside and this lake is not like typical lakes in Alberta. This lake is 30 miles in diameter. 450 feet deep." Says Cathi Garon.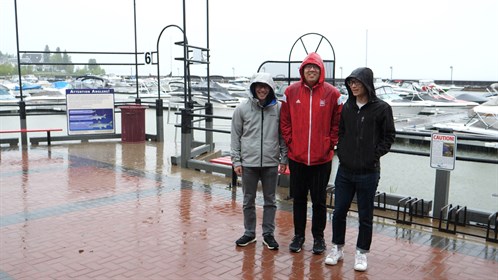 "I love this marina," says Michelle Saromo, a speech language pathology student at the University of Alberta. "This is kind of selling me on coming here, because I love being by the lake.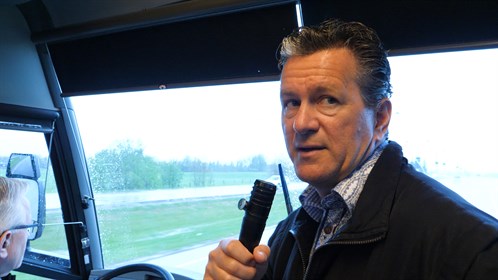 The Mayor of Cold Lake, Craig Copeland was tour guide for the bus tour which included a drive through the Canadian Forces Base here.
"You have about 2,300 people working on the base, and it's Canada's largest air force base."
Oil and gas is another big employer in the region. In fact, there are more oil wells in the area than people. The average age here is 38, making it one of the youngest communities in Alberta.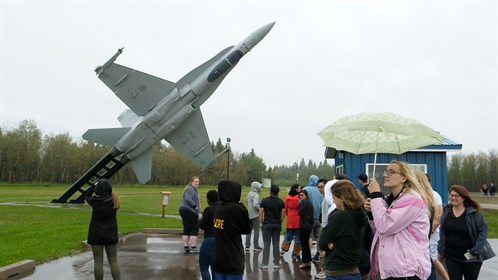 Despite the rain, the students really enjoyed the skills day weekend and left with a new appreciation for rural health care.
"It was a great eye-opening experience to see what it's like to work as a rural physician here," says Homun Yee, a medical student at the University of Alberta.
"I didn't expect that such a small city would have so many resources, so I was really impressed," says 4th year nursing student Anthony Nguyen.
"I absolutely loved it," says Natalie Kraemer, also a 4th year nursing student from the University of Alberta.  "Rural has always been an interest of mine, but I grew up in Vancouver, then I moved to Edmonton, so I've never been exposed to it. And it was really exceptional to learn firsthand from the people who are up here."