Heather Halladay, a registered nurse in Rocky Mountain House, grew up in the city. She also went to university in the city and practised nursing in the city.
So, what brought her to rural Alberta?
"I fell in love with a helicopter pilot," recalled Halladay, with a smile.
Josh Halladay worked in High Level when they got married. So, Heather moved up to the town of 3,200 residents in the far northwest of Alberta and started working at the hospital.
"I fell in love with rural nursing, where I got to do everything in a day: I was delivering babies, I was helping with end-of-life care, and everything in-between. It was exciting. It was dynamic. It was new and challenging."
A few years later, Josh's work required him to live closer to an international airport, so they moved to Rocky Mountain House, population 6,600.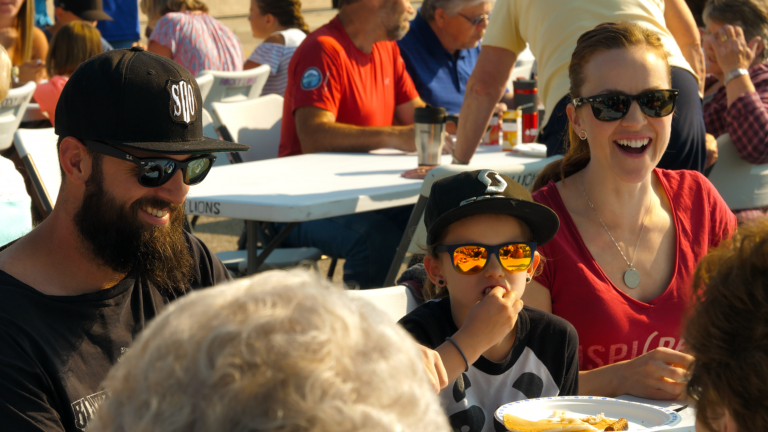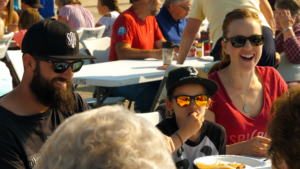 "We found the community very welcoming," explained Heather. "We were pleasantly surprised by the friendliness and how open people are to engaging and welcoming you."
The Halladays enjoy the many recreational opportunities offered by Rocky Mountain House, often just called "Rocky" by locals. There are 14 lakes within a half-hour drive. Crimson Lake Provincial Park is just minutes away and is a popular spot for camping, swimming, and boating.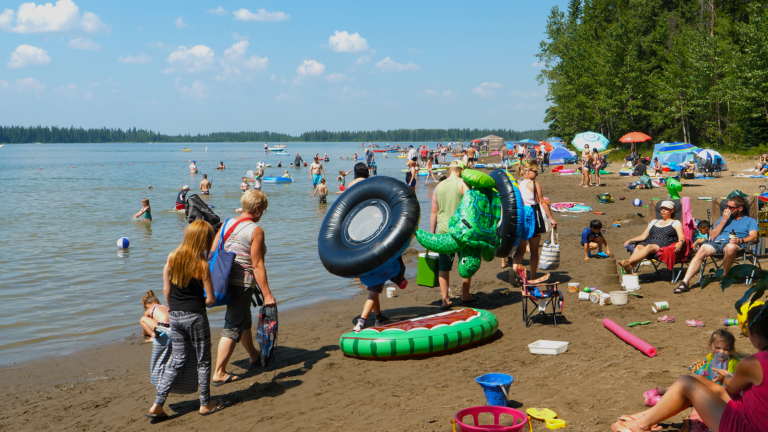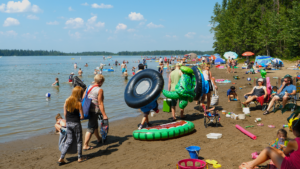 Josh and Heather love nothing better than heading out on their motorcycles on a warm summer day with their six-year-old son, Shep, behind Heather and 9-year-old daughter, Grace, riding with Josh.
The Rocky Mountains are about a one-hour drive west of Rocky Mountain House. With the mighty North Saskatchewan River flowing on the west side of the town, kayaking, canoeing, and paddle boarding are right in their back yard.
In winter, the Halladays enjoy skating, cross country skiing, and snowshoeing.
Presently, Heather works at the hospital on a casual basis to allow her more time to be with her children.
Now, having worked in both urban settings and rural settings, it would be tough for me to go back to a city hospital – Heather Halladay, RN
She has a passion for teaching labour and delivery to both practising nurses and nursing students from Red Deer College.
"I bring students in, and they comment on how friendly everybody is [at the Rocky Mountain House Health Centre], how everyone works together, and how the teams are so strong. They comment on how the doctors ask them for their opinions and their input."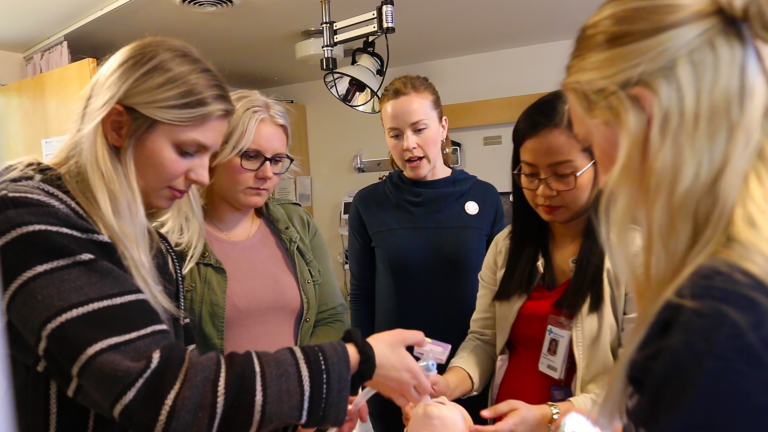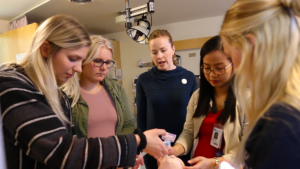 Halladay is also a member of the Rocky Mountain House/Clearwater County Health Professional Engagement Team. This group develops strategies for attracting health professionals to Rocky Mountain House. It also finds ways to show appreciation to the health providers who are already there.
Just try [rural nursing] out. It is so worth it. – Heather Halladay, RN
She enjoys the collaboration and the teamwork of health professionals in the community and has no plans to head back to the city.
"Now, having worked in both urban settings and rural settings, it would be tough for me to go back to a city hospital," said Halladay. "I love going to work and doing different things every day and working with different populations every day. I love it."
What is her advice to nurses who are pondering rural practice?
"Just try it out. It is so worth it."
Keep in mind: what happened to Heather could happen to others."You never know, there may be a helicopter pilot for you out there in the bush just waiting to be discovered," Halladay said with a laugh.
Tagged In