Dr. Nellie Mbambo came all the way from Durban, South Africa to practice in Vulcan. The Vulcan and County Attraction and Retention (A&R) Committee had been woo-ing her to come for over a year. So, when she and her family arrived, the committee did it's best to ease the culture shock.
"They helped me to find places, go shopping, set up a cell phone. They hosted a huge party for myself and my kids. They had a huge impact," Dr. Mbambo recalled.
The Committee, along with Alberta Health Services, offers free accommodation for physicians in their first year of practice here. The home is just a two-minute drive or a 10-minute walk from the medical clinic.
"Every new doctor that has come in has got that house rent free for a year. And some of them have continued on for a short time after at a rent reduced price until they got a place of their own," explained Brenda Findlay, the secretary of the Vulcan and County (A&R) committee.
Vulcan is a town of 1,900 located midway between Calgary and Lethbridge. The 18-hole golf course attracts visitors from those two cities, and some come to retire here. Another 4,200 people live in the surrounding Vulcan County, an area rich with prime farmland and dotted with numerous communities like Arrowwood and Mossleigh.
In 1910, a CPR surveyor who had a fondness for Roman Mythology named the town of Vulcan after the Roman god of fire. Originally, all the streets were named after gods and goddesses like Minerva, the goddess of war. Today, it's known as the "Official Star Trek Capital of Canada".
Vulcan was a fictional planet in the TV series Star Trek. So, the town seized that connection as a marketing tool and even convinced the most well-known Vulcan of them all, Leonard Nimoy, or Spock, to come for a visit.
Dr. Mbambo and her family have come to embrace living here.
"I really love it because it's a small town, practically you feel like it's a whole community that you live with and you're serving."
Dr. Mbambo practises at the new Vulcan Medical Clinic, located inside the Vulcan Community Health Centre. Previously four doctors were crammed into a much smaller space. Members of the Vulcan and County Attraction and Retention Committee worked with the local health foundation to push for the building of this new clinic. It was a collaborative effort that also included the Town, Vulcan County, and Alberta Health Services. The new clinic has space for eight physicians, twice the old clinic. The improvements also included a space for rehabilitation and a venue for community wellness programs.
As County Reeve, Jason Schneider, explains the Vulcan and County Attraction and Retention Committee was created when the town was in crisis.
"About ten years ago we were one of those communities that was really struggling. We got down to one, one and a half doctors and it was really difficult to attract more health-care professionals when there were 3 or 4 doctors short."
"Since they've come onboard, we've done a better job of recruiting and certainly a better job of retaining," says Dr. Shawn Webster, a retired family physician in the community.
Previously, just the physicians looked after recruitment. They still look after the medical side when it comes to pursing new physicians, but the committee looks after the lifestyle side.
"When physicians have been looking if you will, the committee has welcomed them with open arms, taken them on tours of our county, have barbecues," added Paulette Wagenvoort, Site Manager of the Vulcan Community Health Centre.
Committee Chair, Grant Turner, welcomes the opportunity to show visiting physicians the many nearby amenities including Lake McGregor, a popular spot for wakeboarding, fishing, kayaking and more.
"Now looking ten years forward, we've been extremely successful, and we have a full complement of doctors," Schneider continued.
Now, the goal is to retain them. Through consultation with the Vulcan and Area Attraction and Retention Committee, both the Town and County started providing a financial subsidy to physicians to reduce clinic operating expenses in both Vulcan and Arrowwood.
"We want rural health care and to have rural health care, we're going to put our money where our mouth is and support it," stated Vulcan mayor, Tom Grant.
Reeve Schneider added: "If you can go to the city and make 20% more, you have to do it for your family. So, we tried to even the playing field, and it's actually been pretty successful for us."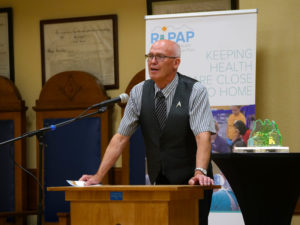 In the past, physicians were spending too many weekends on-call. So, the Committee arranged for a locum, Dr. Lana Lovo, to come one weekend a month on a regular basis. The Town and County compensated Dr. Lovo for housing and travel expenses.
Retired Vulcan physician, Dr. Len Wade, speaks highly of their weekend physician.
"She has her own family practice in Calgary but likes to maintain her skills in [emergency] and procedures by coming to Vulcan. She's absolutely the gold standard of doctors. She's terrific."
"If we don't keep the doctors that we have here, if we wear them out, tire them out, they're gonna be gone," Brenda Findlay added.
Katie Waring works in the lab at the Vulcan Community Health Centre but lives in High Prairie. The committee wanted to make it more comfortable for out-of-town health professionals like Katie, who occasionally had to stay overnight in Vulcan. So, with the help of AHS and the Vulcan Health Auxiliary, it provided this furnished basement suite where they can stay for free.
"So, for me it's perfect. If I'm on call I have a comfortable bed I can sleep in and I have a place I know I can go and relax. And I know the nurses love it too," Waring explained, "After a shift, big winter storm coming in, they just stay and they don't have to worry about the roads."
The Committee initiated a "Gratitude Wall" in the hospital, which provides cards for visitors and patients to say thank you to their health-care providers. Lisa Ferguson, a registered nurse at Vulcan Community Health Centre, says, "it's just nice to be appreciated. I don't think we get that enough. It makes a big difference when someone says 'thank you' to you."
The committee also worked with the local high school to create a medical course where students are paired with a medical professional and spend time mentoring with them.
"Give them that first taste of working in a hospital setting. That's something that will stay with them throughout their career," explained Paulette Wagenvoort.
Congratulations to the Vulcan and County Attraction and Retention Committee, recipients of the 2022 RhPAP Rhapsody Community Award.