Collaborations are a vital part of the efforts made by health professionals to improve patient outcomes. They are especially important in smaller communities like Worsley in northwestern Alberta.
To enhance patient care, the nurse practitioner and emergency medical services (EMS) personnel at Worsley Community Health Services, the only clinic in Clear Hills County, have found opportunities to work together.
"We're all located in the same building, [so] it makes it very easy to assist one another," says primary care paramedic Terence Schweitzer, who's worked in the community for seven years and, previously, in other rural locations including Beaverlodge and Slave Lake.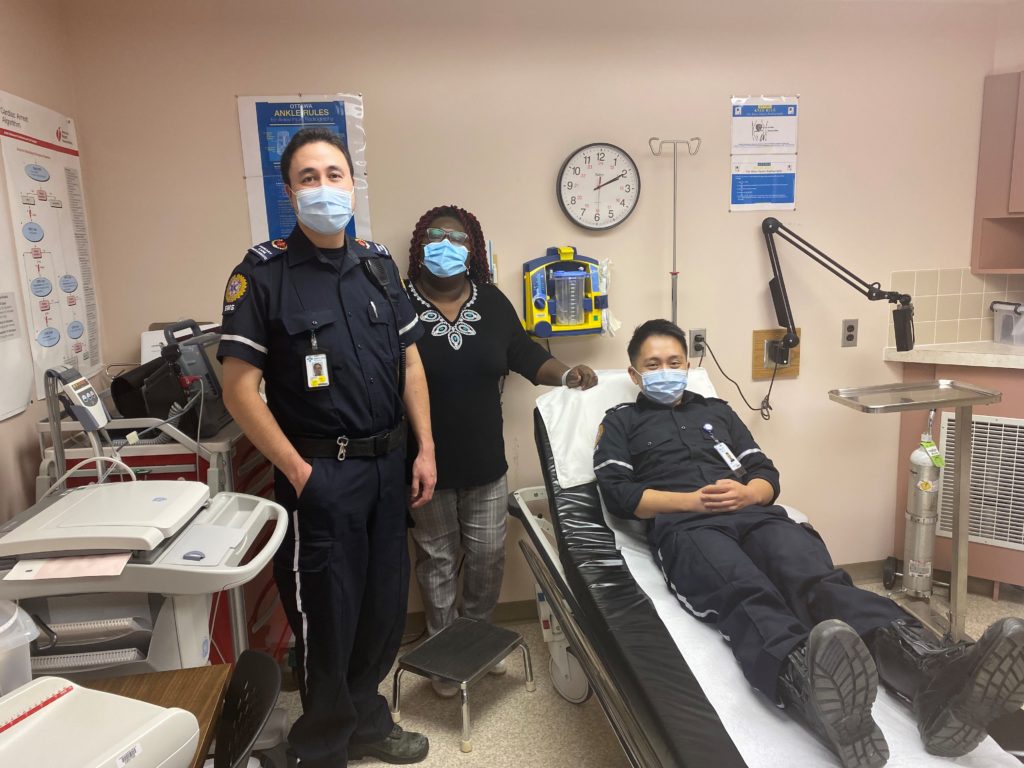 The EMS unit operates 24/7 using two-member crews in the area's one ambulance. They are based in the health-care centre along with the nurse practitioner, a receptionist, a public health-care nurse, and a home-care nurse. A dental hygienist also visits monthly.
Primary care paramedic Terence Schweitzer, left, nurse practitioner, Rosa Mei Ning, and primary care paramedic, Warren Wong, collaborate often at the Worsley Health Centre Clinic.
"EMS has performed ECGs on patients in the clinic for the nurse practitioner on request," says Schweitzer.
"Since the EMS [provides Basic Life Support], our treatment for pain is limited, [but] we have the option of being able to have the nurse practitioner assist us with pain management. For example, when we were transporting a patient from the ski hill with a bone fracture injury and had a long transport time, [en route to Fairview,] we called ahead … to the Worsley Health Centre to have the nurse practitioner come out and administer medication for pain control.
"This provided much-needed pain relief for the patient and made the transport to Fairview much easier and [more] comfortable."
Schweitzer says the collaboration with the nurse practitioner makes it easier to do assessments on patients who stop in at the clinic and require treatment or transport.
"The nurse practitioner can come in and assist with assessments or provide treatments, as well as set up transfers from the Worsley Community Health Centre to Fairview.
"We can load and transfer the patient right from the health centre."
Worsley, located two hours north of Grande Prairie, has about 130 residents. The ambulance service covers a much larger rural area of about 3,000 people, extending from the B.C. border to just outside Hines Creek.
The usual hospital transport destination is Fairview, Schweitzer added, with transport by ground ambulance usually taking around an hour from Worsley. STARS is called for more serious emergencies.
Rosa Mei Ning is the only nurse practitioner in Worsley. She has been employed there for four years, providing care to residents of all ages in the community and area. She can diagnose and treat illnesses, order diagnostic tests and interpret results, prescribe medications, perform medical procedures, and refer to specialists when necessary.
"We must depend on collaborations for essential services, and health care is no exception to this rule."                                      -Amber Bean, reeve of Clear Hills County
Mei Ning provides care to patients from as far away as Fort St. John, B.C. and works with medical professionals in other area communities from Fairview to Grande Prairie.
She described the relationship with EMS as a collaboration of practice.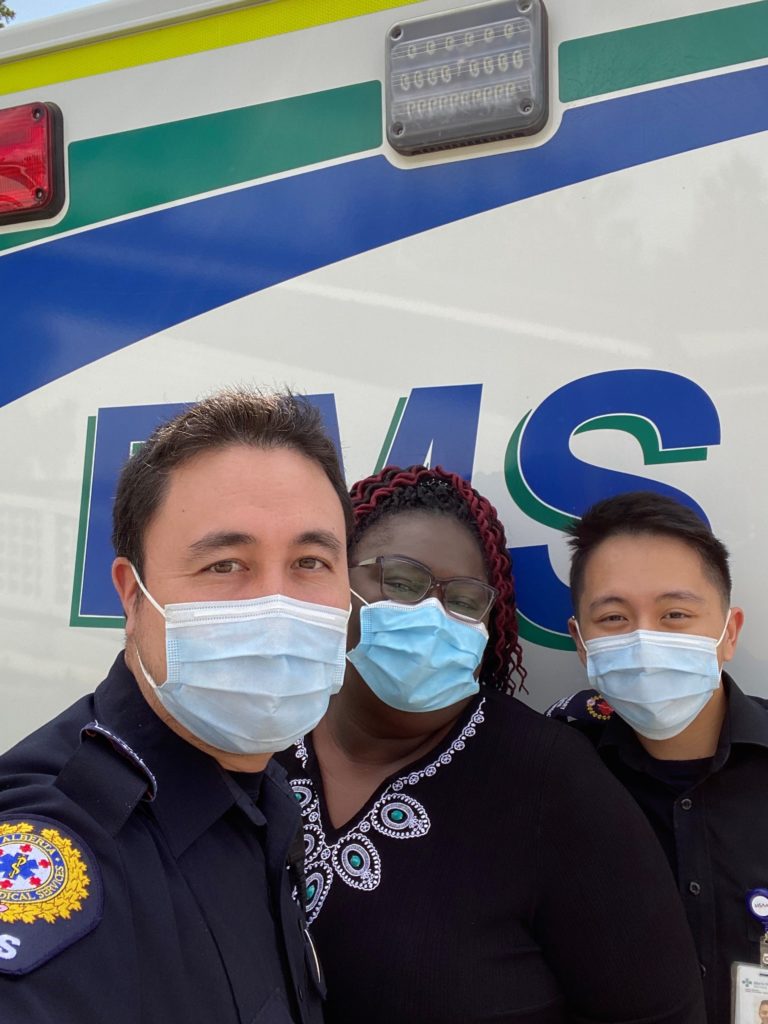 Typically, when a patient presents to the clinic with emergent/urgent care needs and a quick assessment determines their needs cannot be met here, the clerk is directed to call 911 to arrange for transport," she said.
"The nurse practitioner focuses on stabilizing the patient by managing airway, breathing, and circulation, administers medications when indicated, and prepares the patient for EMS transport to a tertiary hospital where care needs can be met.
The nurse practitioner also provides a verbal report on the patient's presentation, care provided, and current status to EMS staff and assists with transferring the patient to the ambulance."
Clear Hills County reeve Amber Bean said health professionals finding ways to work together is essential, especially in remote rural locations where resources are limited.
"Physician coverage was practised at the Worsley Health Centre in the recent past by Fairview doctors rotating to see patients on a weekly schedule. With doctor shortages at the Fairview Medical Clinic and hospital, the weekly visits have been cancelled," she explained. "This puts an added caseload and strain on our nurse practitioner.
"Unified co-ordination between the nurse practitioner and the EMS responsibilities helps to alleviate pressure on Mei Ning."
With Clear Hills County situated more than 100 km from the nearest urban centre, health professionals aren't the only ones working together for the greater good of the region.
"We must depend on collaborations for essential services, and health care is no exception to this rule," Bean said, citing the Health Professional Enhancement Committee (HPEC) as an example of community members working together within the region to strengthen health care.
HPEC is comprised of representatives from municipalities in the Fairview Hospital catchment area—Clear Hills County, Hines Creek Village, the M.D. of Fairview, and the Town of Fairview. Its focus is on attracting and retaining health professionals and showing appreciation for all health providers in the region, including those at the Worsley Community Health Centre.
"Collaborations are the backbone of our communities, at home, at work, and at play," she added.
"Clear Hills County is a witness to how vital these practices are, and it is fortunate that we have so many individuals striving for a better community daily."
— David Olinger