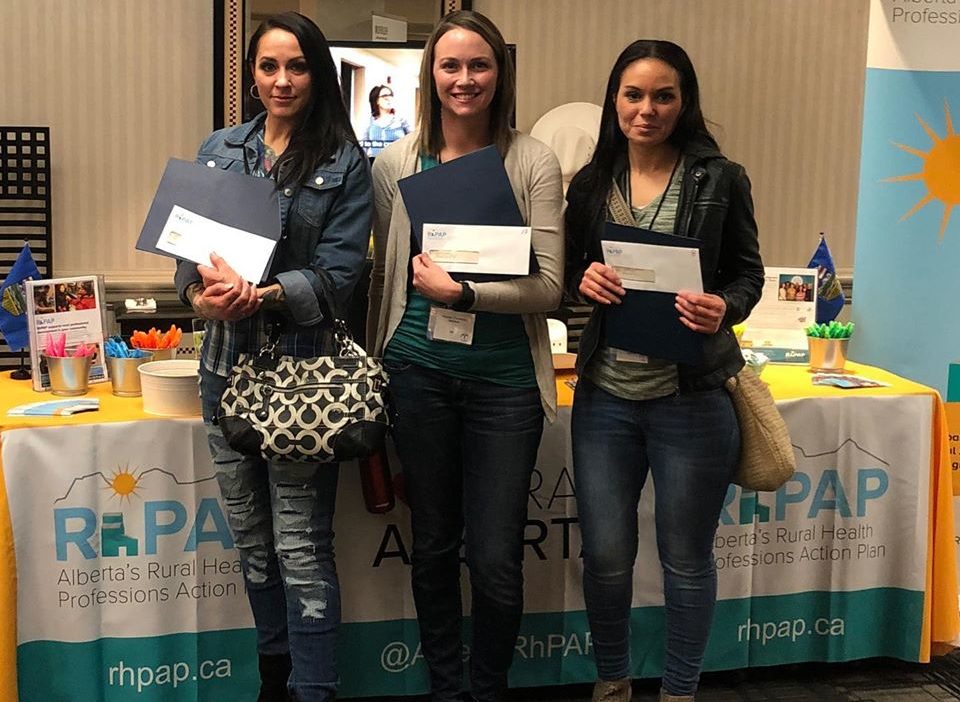 Endoscopies are procedures to examine the interior of a hollow organ or cavity of the body and require an endoscope to be inserted directly into the organ. These procedures require a health-care team to perform. The Endoscopy Skills Day for Practicing Endoscopists and their Teams, held in January in Banff each year, is a conference focused on improving the skills of multidisciplinary endoscopy teams, most of them rural, who perform these procedures.  
Each year, RhPAP reimburses a majority of the registration costs for up to 35 rural registered nurses (RNs) and licensed practical nurses (LPNs) from around Alberta to participate in this conference, which offers lectures and small group sessions led by gastroenterologists, general surgeons, family physicians, and nurses on topics relevant to gastrointestinal medicine and endoscopy. 
For rural generalist team members like Cody Martin, an RN from Crowsnest Pass, the Endoscopy Skills Day offers an opportunity to stay up to date on the state of the medicine, best practices, equipment, and techniques.  
"I learned what the endoscopist is looking for as well as the rationale behind it," Martin reported. "I learned about different types of polyps, the equipment needed to remove them, and various disease etiologies." 
A number of the sessions addressed polyps, small abnormal tissue growths that can develop in the colon, ear canal, cervix, stomach, nose, uterus, and throat. While most are benign, some can become malignant or cancerous. Diagnosing these polyps often requires an endoscopy. 
Sessions also addressed endoscopic techniques and equipment, which is expensive and isn't typically opened unless being used for a procedure. 
"The highlight of the conference for me was handling the equipment that the vendors brought and learning about when and how it's used in the conference sessions," Martin explained. 
Megan Grover, an RN from Ponoka, pointed to her take-away learning on Endoloop ligatures and hemospray as a benefit of her conference experience. Both these items and the techniques associated with using them, are for dealing with internal lesions or bleeding. 
"The information about Endoloop application and the use of hemospray has made me more comfortable with each technique," Grover explained. "Since the conference, I have successfully assisted in the use of both."  
Shared learning and common practice are essential in a strong endoscopy team; the department operates best when everyone is able to work together.
– Megan Grover, RN
According to Martin, this type of information and experience helps nurses provide better care and allows them to better function as part of the team.  
"I learned how to safely and effectively role a patient during colonoscopy to improve viewing for the endoscopist and, then, was able to use this information to reposition a patient last week," Martin added. "The hands-on learning at the conference enabled myself and our team to perform this maneuver safely in practice." 
Grover says that the team is stronger when it is fully represented and considered at education events. 
"Shared learning and common practice are essential in a strong endoscopy team; the department operates best when everyone is able to work together."  
However, one of the key benefits of the Endoscopy Skills Day is the opportunity to network with rural colleagues and take advantage of their experience. These are learnings that only happen in discussion with health-care providers who know what it means to practise in a rural setting, details that are often missing from more urban-focused conferences. 
"It's helpful to hear about struggles and triumphs that nurses and doctors at other sites share and how they… problem solved [at] a rural site with limited resources," Martin added. 
Dianne Bibleau, an RN from Cold Lake, reports that "It was valuable to learn… how other facilities run their endoscopy units."  
Bibleau already knows she'll be back. 
"I came alone, but am hoping that I can recruit some people to come next year. I have reported to my colleagues how great this conference was!" 
Tagged In