After wildfires ravaged Slave Lake almost a decade ago, half of the community's physicians moved on.
As the community rebuilt, a unique model of health care emerged, meeting the needs of a town on the rebound, and blazing a trail for multi-disciplinary care.
Established in January 2012, the Slave Lake Family Care Clinic is staffed by a team of health professionals who provide non-emergency medical care in a stand-alone clinic. The clinic is just one of three in the province.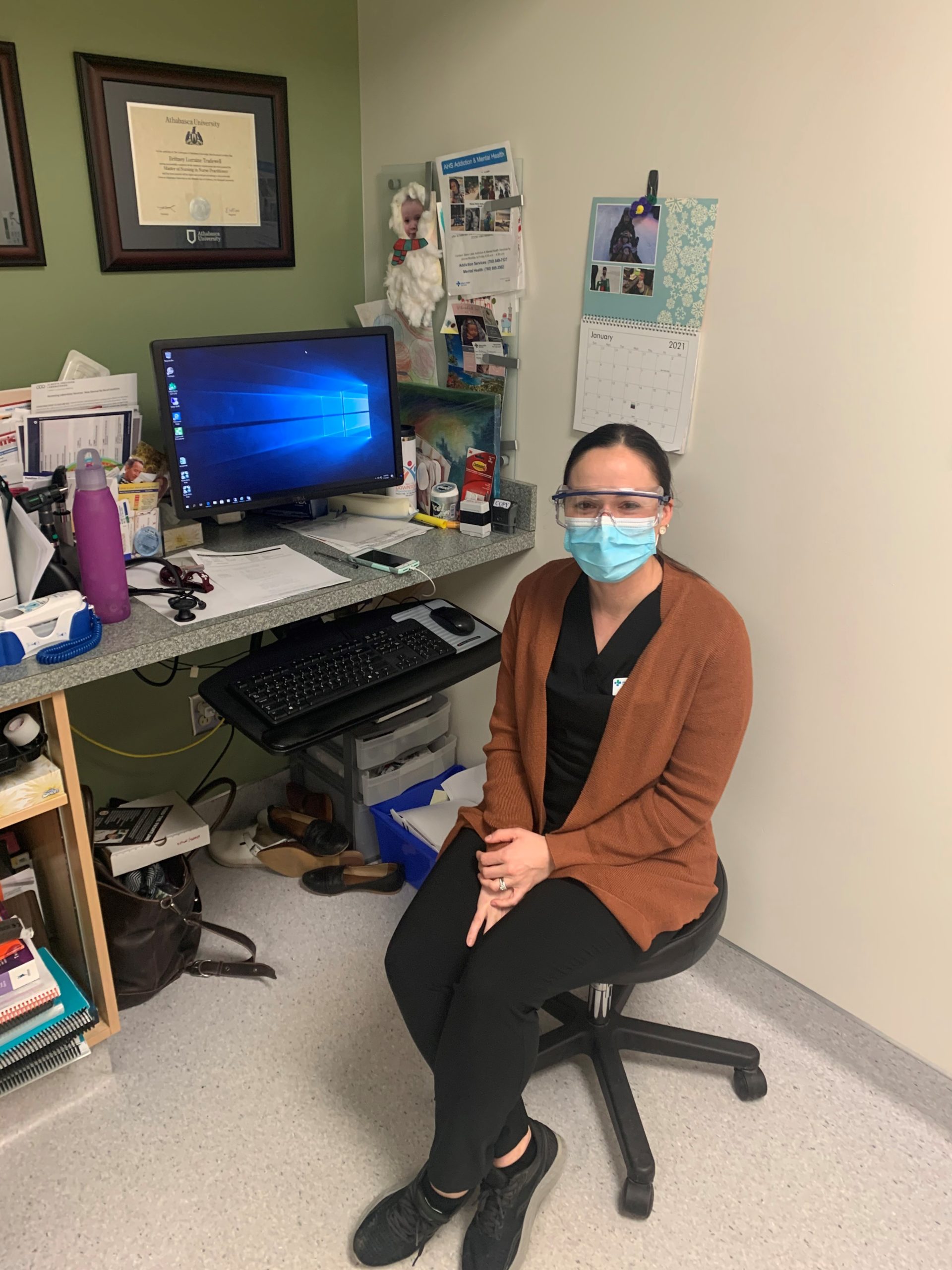 Dr. Keith Martin explained that the family care clinic "does everything from newborn care to geriatrics and everything in between.
"Our clinic provides comprehensive diabetic care with our chronic disease management team. We attend to lumps and bumps in our state-of-the-art procedure room, perform circumcisions to vasectomies in-house, and have a foot-care clinic," Dr. Martin reported.
The clinic has nine physicians, six nurse practitioners, two chronic disease management nurses, a registered dietitian, one mental health-care worker, and a social worker. All team members are employed by Alberta Health Services (AHS) which also manages and operates the facility.
In 2015, the family care clinic moved into larger quarters in the Slave Lake Healthcare Centre, the community's hospital.
Dr. Martin said it's helpful, when he needs to deliver a baby at the hospital, that he's still able to meet with scheduled patients the same day.
Conversely, when there's a need to assist in the emergency room, he can quickly pivot to assist.
"The great thing about this approach is there's always seamless communication in the group," said Dr. Martin. "We all chart in the same system. We are literally 50 steps away from everyone, so it makes it easy to have a hallway consult with a colleague."
Dr. Martin adds that the clinic model has made it easier to recruit new medical professionals, including himself.
Patient outcomes have also improved, as physicians can invest more time with patients and look beyond one concern at a time to explore their medical history and other issues.
This time provides an opportunity to identify chronic or acute issues much sooner, and patients also benefit from the continuum of care.
According to Johan van der Nest, the clinic manager, the family care clinic has significantly improved health-care delivery in Slave Lake and surrounding areas.
"More people are getting the comprehensive care they need at the [family care clinic] … reducing demand on the emergency department," van der Nest explained, adding that emergency visits have dropped from an average of 806 visits per month in 2012 to a current average of 450 visits per month.
Since the clinic's inception, the chronic disease management team reported an overall reduction of one per cent in average blood glucose levels for the last two to three months, which represents a significant improvement in diabetic patient care.
"The great thing about this approach is there's always seamless communication in the group. We all chart in the same system. We are literally 50 steps away from everyone, so it makes it easy to have a hallway consult with a colleague."
– Dr. Keith Martin, physician at the Slave Lake Family Care Clinic
On average, 45 to 50 per cent of the clinic visits are completed by professionals other than the physicians (e.g., nurse practitioners, chronic disease management staff, registered nurses, social workers, mental health therapists), with the average wait for nurse practitioners being four days, compared to seven days for a physician.
The six nurse practitioners at the family care clinic are vital to this unique health-care delivery model's success.
Brittney Tradewell became a nurse practitioner at the clinic four years ago after completing her master's degree while working at the clinic. She had been a registered nurse at the hospital since first arriving in the community in 2009.
"The Slave Lake [Family Care Clinic] is unique in that everything and everyone that you or your patients would require on a regular health-care basis are under one roof. This allows you to streamline the quality of care you can provide to those who see you," she said.
"I definitely see [how] the clinic has benefitted the community, and the simplicity is valuable to patients. They can come and attend to multiple things in one day instead of travelling to and from numerous places. This also provides comfort for people—reduced travel and [increased] familiarity with the building."
She is proud to have contributed to the clinic's success.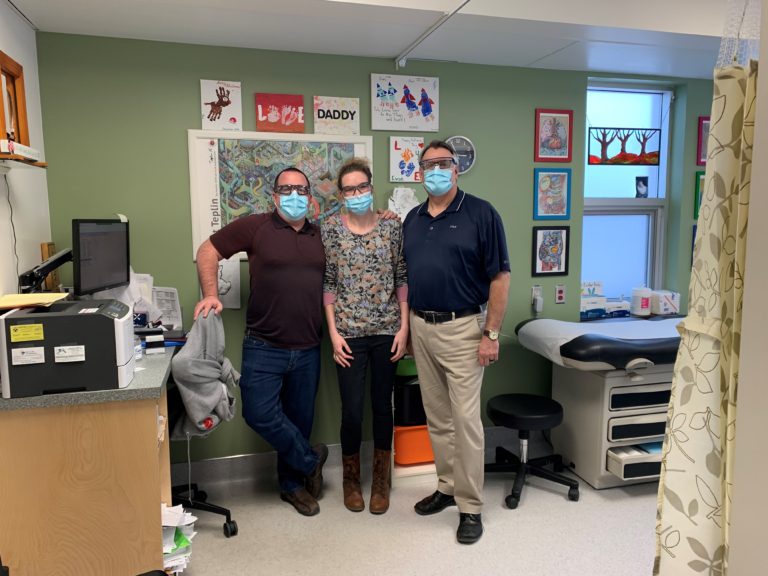 "Nurse practitioners are beneficial to any community, particularly to those struggling with access to health care, much like we experienced in Slave Lake after the fire.
"I feel that [nurse practitioners] have helped bridge the gap to accessing health care in our community under the model we have today," she said. "Having the choice about who you see is important to patients.
"Nurse practitioners at the [clinic] have the ability to work to their full scope. You truly have the ability to make your practice be whatever it is you want it to look like."
The family care clinic is also a learning hub for future physicians and nurse practitioners. Tradewell noted there is routinely at least one student at the clinic throughout the year overseen by a physician, nurse practitioner, or both.
"Most of us feel teaching [medical and nurse practitioner] students keeps us sharp and up to date and allows us to play a part in advancing our professions."
Slake Lake Mayor, Tyler Warman, says his community is fortunate to have the only rural family care clinic, and an entire team to keep the community healthy.
"We have some of the best access to health care in the province," said Warman. "I've seen first-hand how successful a team can be when you bring multiple disciplines together in the same location and provide flexible hours and opportunities to access the health supports needed."
Ashley Severson is one of Dr. Martin's patients. She appreciates the emergence of the clinic.
"Previously, I'd have to leave the clinic to go for blood work or an X-ray and then wait for a doctor to call me back with results. The care was still there, but it just wasn't the same. It does make it a lot easier to have everything in one place.
"We're pretty fortunate to have the [family medicine clinic] and the wonderful doctors and medical professionals we do have," said Severson, a cancer survivor. "It's a blessing to not have to run around town going from place to place to get treatment."
Severson's also pleased with her individual care.
"My experience with Dr. Martin is nothing short of amazing. I've been blessed with such a caring physician. My family and I love seeing him."
-David Olinger