Pilot project brings health-care training to rural teams
Some health-care providers in northeastern Alberta have forged ahead with career development during the pandemic thanks in part to a new support program from RhPAP.
Physical therapist, Mary Woods, was able to offer a masterclass on pelvic assessment and intervention for pregnancy and postpartum earlier this year to health professionals around the Plamondon region.
This training was supported through RhPAP's Team-Based Learning Initiative (TBLI), a pilot program, designed to offer relevant, applicable training to health-care teams in their facility or community.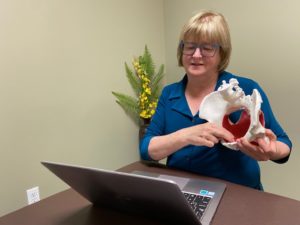 Woods knew rural health providers were keen to learn more about pelvic therapy, so she partnered with long-time colleague and midwife Chantal Gauthier-Vaillancourt from Plamondon, Alta., located about 200 km northeast of Edmonton.
"Pelvic health physios are not that common, and in rural areas [they're] even more rare," shared Woods, who owns Edmonton-based CURA Physical Therapies.
"The intention of this [course] is to improve the knowledge of nurses, physicians, and midwives doing pelvic assessments and then integrating pelvic health solutions, so that people don't have to come to the city."
According to Woods and Gauthier-Vaillancourt, not only did the support they received from TBLI allow them to run the program in Plamondon, it also helped to create the opportunity for additional people to get involved from other communities.
[A course like this one offered in the community] motivates us, inspires us and gives us that little boost we need to better ourselves and offer more to the people of our communities.
-Plamondon midwife Chantal Gauthier-Vaillancourt
The rural setting made it easier for people from communities such as Fort McMurray, Athabasca, and Slave Lake to attend.
"Because of the funding, people are more willing to come, because [the TBLI funding covers] the cost of them attending," shared Woods.
"Chantal and I were stunned, because we thought we'd be lucky to get eight people, but now there's 10 and, since we're going to be delayed for the in-person [part of the course due to COVID], we will probably have more [people join]."
Amy Deagle, director of Health Professions for RhPAP, said the non-profit was forced to cancel many of its in person events and conferences due to the pandemic, but TBLI has helped to fill the void.
"We wanted to do something really good and unique … knowing that our events can't take place like normal," explained Deagle.
"In trying to give back to health-care providers that would have been attending RhPAP conferences or skills days, we tried to pivot and offer education through online and onsite methods that were COVID compliant and still met their needs.
Recognizing the increasing interest in the course generated from word of mouth from the first session and the potential opportunity that the delay in the in-person part of the course has presented, Woods plans on doing another online session before the in-person session is able to take place.
Based on the interest this course has generated, Woods and Gauthier-Vaillancourt say programming like this is important, especially in rural communities where opportunities are less frequent.
"[A course like this one offered in the community] motivates us, inspires us and gives us that little boost we need to better ourselves and offer more to the people of our communities."
"Our pool is so small here," shared Gauthier-Vaillancourt, a midwife with Tree de la Vie Midwifery. "We all know each other and how we practice, so you can get stuck in a rut, so the fact that we can have these opportunities, and they can come to us instead of us always having to go to Edmonton and Calgary is huge.
"It allows us to participate all while still serving the community," she continued, adding that work schedules can often hinder people's ability to participate in programming outside their own communities.
Excited by the possibilities that RhPAP has seen made available through programs like TBLI, Deagle says the impressions given by organizers like Woods and Gauthier-Vaillancourt are why the organization is always looking for opportunities to connect with rural health professionals.
"If there's a training need in their community that can benefit multiple providers, and especially if it's multi-disciplinary, then we would love to hear from them," said Deagle.
"We're really looking at bringing education to rural sites instead of having rural people come to education."
To learn more about TBLI, including the types of programs that it has been made available, visit the RhPAP website, email info@rhpap.ca, or call (780) 423-9911.
—Lesley Allan