RhPAP announces Tracy Sopkow as Chief Executive Officer
New leader brings rural Alberta background, health leadership experience to role
A rural Alberta native with over two decades of health sector leadership experience has been named Chief Executive Officer of the Alberta Rural Health Professions Action Plan (RhPAP).
Dr. Gavin Parker, Chair of the RhPAP Board of Directors, announced today that Ms. Tracy Sopkow has accepted the position of Chief Executive Officer, effective March 1, 2022.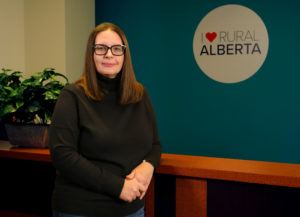 Ms. Sopkow is currently the Chief Executive Officer of Covenant Foundation and brings over 20 years of progressive leadership experience to her new role. During her tenure Ms. Sopkow led a redesign of the organization, implementing significant changes to the board structure while working with stakeholders to launch an organization with a provincial mandate. Ms. Sopkow also spearheaded the growth of the foundation from supporting three major Edmonton-based health care facilities to 20 in urban and rural markets throughout the province and led a multi-million-dollar investment over the past eight years in revitalized facilities, equipment, programming, research, and capacity building.
According to Dr. Parker, Ms. Sopkow brings an in-depth understanding of the issues and challenges impacting health-care delivery in rural communities.
"As someone who grew up in rural northern Alberta, and who has spent the last eight years supporting health care across the province, Ms. Sopkow possesses a deep appreciation of the importance of maintaining quality, accessible health care close to home, and the significant role rural community health workforce attraction, retention, and continuing education play in supporting this," said Dr. Parker.
– 30 –
To arrange interviews or for more information please contact:
Dr. Gavin Parker

Chair of the Board of Directors

Rural Health Professions Action Plan

Tel:  1-866-423-9911

Gavin.G.Parker@gmail.com

Jonathan Koch

Director, Communications and Marketing

Rural Health Professions Action Plan

Tel: 587-987-4325