Fortunately, serious vehicle accidents in rural Alberta are a rare occurrence. Nonetheless, rural hospital nurses want to be trained to confidently treat whatever trauma comes through their emergency doors.
Once of the best training programs is the intensive two-day Trauma Nursing Core Course (TNCC).
It's widely recognized by hospitals and trauma centres all over the world.
The University of Calgary Cumming School of Medicine Office of Continuing Medical Education and Professional Development organized a TNCC event for January 2023 in Banff.
We don't see a lot of trauma, but when we do we want our nurses to be prepared. – Sara Phillips, TNCC course instructor
Class size was limited to six rural Alberta nurses. RhPAP provided bursaries to fund the full course fee for all six.
RhPAP endeavours to make continuing professional development affordable for rural health professionals.
"That was huge," exclaimed Annalea Priestley, a  registered nurse at Banff Mineral Springs Hospital.
"This course is one of the ones I've been wanting to take, but it's expensive to take."
"I've been a nurse for five years," added Kayla Kerslake, a registered nurse at Daysland Health Centre.
"I've been trying to take this course for at least the last three years. It's been amazing to finally get the chance to take it."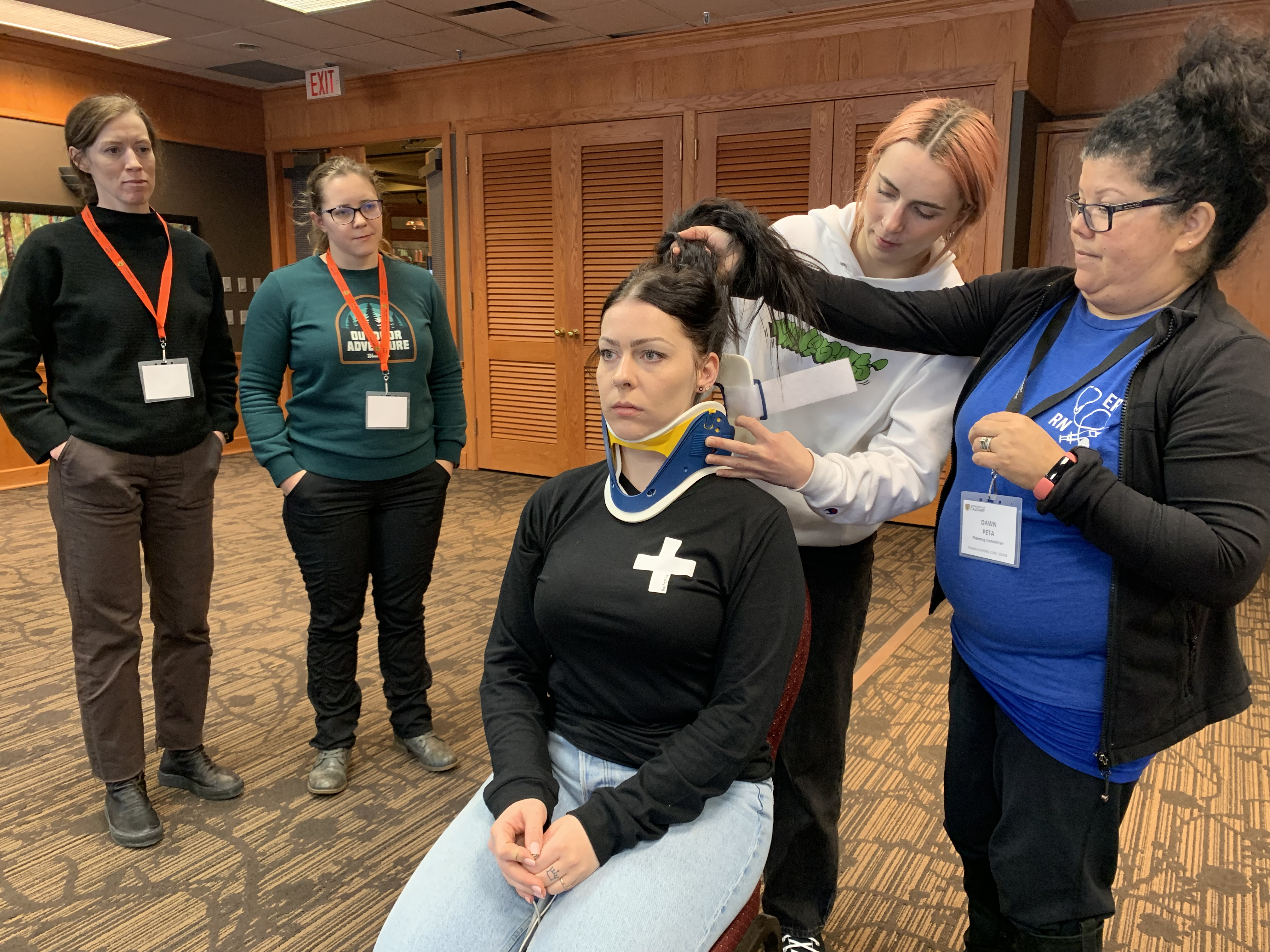 TNCC provides the knowledge, critical thinking skills, and application-based training that is necessary to keep trauma patients safe and improve outcomes.
It is designed for nurses practising in emergency, acute care and operating rooms in rural hospitals.
"We work together at our rural sites," said Sara Phillips, TNCC certified instructor. "We don't see a lot of trauma, but when we do we want our nurses to be prepared."
"So our hope is that we can give them a little piece of something that when [a trauma patient] comes in, it will trigger back and they will be like 'I know how to get myself through this'."
Opportunities like TNCC help to keep rural nurses practicing rural and not shift to urban.
"Rural holds a special place in my heart because I grew up rurally," beamed Breeanna Grabler, licensed practical nurse at Innisfail Health Centre.
"So having access to education allows me to stay in that rural practice and know that in those small communities the care that [patients] are getting can be just as amazing as what they would get in a city centre hospital."