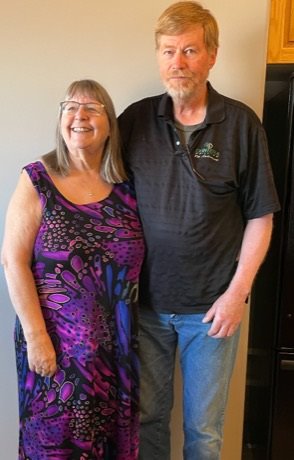 Knowing your accommodation is all set up before arriving for a medical rotation in an unfamiliar community is comforting.
And having someone familiar to hang out with is even better.
RhPAP has over 100 leased accommodations across the province in approximately 40 rural Alberta communities. These accommodations are primarily utilized for University of Alberta and University of Calgary medical learners while they train in rural family medicine for varying lengths of time.
RhPAP focuses on providing housing in these communities to help overcome some of the barriers and challenges that exist around rural training in Alberta. The goal: help the learners enjoy a positive experience in rural Alberta to encourage them to consider practising rurally in the future.
University of Calgary medical student, Scott Bell, spent nearly 10 months in Brooks during his medical clerkship, and worked hard to make fellow medical students feel welcome during his stay, said Bell's landlord, Charlotte Plumer.
Plumer, a long-time landlord for RhPAP, was delighted to see Bell reach out to fellow students in the fourplex she owns and manages with her husband, Bill.
She recalls new arrivals' faces lighting up when she mentioned that Scott Bell was staying in her accommodation. Many University of Calgary students crossed paths with Bell during their post-secondary years, and it comforted them knowing there would be a familiar face in Brooks during their stay, which could range from a few weeks to a year.
"[Scott] makes their life better by saying, 'Hey, come over and eat. Hey, do you want to go to the Indian … restaurant or let's order in some sushi?' He reached out more than usual because he was here for a [longer time] and [Brooks] became his home. He got to know the area."
"You roll in and 98 per cent of all the logistics are taken care of for you, it's very useful." — Scott Bell
The Plumers also enjoy working with RhPAP's Shawna Banman, who coordinates rural housing for UCalgary rotations.
According to Eric Nashman, RhPAP's Project Manager for student and resident housing, Banman, and the RhPAP Rural Housing Coordinator team, work with landlords to ensure accommodations are ready for students upon their arrival.
"It takes a lot of work in the background to make sure the set-up is complete and the property is ready for the learner to move in," Nashman explains.
"Generally speaking, a lot of project management goes into ensuring furnishings, house and kitchen-ware items, and internet access is provided to students to support their comfort and learning opportunities."
Bell has rave reviews for the housing he received through RhPAP.
"You roll in and 98 per cent of all the logistics are taken care of for you, it's very useful."
His accommodation, just a 2 1/2-minute bike ride away from the hospital and an additional block to the clinic, was another huge benefit for the busy student.
As for Plumer, the best review she can get is medical students praising her accommodation and community.
"I receive my reward when someone's leaving after their two month or a year [stay] and … they just tell me that they love Brooks and they're going back to Calgary and tell all the other students to try and get a rotation.
"It's fast-paced and it's busy in Brooks. There are at least six very wonderful preceptors from four different clinics."
Plumer jokes one day she may cross paths with one of the dozens of learners that previously used her accommodation, perhaps while in an operating room.
"Some student looks down and says, 'I know you.' And I say 'hi, thanks, take care of me.'"
— Lorena Franchuk