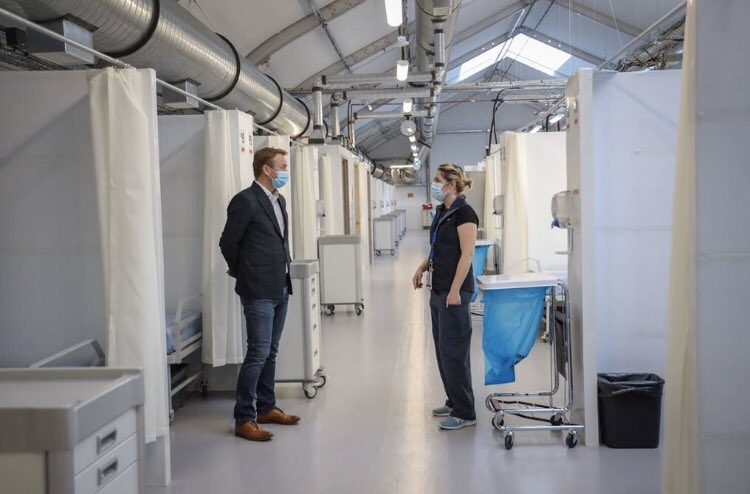 Two rural Alberta companies are making a big difference in the fight against COVID-19 by helping to expand the capacity of urban hospitals both at home and abroad.
Products from Fort Macleod's Delcan Building Materials were sent to New York City, while Aldersyde-based Sprung Structures donated a 70-bed addition to the Peter Lougheed Hospital.
Sprung Structures Vice President, Jim Avery, said the 50 x 165-foot building encompasses about 9,000 square feet and was ready at the northeast Calgary hospital in just 17 days.
"We donated the structure in Calgary, because we have been doing work in the United States, Eastern Canada, and even abroad, and we felt we needed to do something for our home province," he said.
With COVID-19 cases again increasing in Canada and around the world, there's a chance the Calgary facility may be forced to open the additional beds as the weather gets cooler.
"We… did a retrofit with insulation, so it is ready to go. It will handle the winter," Avery said, noting it was built to handle harsh winds and snow.
---
"We are doing things that conventionally… just take too long and are too expensive, so people are coming up with alternatives."
– Jim Avery, Vice President, Sprung Structures
---
Fort Macleod's Delcan Building Materials, which often provides panels for car washes and agricultural uses, is also receiving requests for health-care projects, said President Patrick De Leeuw. They've found their PVC interlocking wall and ceiling panel system is ideal for hospitals.
The New York City contract resulted from an existing Delcan customer who was interested in the Canadian product for a hospital build.,
"Where the moisture contact is high and lots of washing takes place and where lots of cleaning takes place, that's where our product gets used," he explained.
"The beauty of it is [that] it's an interlocking panel so [it] hides the fastener, so it is very easy to keep clean, to stay clean, and to clean it. You have no fastener sticking out so it's just one smooth wall once it is put up."
The interlocking panels that were used for the New York hospital walls had previously been used on a medical mercy ship.
De Leeuw says the company is hoping to work on more health-care-related projects.
"It was different to have an order like that; we were able to send the product very fast and we were happy to help out," De Leeuw says.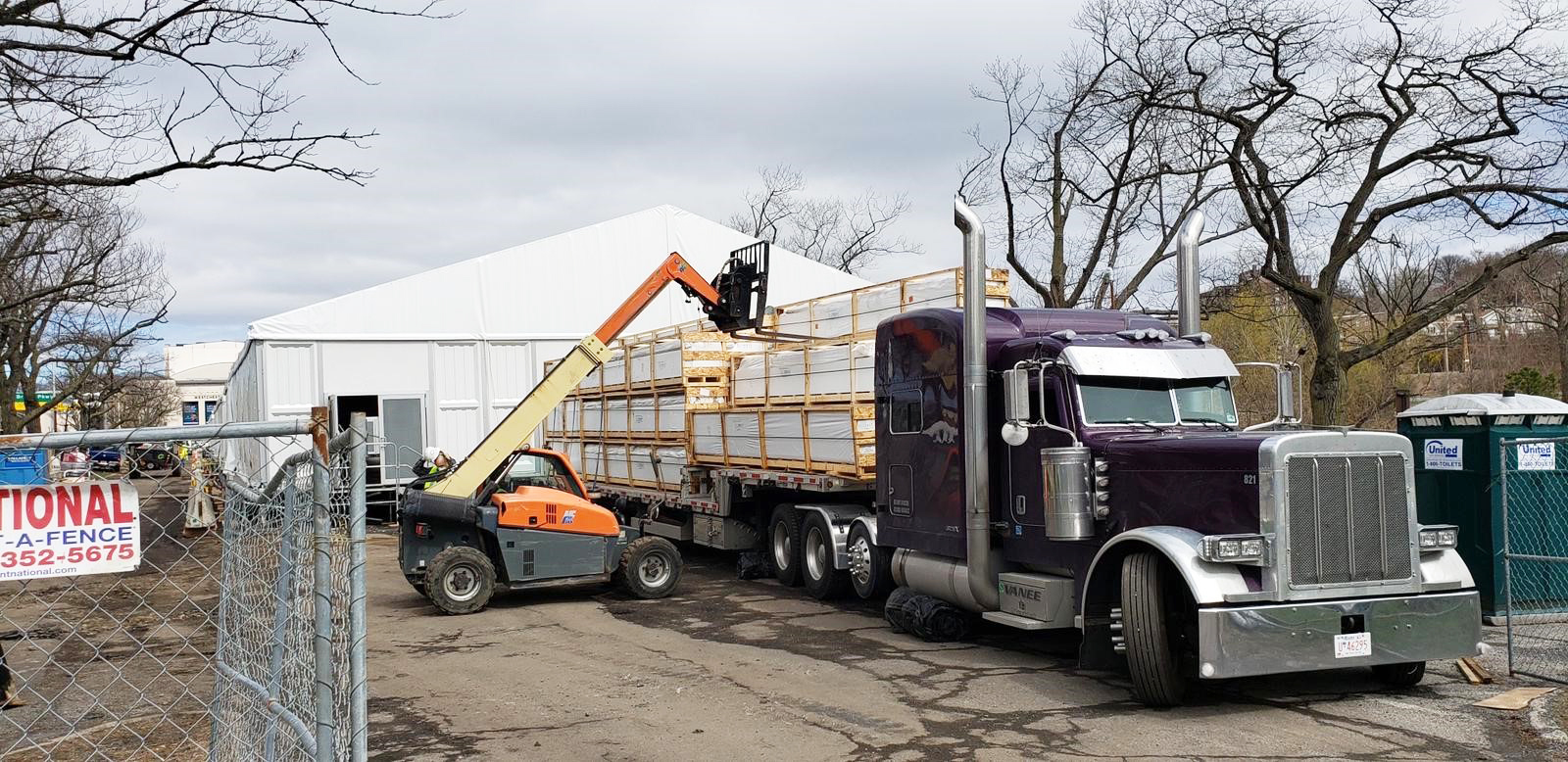 Providing timely product is also second nature to Sprung Structures, which offered disaster recovery support to High River. The company helped the neighbouring community get back on its feet by supplying several structures for businesses and charities after the flood in 2013. Sprung structures have also been used in hotel, retail, military, mining, school, sports centre, and oil and gas builds.
The 133-year-old company, which built its brand supplying Western settlers with canvas for chuckwagons, tents, and mattresses, also drew the attention of Elon Musk.
When the visionary entrepreneur needed a building in a hurry for a new Telsa assembly line, Sprung Structures had it up in 19 days.
"We are doing things that conventionally… just take too long and are too expensive, so people are coming up with alternatives," said Avery.
"You need something that can be put up quickly and can be adaptive… like a stand-alone pandemic facility."
– Lorraine Hjalte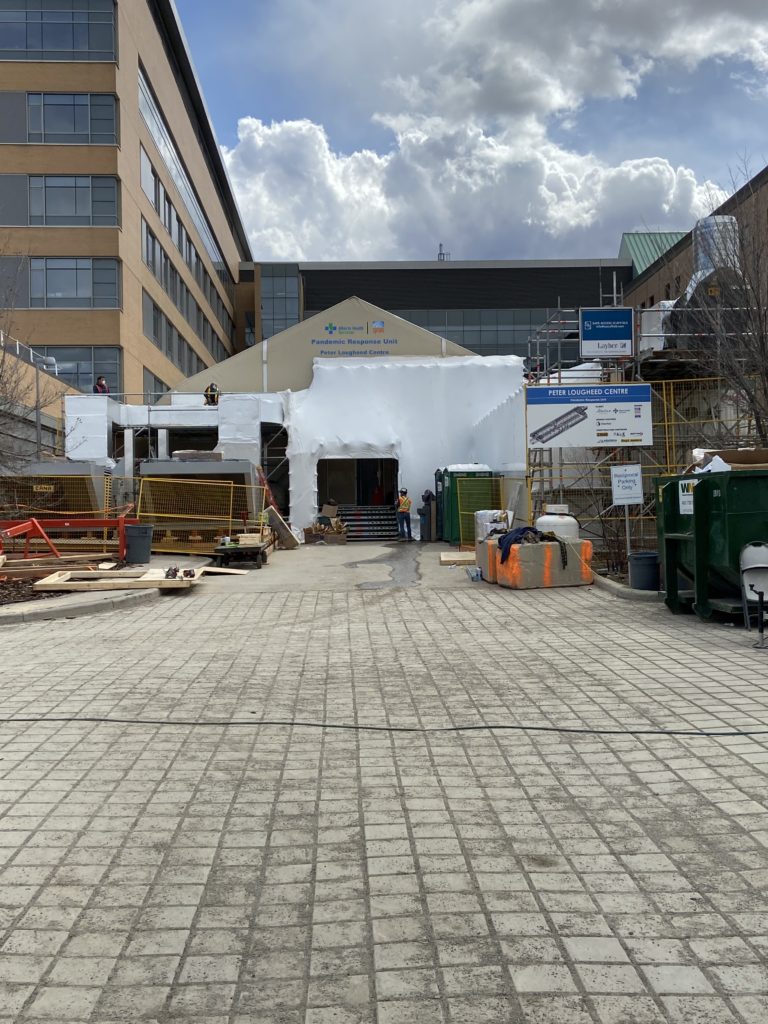 Did you enjoy this article?
Subscribe to the Rural Health Beat to get a positive article about rural health delivered to your inbox each week.
Tagged In