The twenty-fourth survey for the members of the Rural Voice Information Panel (Rural VIP) was sent out on February 3, 2022 to 217 members.
In 2020, 19 per cent of Alberta's population was considered youth, which Stats Canada defines as those aged between 15 and 30 years old. Although younger people tend to have fewer physical ailments than older people, it is a different story when it comes to mental health. An estimated 10 to 20 per cent of Canadian youth are affected by mental illness or substance abuse disorders, making them the most likely of any age group to experience these conditions.
It is estimated that less than 20 per cent of Canadian youth receive appropriate treatment as they age into the adult mental health system. Rural Canadian youth are even less likely to receive appropriate treatment, due to poorer access to specialized mental health providers in rural areas. As a result, mental health care for rural youth often becomes the responsibility of their community.
This month, RhPAP asked about the mental health supports and programs that your community provides for its youth.
Key Learnings: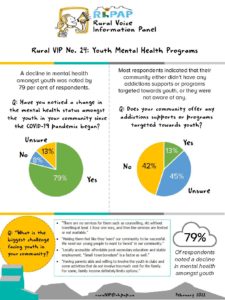 *Most respondents (87 per cent) indicated that their community either didn't have or they were not aware of any addictions supports or programs targeted towards youth. Known supports were indicated to be provided through AHS and FCSS.
*A decline in mental health amongst youth was noted by 79 per cent of respondents.
*A lack of educational opportunities in rural communities was noted to be a main barrier for youth who wished to post-secondary education. Cost was also noted to be a barrier for many.
Click on the link for the full version of Rural VIP Summary – February 2022