RhPAP sponsored Grow Your Own skills days are the perfect opportunity for health professionals to share why they love practising in rural Alberta.
And why wouldn't you want to live and work in an area as beautiful as Lac La Biche and the surrounding Lac La Biche County? Dozens of beautiful lakes, several provincial parks and thousands of hectares of forest, make this an outdoor adventure seeker's paradise.
"Lac La Biche is the best place in the world to live," says Dr. Richard Birkill, who taught suturing at the skills day at Portage College.  "We love the outdoor recreation. We love having the deer and moose running around in our yard every morning."
Dr. Birkill also shared with students his love for medicine.
"I don't think there is a better job than being a physician," he says. "After 20 years, I still love my work."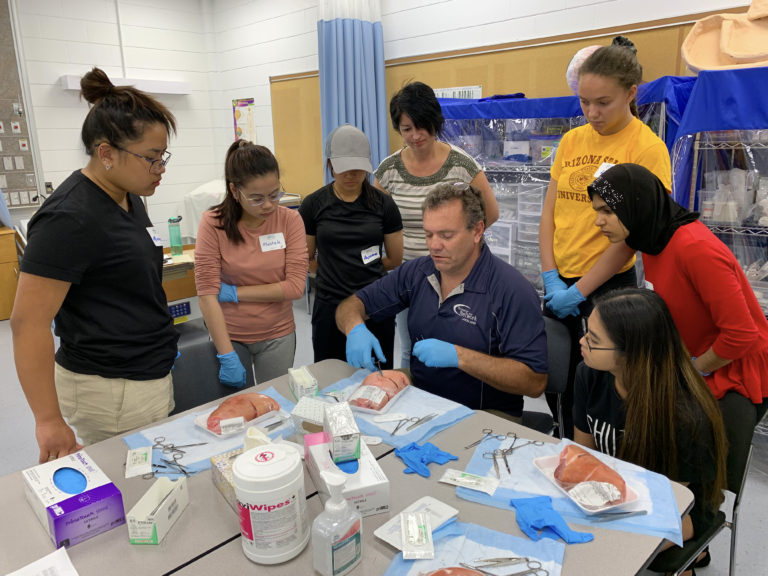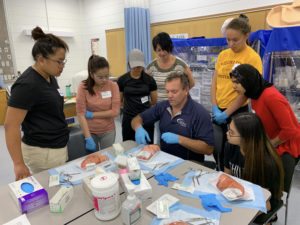 Feeling good about catherization
Registered nurse, Debi-Ann Wilson works at the Lac La Biche hospital. Originally from Jamaica, she has practised at various locations around the worked. Like Dr. Birkill, she is very fond of living and working in Lac La Biche.
"I have a passion for [nursing]," says Wilson. "I'm very compassionate about nursing, and I love my foley catheter," she says, finishing with a laugh.
A foley catheter is a thin sterile tube that is inserted into the bladder to drain urine.
At first, the catherization skill station is often awkward for students. Wilson demonstrates how to install a catheter using simulators that are comprised primarily of just the male or female pubic area.
She was really funny. Like if she wasn't funny, it would have been really awkward. -Alix Baughan, grade 12 at École Plamondon School.
"Some students were a little bit uncomfortable at first, and they think that maybe they couldn't do it," says Wilson. "But the beauty of inserting that foley is at the end of it, the patient feels good, looks better, because of the relief they get of their bladder."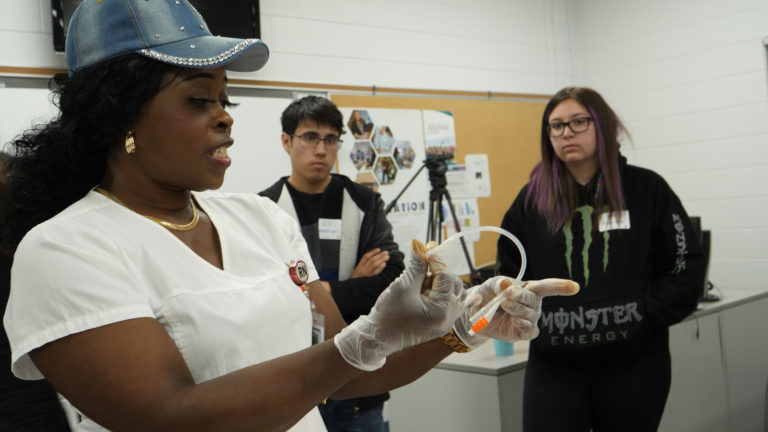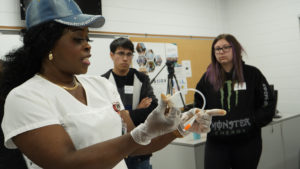 Wilson used her humour to create a good rapport with the students and ease the discomfort. Most of the students eventually were fine with trying it out.
"She was really funny," says Alix Baughan, grade 12 at École Plamondon School. "Like if she wasn't funny, it would have been really awkward."
Vaughan plans to enrol in the licensed practical nursing program at Portage College, so catherization could very well be in his future.
Throughout the day, 36 high school students from Lac La Biche and area rotate between six hands-on skill stations. The hope is that a seed will be planted in them to consider a career in rural health care.
I love to learn certain things that I haven't learned before. It's piqued my interest. -Dominic Eskow, grade 12 at Buffalo Lake Crossroads Outreach School.
Watch paramedic testing
Portage College is a training centre for paramedics. So, at one skill station, students enjoy the unique experience of being in a lab where paramedics are being tested. The also watched paramedic simulations inside a medical flight simulator.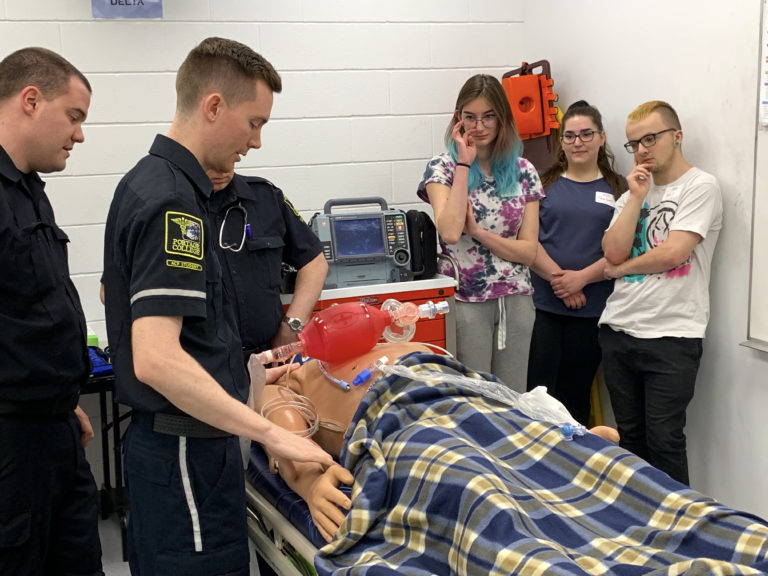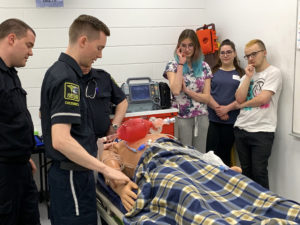 At another station, students also put on health monitors and do a workout. Deb Menard is the Be Fit For Life coordinator at Portage College.
"It's important for people to understand the importance of heart health," she says. "So, we are trying to prevent heart disease and hypertension."
Skills day a big success
Based on student experiences, the RhPAP sponsored Grow Your Own skills day in Lac La Biche was a huge success.
"Oh yeah, I would recommend this," says Vaughan. "This has been a great opportunity."
"It's a fun day, honestly," says Dominic Eskow, grade 12 at Buffalo Lake Crossroads Outreach School. "I love to be here. I love to learn certain things that I haven't learned before. It's piqued my interest."
"I've actually really enjoyed it and I've learned a lot so far," adds Faith Whitford, grade 11 at J. A. Williams High School.   "I plan on becoming a licensed practical nurse because I enjoy helping people."